Two years after it became the first innovative Chinese-developed cancer medicine to be approved and launched in the United States, BeiGene's Brukinsa (zanubrutinib) has made steady progress around the world.
Brukinsa now launched in 8 markets worldwide
Brukinsa is an innovative Bruton's tyrosine kinase (BTK) inhibitor being developed for a number of different cancer indications. In the US, its initial approval was for the second-line treatment of mantle cell lymphoma (MCL) in adult patients who have received at least one prior therapy. Since then, the cancer drug has been approved in two additional indications: for adult patients with Waldenström's macroglobulinaemia (August 2021), and for adult patients with relapsed or refractory (R/R) marginal zone lymphoma (MZL) who have received at least one anti-CD20-based regimen.
Now let's analyse how BeiGene approached the launch strategy for its treatment. It's perhaps little surprise that an innovative new therapy reaches the United States first – this continues to be the most likely strategy due to the market size and regulatory environment, even though Chinese firms are increasingly targeting their domestic market first. For Brukinsa, launch in its home market (2), China, occurred eight months after its first commercialisation in the US (1). This was quickly followed by launches or registrations in the United Arab Emirates (UAE) (3), France (4; as part of a compassionate use programme), Germany, Saudi Arabia (5), Austria and Norway (6; not yet marketed). Approval in the EU was granted in November last year.
China comes early in launch sequence
The price tag at ex-factory level was at $12,935 upon launch in the US for 120 hard capsules of 80mg. Last February, a first price change brought the price to $13,491, representing a 4.3% increase. Four months later, Brukinsa was rolled out in China at CNY5,837.5 ($915.9) for a 64 pack of 80mg capsules, which is just a fraction of the price applied in the US. The cost of Brukinsa in China is not a huge surprise considering the high discounts required for drugs included in China's National Reimbursement Drug List (NRDL). Brukinsa is part of the reimbursement list for mantle cell lymphoma (MCL), chronic lymphocytic leukaemia or small lymphocytic lymphoma (CLL/SLL) and Waldenström's macroglobulinemia.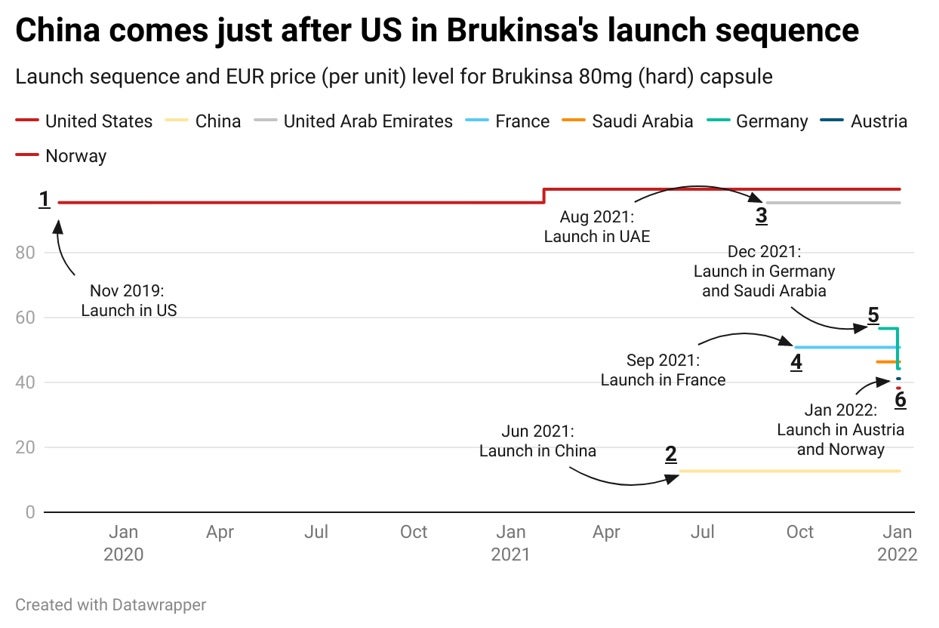 Such early commercialisation in China is historically uncommon for an innovative cancer therapy but increasingly normal for domestic Chinese firms prioritising their domestic market. While price levels are typically low in China, the knock-on impact will likely be limited as only South Korea is officially known to reference Chinese prices as part of its international reference pricing (IRP) rules.
French price drives Saudi price down
BeiGene targeted a high price market as its third destination: the UAE, which has increasingly become an early destination for innovative new therapies. With a price tag of AED47,471.5 ($12,926.5) at the ex-factory level in August last year for the 120 pack, it comes very close to its initial launch price in the US. In fourth position comes France, where the drug was initially launched in September as part of a compassionate use programme. Both the UAE and France are part of Saudi Arabia's IRP basket, which – unusually – comes next in the launch sequence. And it is thus not surprising that the Saudi price upon launch is around 50% lower than that in the UAE. The price in Saudi cannot generally exceed the lowest ex-manufacturer price in its basket, which in the present example was in France. The Saudi price was therefore set just below the French price (€6,099.6; $6,903.5) at SAR23,565.7 ($6,285).
It is also worth noting that because of the temporary use approval, Brukinsa was available in France before approval at the EU level, and thus before launch in Germany, which is quite unusual outside of the compassionate use scope. Launch in Germany closely followed the EU approval and occurred last month, with an initial price tag just above France's price at €5,308.14. With free pricing in the initial 12 months, high price levels are very common in Germany, hence why it is surprising to see that Brukinsa experimented with a 21.9% price cut on its list price to €5,308.14 ($6,007.75) only 15 days after launch. This brings the German price just below the price in France, where the drug has not yet been assessed for reimbursement. This month, Brukinsa was priced in Austria and Norway at a similar level, but the drug is not yet marketed in Norway.
It will be interesting to witness how BeiGene approaches future market launches for Brukinsa and how other Chinese-developed cancer products fare in terms of launch sequence optimisation, notably in the very much regarded PD-1/L1 inhibitors space.