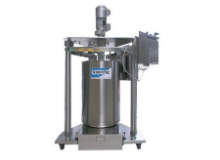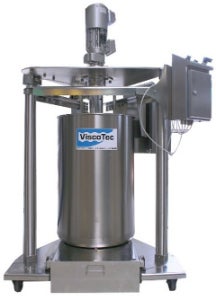 The barrel emptying system ViscoMT-XM features a volumetric conveying pump that is based on the endless piston principle.
The system is suitable for medium to high viscosity products of up to 7,000,000 mPas and abrasive, shear sensitive, solid loaded and lumpy media.
The inner barrel wall by the special lip seal of the follower plate can be easily cleaned.
ViscoMT-XM is applicable at cylindrical, ribbed or slightly conical barrels and plastic drums or bins with inliner.
No pressing of the product at the sides is required due to a nearly pressureless guiding of the follower plate and emptying speed is adjustable for simple handling. The system ensures pulsation free conveying / emptying and residue in the barrel of < 1%.
ViscoMT-XM is ideal for the removal of products directly out of the transport or storage container, including tomato paste, honey, fats / grease, glacé icing, mascara, lip gloss, cremes, ointments and gels.
Pressure is regulated and level controlled feeding of the products is allowed for filling machines or mixing processes. Direct dosing out of the bin is possible using dosing control.
The system has two-point-pressure-control by a second pressure sensor at the end of the hose and an extractable barrel loading ramp with integrated barrel centering.
The frame, base plate and ramp are made of mild steel that is powder coated. A signal lamp displays the operating status and pump actuation is performed by AC-servo drive.
ViscoMT-XL has a volumetric conveying pump for easy handling of drum sizes from 50l to 200l.