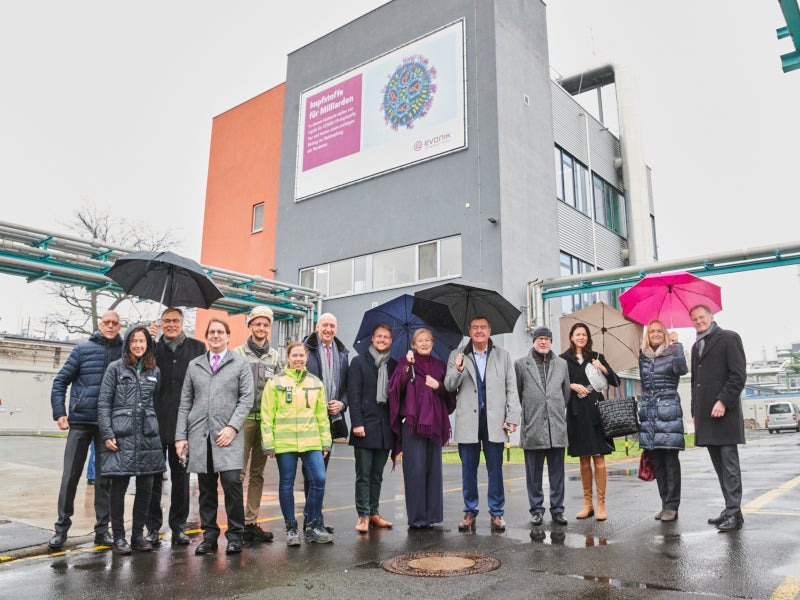 Evonik opened a new GMP facility to manufacture lipids for advanced, pharmaceutical drug delivery applications at its Hanau site. Credit: Evonik.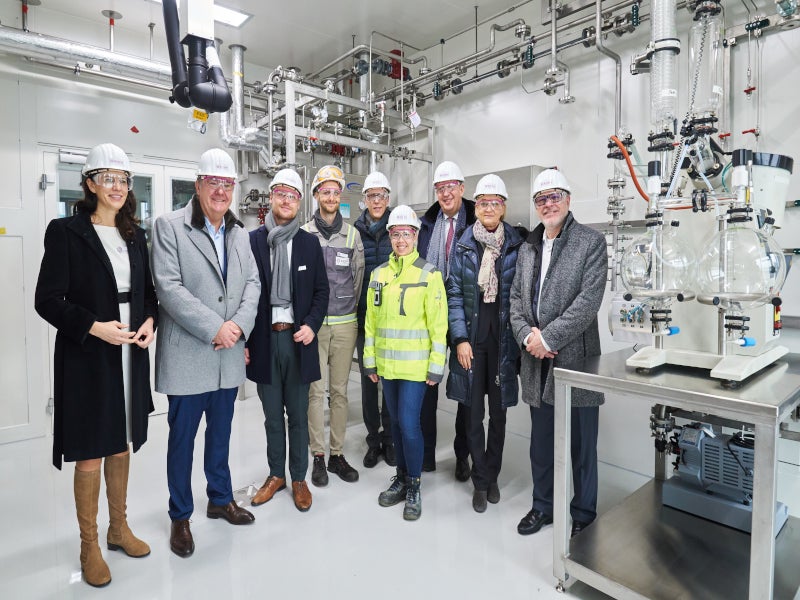 Evonik's new lipid facility will serve a broad range of RNA and gene therapies, including infectious disease, cancer immunotherapy and protein replacement therapies. Credit: Evonik.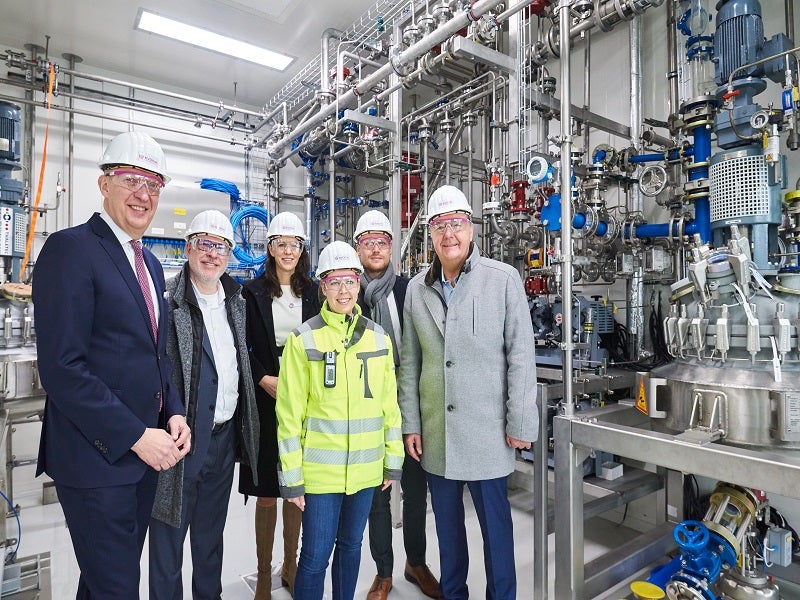 The new lipid facility was inaugurated in March 2023. Credit: Evonik.
Germany-based speciality chemicals company Evonik opened a new good manufacturing practice (GMP) facility to manufacture pharmaceutical lipids for clinical development and small-scale commercialisation at its existing site in Hanau, Germany, in March 2023.
The facility supports the production of all types of custom and proprietary lipids for advanced pharmaceutical drug delivery applications. It complements the laboratory and commercial manufacturing capabilities of the existing multi-purpose Hanau site to support the customer's requirements at each stage of development and commercialisation.
The new facility is a part of the company's series of investments being made in lipid manufacturing for ribonucleic acid (RNA) and gene therapies globally.
The lipids produced at the facility are used in the development of a broad range of mRNA and gene therapies for infectious disease, cancer immunotherapy, and protein replacement therapies.
Location of Evonik's GMP facility
Evonik's new lipids production facility is located at the Wolfgang Industrial Park in Hanau, near Frankfurt am Main.
The industrial park is a production and research centre for materials technology, chemicals, and pharmaceuticals. Its 820,000m² area houses a total of ten companies.
Details of Evonik's new lipid production facility
The new lipid facility offers high-quality GMP material to customers, which enables them to scale up seamlessly to move rapidly through the development phases.
It features particle engineering and purification capabilities, including chromatography, to offer fast and flexible manufacturing of a vast scope of lipids, including PEGylated, phospholipids, and ionizable cationic lipids, for the customers.
Existing Hanau site's expansion details
Evonik is expanding its Hanau and Dossenheim sites to expand their capacity to support the rising demand for pharmaceuticals for the contract manufacturing of active pharmaceutical ingredients (APIs) and advanced intermediates within Europe. The first phase of the expansion project was completed with an investment of €25m ($29.8m) in June 2021 while the entire project is expected to be completed by 2024.
The production capacities for the plant-derived cholesterol PhytoChol®, a crucial lipid for mRNA delivery, gene delivery and cell culture media, was also increased at the Hanau site, accelerating the Covid-19 vaccine production.
The Hanau site supports the rapid production of Pfizer-BioNTech's Covid-19 vaccine by supplying lipids, an essential component of mRNA-based vaccines. The site produces two different lipids for the vaccine.
Application of Phytochol in drug delivery
Lipids are the fundamental building blocks of all living cells and are significant in producing mRNA-based drugs. The mRNA is enclosed in a lipid nanoparticle (LNP) consisting of specific lipids. The LNP protects the mRNA from degradation, ensuring safe delivery into the cell, where it is released. LNPs are the most advanced drug delivery systems and have gained global approval for the development of vaccines against Covid-19.
Evonik's plant-derived cholesterol Phytochol ensures a secure and stable supply, high purity, consistent quality, and completely non-animal derived cholesterol with advanced large-scale manufacturing capabilities. PhytoChol is available in two grades, PhytoChol Inject and PhytoChol BioPharma, which are tailored according to the needs of injectable and biopharmaceutical cell culture applications.
PhytoChol Inject is a parenteral grade cholesterol for nucleic acid therapies and mRNA vaccines beyond Covid-19. It can be provided in the proportions necessary for LNP manufacturing.
PhytoChol BioPharma is a phytochemical powder utilised to optimise cell culture for improved cell culture outcomes or may be crucial for some cell lines. It is used in various cell lines, including NS0 cell culture for protein synthesis, insect cell line culture, and culture of packaging cell lines for virus production.
Marketing commentary on Evonik
Evonik supports pharmaceutical companies globally with extensive services for developing and manufacturing complex parenteral and oral drugs. The services include pharmaceutical excipients such as polymers and lipids, formulation development, and the manufacturing of clinical samples and commercial drug products.
The company has production plants in 27 countries and is present in more than 100 countries across North America, South America, Europe, Australia, Africa and Asia, with a workforce of 34,000 people.
In 2022, the company made a joint investment of $220m with the US Government to build a new lipid production facility at its site in Tippecanoe, Indiana, US.