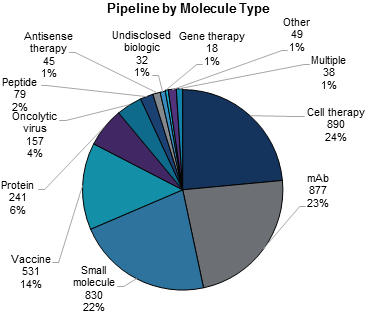 Increased uptake of immune checkpoint inhibitors drives growth
The global market for cancer immunotherapies currently tops $33bn in value, with Celgene, Bristol-Myers Squibb and Roche amongst the key players. The market is anticipated to exceed $103.4bn in sales by 2024 at a compound annual growth rate (CAGR) of 17.4%, according to GBI Research.
GBI Research's newly published report 'Global Cancer Immunotherapies Market to 2024 – Increased Uptake of Immune Checkpoint Inhibitors Driving Growth, Supported by a Large, Robust Pipeline' covers all cancer immunotherapies, focusing in particular on five key indications – breast cancer, leukemia, lymphoma, melanoma and non-small cell lung cancer.
Cancer immunotherapies comprise a highly active therapy area with 3,863 drugs in active development, representing around half of the overall oncology pipeline. Despite being a strong pipeline, approximately 62% of the pipeline is made up of early stage products.
Mark Needham, analyst at GBI Research, comments: "There is strong interest from pharmaceutical companies to develop cancer immunotherapies, as demonstrated by the large number of companies active within the therapy area. The large proportion of early stage products may partly be attributed to an increase in activity in recent years.
"Many of the top-selling drugs are approved for the treatment of multiple types of cancer, which is driving competition."
Highlights of the report include:
Assessment of the current treatment landscape
Analysis of the pipeline and clinical trial landscapes, including trends for stage of development, key indication, molecule type and molecular target
Multi-scenario forecast predictions for market growth, including segmentation for premium and generic products, key companies and key drug classes
GBI Research's latest report will help you to see the impact that various new approvals and late-stage products will have on the market, and predict market size growth, with in-depth forecasting from 2017 to 2024.
If you would like any more information on this report, please visit the GBI Research Report Store.