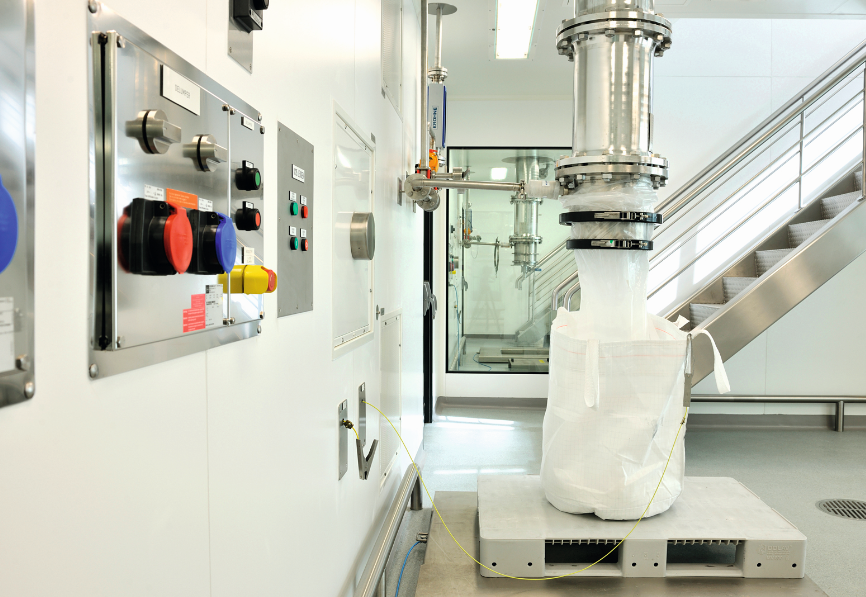 DoverPac is a flexible containment system developed by engineering development and manufacturing company ILC Dover in collaboration with global pharmaceutical company Eli Lilly, designed to offer reliable containment during powder charging, transporting, and discharging processes.
The DoverPac system is made up of a durable film layer, as well as a tough fabric outer restraint, which help to avoid cross-contamination and protect plant workers from harm. Each liner has an integration extraction sleeve, allowing plant workers to safely remove samples from the batch without exposing it to possible contaminants.
The outer layer aids operators during the transporting and discharging process, allowing the bag to be safely lifted and suspended while powders are transferred into another unit or drum.
However, it is the inner layer that sets the product apart, helping manufacturers to achieve their containment goals. This is made from ILC Dover's custom formulated ArmorFlex material, a range of polymer films designed specifically to counteract issues that may arise during the powder handling process.
These robust films are designed to withstand heavy use, in order to safeguard against any damage that could expose the product and lead to costly contamination issues. According to ILC Dover, these high strength solutions offer elongation performance of almost 500%.
Offering excellent chemical resistance against many highly potent active pharmaceutical ingredients (HPAPIs), ArmorFlex solutions provide high levels of containment regardless of the APIs in use. For plants manufacturing a variety of products, ILC Dover products reduce the need for a variety of containment solutions and allow pharmaceutical manufacturers to streamline their processes.
Stringently testing by a third-party laboratory, in line with the International Society for Pharmaceutical Engineering's Standardised Measurement of Equipment Particulate Airborne Concentration (SMEPAC) guidelines, concluded that DoverPac offers consistent containment performance levels between 1-4 microgram(s) per cubic meter. Every DoverPac container produced by ILC Dover is inspected and pressure tested before it is handed over, ensuring that customers receive the highest levels of protection.
DoverPac: Scaling with your pharmaceutical manufacturing process
DoverPac has been designed to offer containment to small-scale laboratories, full-scale productions and everything in between.
It is the only flexible, single-use containment system that offers sizes ranging from 20 litres to 2,000 litres, with custom sizes also available to suit specific needs.
This makes DoverPac extremely useful for those manufacturers with plans to scale up production, allowing scaling without the need to alter operations or switch containment systems to accommodate larger batches, and subsequently keeping costs and any risk of production delays down.