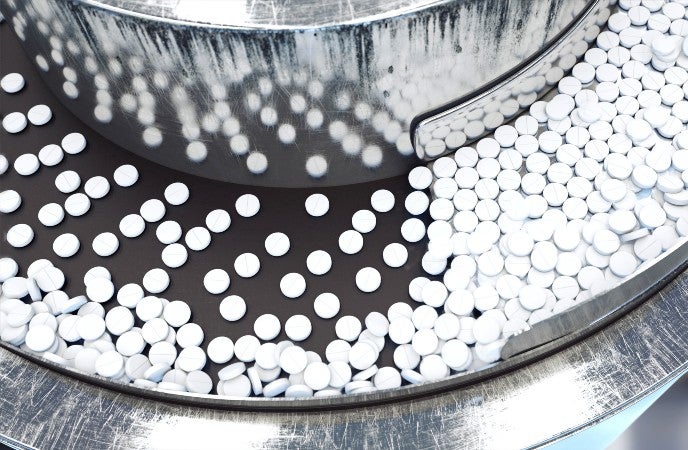 The discovery of a new chemical entity (NCE) that could potentially lead the way to a ground-breaking therapeutic treatment is an exciting prospect for any chemist. The potential to use these scientific breakthroughs to make a real difference to patients' lives is what drives many highly skilled scientists to the world of drug development.
Yet commercialising a drug is no easy journey, hence why just 10% of new drug candidates succeed in making it to market. A lack of clinical efficacy is the most common reason for failure, but the development of substandard formulations with 'poor drug-like properties' is another recurrent issue.
This is where the process development stage, which directly follows the drug discovery and early formulation work, can make or break a drug's success. During this stage, a team of lab technicians must identify the best way to manufacture the active pharmaceutical ingredient (API) into a suitable dosage form for pilot production. If clinical trials prove successful, that same process should then be scaled to commercial manufacturing.
A large part of process development involves the selection of pharmaceutical manufacturing equipment for blending, extrusion, drying, milling, and micronization. Installing the appropriate processing and material handling solutions is of high importance, but so is defining a precise method of using those systems to produce a finished drug product with the desired physical properties and quality attributes.
In this article, Pharmaceutical Technology explores the myriad challenges faced by lab technicians in the process development of powder-based pharmaceuticals – plus, how and when companies should seek expert advice.
Key formulation challenges and considerations
Since the advent of modern pharmaceuticals, tablets and capsules have been recognised as one of the most widely produced dosage forms. Today, they are still thought to represent approximately two-thirds of all medicines administered through prescription and over-the-counter. The pharmaceutical industry is certainly no stranger to the unique challenges posed by their process development.
Milling is a central part of powder processing, as this is where coarse particles are broken down into smaller ones for a variety of processability, bioavailability, reactivity, and safety-related reasons. Particle size distribution (PSD) influences the effectiveness of the drug and its ability to deliver the API to the correct part of the body in the correct rate and concentration. This is an exact science as the generation of too-fine or not-fine-enough powder will have a huge impact on the end-product.
During milling and material handling, issues related to overheating, oxidation, powder bridging, sieve blockages, and poor flowability are often encountered. By tweaking a wide range of process parameters, the desired physical properties of the formulation can usually be achieved.
Safety and risk management should also be top-of-mind during process development. Products with a low minimum ignition energy (MIE) could trigger an explosion and may therefore require the implementation of anti-explosion measures. Due to the toxicity of many active ingredients used in pharmaceutical manufacturing, some processes may require containment to prevent operator exposure to hazardous, potent chemicals.
In addition to product-related and operator safety requirements, the process must be efficient, reliable, and cost-effective. Automation can help companies achieve these goals but adds new complexities to process development.
One size (never) fits all
With so many factors to weigh up, equipment choice is rarely straightforward. But when it comes to particle size reduction, drug developers can turn to the experts at Frewitt, whose unique milling technologies and process knowhow help customers overcome the many pain points of powder processing.
"The physical properties of APIs and excipients vary greatly," explains Roy Housh, Commercial Director at expert milling company Frewitt. "They can be hard, soft, friable, elastic, hydroscopic, heat-sensitive, crystalline, and can have low MIE and variable inlet sizes. No single machine comes close to being a process solution for all size reduction applications.
"Having the widest range of powder size reduction processes in the market, Frewitt's 'Meter to Nanometer' approach allows us to provide tailor-made milling solutions, whether it be a simple one-step solution or a multi-process installation."
The Frewitt Technology Centre is your address for process development
Located near Fribourg in the heart of Switzerland, the Frewitt Technology Centre is equipped to simulate a complete range of milling processes, with lab, pilot, and production-scale equipment at the ready. Cryogenic milling and contained milling are also available, alongside state-of-the-art analytical equipment such as laser-diffraction technologies and product humidity analysers. The physical layout of the technology centre allows for the arrangement of single-step or multi-process powder milling and handling setups, including multi-floor processes.
It's not just about the equipment, however. Offering in-house expertise that is second-to-none, the Technology Centre welcomes true – yet completely confidential – collaboration between a customer's formulation team and Frewitt's staff of lab clinicians and chemists, who possess many years of experience in the domains of milling and powder handling.
By combining this deep process knowledge with Frewitt's wide range of industry-leading equipment, the Frewitt Technology Centre houses the ideal solution for process optimisation. Possibilities include helping customers maintain operator safety, preserve their product's therapeutic characteristics, boost productivity, and improve cost of ownership and return on investment through optimal equipment selection.
Pressure is mounting for the pharmaceutical industry to improve the efficiency and success rate of its R&D activities. In the face of these challenges, companies commencing new projects can trust in the technical expertise of Frewitt, whose premium-quality milling solutions are designed to help them overcome challenges and achieve their targeted PSD, throughput, density, and more.