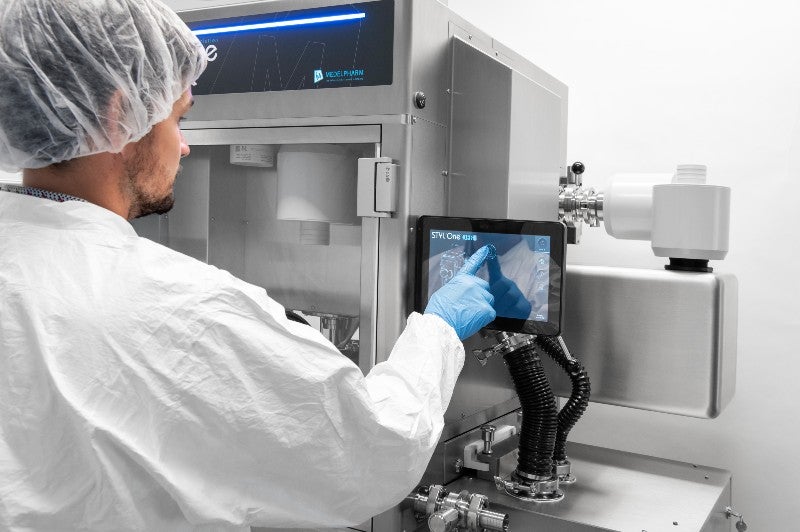 Despite the current emphasis on biologic medicines, small molecule drugs still dominate the pharmaceutical manufacturing world. Within the small molecule landscape, several trends are shaping the industry's future, one of the most notable being the rise of high-potency active pharmaceutical ingredients (HPAPIs).
HPAPIs may now represent more than 30% of the drug development pipeline. Within that figure, GlobalData estimates that around 60% of pipeline HPAPIs are developed to target oncology.
Explaining the rise of HPAPIs, Bruno Villa, CEO, MEDELPHARM believes the trend is a consequence of the increasing pressure on pharmaceutical companies to develop drugs with improved efficiency and efficacy.
"The drugs we had 30 to 50 years ago do not even pass the minimum standard of acceptable drugs these days because they are not efficient enough to be seen of value," says Villa. "Nowadays, you have drugs against cancer which have a very high impact even at a very low dosage."
Manufacturing these highly potent and often cytotoxic drugs introduces many risks for operators and the environment. Cross-contamination of standard products with highly potent ones is another key concern.
While the original approach to HPAPI handling had employees wearing impermeable, full-body personal protective equipment (PPE), this solution has been repeatedly called into question. Dangerous particles can still attach themselves to the outside of the PPE, which could then come into contact with the operator or the environment outside the lab. They can also hinder the operator's work and are usually not worn for more than a few hours at a time.
On the other hand, the current trend is for fully closed systems that use negative pressure to keep particles contained inside isolators. Many companies are now prioritising investments in containment systems, GlobalData research shows. Between 2018 and 2020, 58% of the small molecule API contract manufacturing sites purchased worldwide offered containment. In addition, all of the industry's leading small molecule API contract manufacturers increased the number of containment facilities they owned between 2019 and 2021.
But containment is not only important at commercial-stage manufacturing. In the early stages of drug development, protecting operators from unknown risks is absolutely crucial.
Prioritising safety in early-stage development
"During very early research of a new molecule, we don't know the risks," explains Villa. "The molecule has to be treated as dangerous. When you are at production level or even in Phase III, there are five to ten years of development work behind you and the risks are much more defined."
Due to a changing legal environment, the requirements for employee protection are increasing, especially because long-term exposure to a cytotoxic chemical could trigger health problems years down the line. Influenced by this changing landscape, MEDELPHARM has recorded an increasing volume of customer requests for contained versions of its R&D tablet presses.
Using MEDELPHARM's unique compaction simulation machines, scientists can produce prototypes of tablets at the same compression speeds of their industrial rotary press. The STYL'One Evo and benchtop STYL'One Nano enable formulators to test out new tablet recipes using just a few grams of powder, identifying future problems with their formulation at an early stage where they can be easily fixed.
The company delivered its first bespoke containment solution 15 years ago, but in the last few years demand has rocketed. In 2022, MEDELPHARM launched standardised containment solutions for both its machines, with two security levels to suit the requirements and budgets of different customers. Multiple options are available within the two security levels, including wet and dry containment.
"It can be really expensive if you want everything," says Villa. "We do offer a top of the line solution where you can work in the contained environment the same time the tablet press is operating through glove ports, but then we also have a second solution which offers similar protection but it's much smaller and when you put your hands into the gloves to go into the space, the machine stops."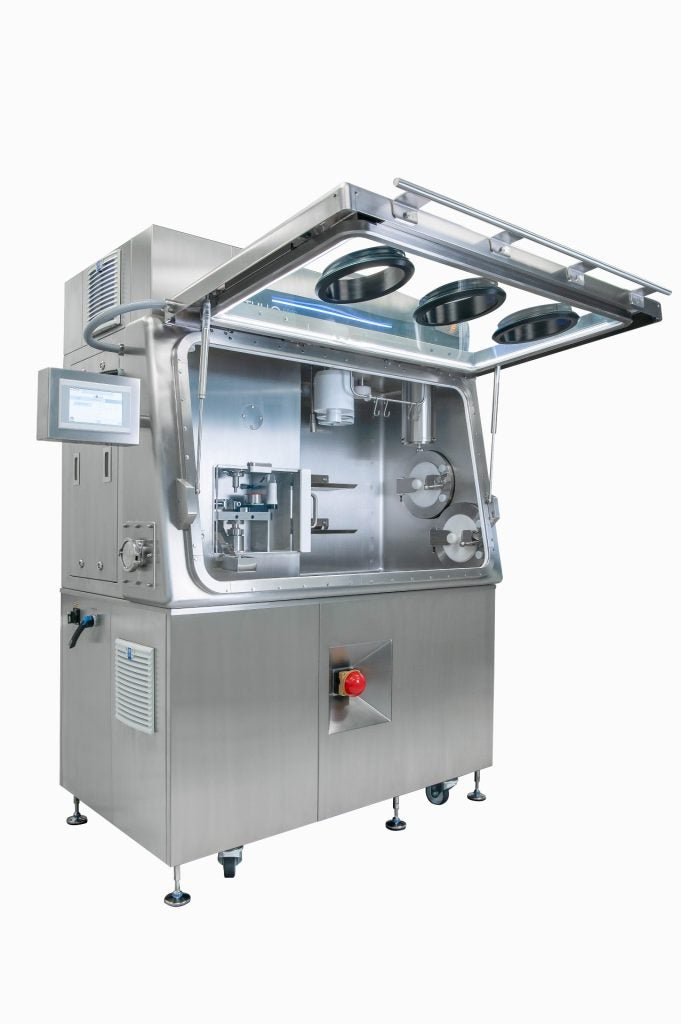 Many aspects of the STYL'One technology were already optimised for containment. For example, their smooth and simple design is naturally easy to clean, meanwhile many of the accessories can be installed effortlessly without the need for tools. All of this makes a big difference when you introduce isolators and glove ports.
Most importantly, the machines themselves are highly user friendly – something which has been appreciated by pharma companies and university laboratories around the world. Containment is paired with a loss of ergonomics in most cases. Offering high performance compaction simulation technology in an ergonomic containment execution was the challenge MEDELPHARM took. Villa adds: "In terms of philosophy, we wanted to protect the user – of course that's the goal. But we also wanted to keep the ease of use of the machine. For the larger installations, since we have this concept of putting the simulator inside the box, you can still use the simulator as normal. If you start to use the containment, obviously you have to close the door and use the gloves, which is always more cumbersome, but you can do everything the same."
Having now launched its standard solutions and worked with customers on a high number of projects involving containment, MEDELPHARM has built up a level of expertise which helps the company guide customers on containment decisions. "When we act as an advisor, we have a good track record," says Villa.
Now, the focus is on continuously improving the solutions and personalising them to individual requirements where and when needed. As the demand for containment increases, MEDELPHARM is ready to equip more laboratories with the technology they need to develop high-quality tablets safely and efficiently.
To learn more about containment, download the whitepaper below.