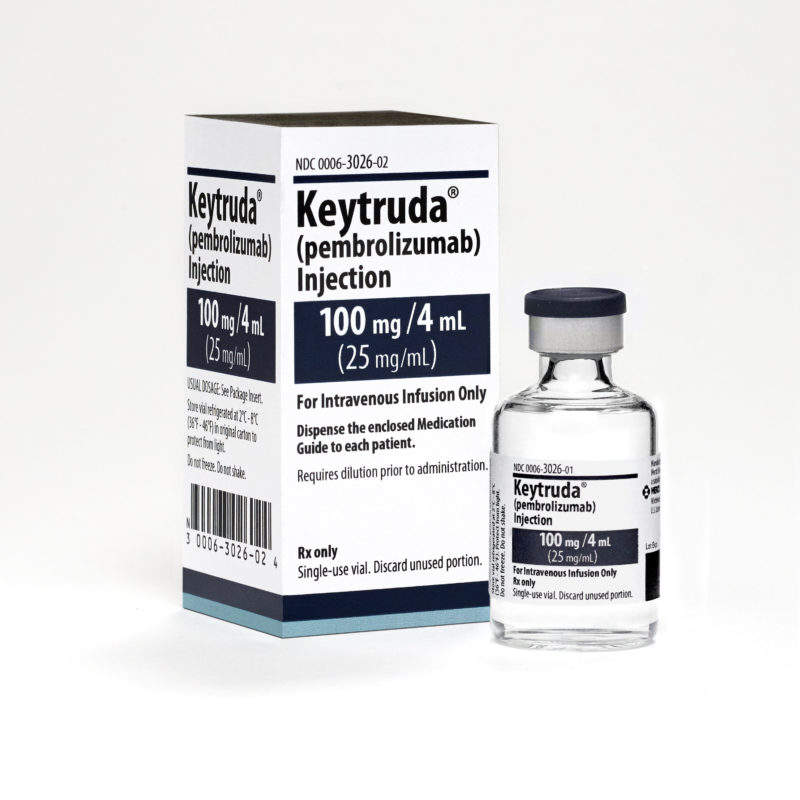 Roche's Tecentriq (atezolizumab) may have fallen behind Merck's Keytruda (pembrolizumab) in the first-line non-small cell lung cancer (NSCLC) population following releases at the annual meeting of the American Society of Clinical Oncology (ASCO).
Heading into ASCO, analysts were looking to analyse full IMpower150 and IMpower131 data to understand the market scenario for Tecentriq versus Keytruda, especially considering the latter's positive Keynote-189 data of Keytruda plus paclitaxel and Eli Lilly's Alimta (pemetrexed) in nonsquamous NSCLC, which was presented at AACR in April.
IMpower131 compared Tecentriq plus carboplatin with paclitaxel or Celgene's Abraxane (nab-paclitaxel) to carboplatin with paclitaxel or Abraxane. The IMpower150 study evaluated Tecentriq plus carboplatin plus paclitaxel in combination with Roche's Avastin (bevacizumab) versus the carboplatin/paclitaxel/Avastin combination in nonsquamous NSCLC.
Keytruda's overall survival (OS) improvement with chemotherapy in squamous NSCLC in the Keynote-407 trial may give it an edge over Tecentriq's combination in the similarly designed IMpower131study, said experts interviewed at the recently-concluded ASCO annual meeting. Also, an unfavourable chemotherapy backbone for Tecentriq's combination in the IMPower150 trial for the nonsquamous population will also generally hamper uptake, they said.
Merck's Keynote-407 data is significant enough to make it standard-of-care for squamous NSCLC.
Roche did not respond to a request for comment.
Tecentriq's positive PFS result eclipsed by Keytruda's OS data
Despite the Tecentriq combo in IMpower131 meeting progression-free survival (PFS) in squamous NSCLC, oncologists were swayed by the greater PFS benefit seen with Keytruda plus the same chemotherapy backbone, coupled with the OS advantage in Keynote-407, which was also presented at the meeting. OS measures how long a patient lives once treatment starts, and PFS assesses the duration between treatment and when the cancer worsens or death. While subsequent therapies used in the IMpower131 trial were cited to be one potential reason for the lack of OS benefit at the interim analysis, experts said the trial should have been able to capture an OS benefit regardless of subsequent lines of therapy.
In IMpower131, Tecentriq/Abraxane/carboplatin had a three-week PFS advantage over chemotherapy, while the Keytruda combination in Keynote-407 had a 1.6-month PFS improvement over chemotherapy, as per a 2 June Roche release and 3 June Merck release, respectively. Furthermore, Keytruda/chemotherapy had a 4.6-month OS improvement over chemotherapy.
While a cross-trial comparison would not be fair considering the varying characteristics of enrolled patients, like age and performance status, the PFS improvements were higher in Keynote-407 than in IMpower131, and Keytruda showed an OS advantage while Tecentriq did not, said the University of Texas MD Anderson Cancer Center's Dr George Simon, and Virginia Cancer Specialists medical oncologist Dr Alexander Spira. Keynote-407 presents the best evidence the field has to date of efficacy in first-line squamous NSCLC unless updated OS data from IMpower131 changes dramatically, said Simon.
The IMpower131 data presented at ASCO showed only an interim analysis of OS, and there is hope that on maturation there will be a survival advantage, said IMpower131 lead investigator Dr Robert Jotte, medical director and co-chair, USON Thoracic Committee, Rocky Mountain Cancer Centers, Denver, Colorado. This OS advantage would depend on the number of patients who went on to receive subsequent checkpoint inhibitors, Simon said. Approximately 50% of patients on the chemotherapy trial arm have received subsequent immunotherapy, which could be a contributing factor as to why the trial is yet to show an advantage for the Tecentriq combination arm, Simon said.
But the OS endpoint would factor in potential impact of subsequent therapies and should not eliminate an advantage, he added.
IMpower150's Avastin addition unfavourable
While there was an OS advantage with the Tecentriq combination in nonsquamous NSCLC patients in IMpower150, experts said it was tough to translate the results into clinical use due to the choice of the treatment backbone, especially when compared to the chemotherapy used with Keytruda.
The Tecentriq/Avastin/carboplatin/paclitaxel combination had a median OS of 19.2 months versus 14.7 months in the Avastin/carboplatin/paclitaxel arm, as per a 17 May press release. While the IMpower150 study tested the FDA-approved carboplatin/paclitaxel backbone with Avastin, Alimta/paclitaxel is more commonly used for nonsquamous NSCLC, noted Johns Hopkins Medicine assistant professor of oncology Dr Patrick Forde.
Simon and Spira agreed that due to side effects like hair loss, Alimta is more commonly given compared to carboplatin, which made the data less translatable into the clinic. Furthermore, Keytruda in combination with Alimta/cisplatin or carboplatin received an accelerated approval in May 2017 based on positive Keynote-021 results, which were later confirmed by the positive Phase III Keynote-189 trial.
Avastin is not currently used very often or a drug of choice for most oncologists in NSCLC, said the oncologist. It also remains to be seen how many patients would want a quadruplet regimen when there's a triplet available, noted Spira. Even if the more favourable Alimta replaces carboplatin in the quadruplet Tecentriq combination, Avastin would add $8,000-10,000 of additional costs, compared to other triplet combinations, making it expensive, he added.
Importantly, IMpower150 didn't compare an Avastin combination to one without it, so it is still not clear what efficacy Avastin adds, said Spira and the oncologist, on the need for more data before the quadruplet is used. Furthermore, Avastin is not without side effects and has been linked to hypertension and kidney issues, said Simon, adding that availability of only PFS data makes the benefit difficult to interpret.
However, an Avastin-containing backbone could be used for patients with epidermal growth factor receptor (EGFR) mutations – common in lung cancer – since those are thought to be vascular endothelial growth factor (VEGF) dependent and could respond to Avastin's anti-VEGF activity, said Forde, but he did not comment on the prevalence of such patients. It is still not clear which patients would benefit more with a chemotherapy backbone containing Avastin since there are no biomarkers to identify patients who are more responsive to an anti-VEGF therapy, making Avastin's use unclear in the NSCLC immunotherapy combination landscape, said Levine Cancer Institute medical director Dr David Graham, while adding that having more options is favourable.
Roche's market cap is CHF184.4bn ($187.6bn).
Manasi Vaidya is a reporter for Pharmaceutical Technology parent company GlobalData's investigative journalism team. A version of this article originally appeared on the Insights module of GlobalData's Pharmaceutical Intelligence Center. To access more articles like this, visit GlobalData.