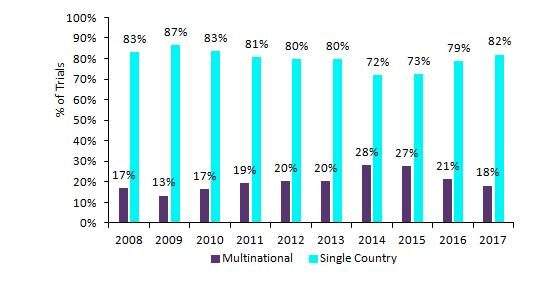 GlobalData has reviewed the location of global clinical trials in the immuno-oncology (IO) space that were initiated between 2008 and 2017. During this period, single-country trials greatly outnumbered multinational IO clinical trials. Their relative contribution fluctuated between 72% and 87%, as shown in Figure 1. Over the 10-year period, there were 3.9 times as many single-country trials as multinational trials, and 95% of non-industry trials were conducted in single countries. A relatively high number of multinational trials were seen in 2014 and 2015, which is consistent with the higher number of industry-sponsored trials in these two years.
Figure 1: Single-country and multinational io clinical trials
Source: GlobalData                                                                                                                                                                                                 © GlobalData
Related Reports
GlobalData (2018). Clinical Trials: Global Trends in Immuno-oncology. A 10-Year Retrospective, 2008–2017. Report Code: GDHC1699EI.
GlobalData (2017). PharmaFocus: Visual Analysis of Immuno-Oncology Development and Opportunities, August 2017, Report Code: GDHC009PFR.
For more insight and data, visit the GlobalData Report Store – Pharmaceutical Technology is part of GlobalData Plc.