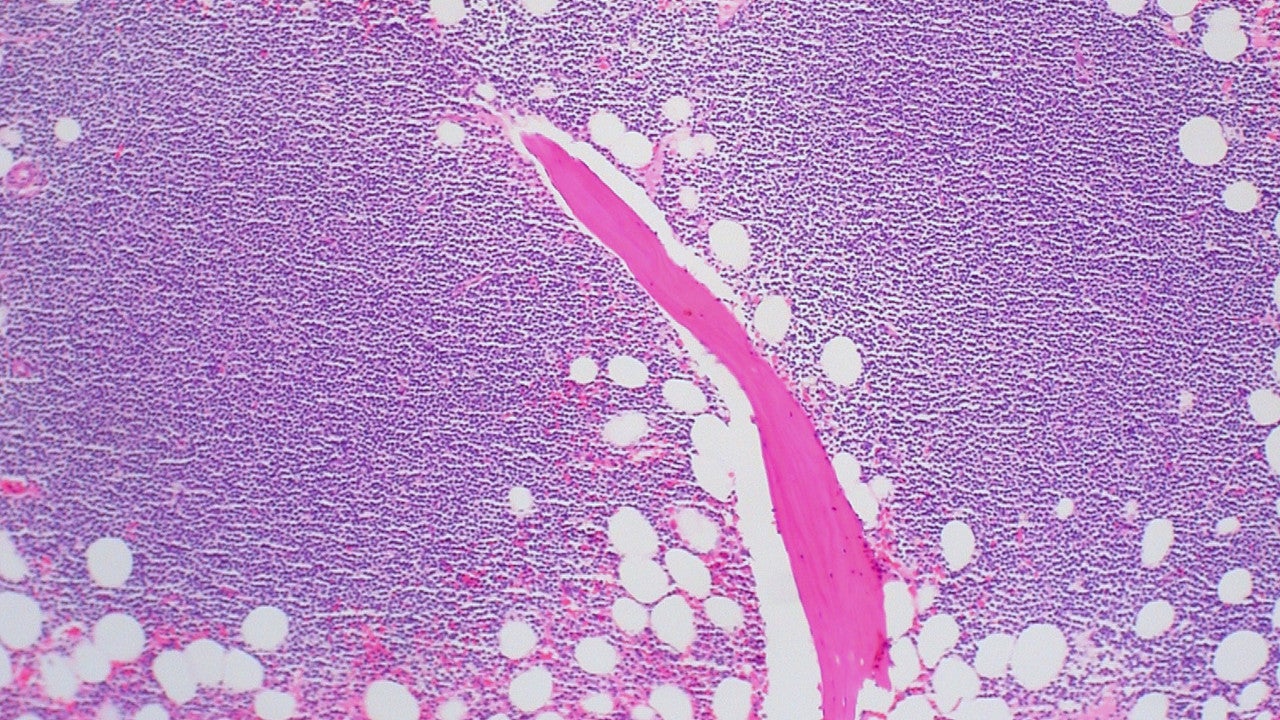 TG Therapeutics' umbralisib monotherapy in relapsed/refractory (R/R) lymphomas is unlikely to have extensive market traction, experts said. The same sentiment holds for its combination with ublituximab (U2) in relapsed/refractory (R/R) and treatment-naïve chronic lymphocytic leukaemia (CLL) despite both showing an improved safety profile to competitors, they added. However, FDA approval is still highly expected based on positive registrational trial data, they said.
Despite the toxicity profile giving them an edge over rivals, experts had reservations about widespread uptake of both agents. There is currently an excess of phosphatidylinositol 3-kinase (PI3K) delta inhibitors in this space, as well as competition from Bruton's tyrosine kinase (BTK), EZH2 inhibitors, and chimeric antigen receptor (CAR)-T cells, they noted. Experts believe U2 is unlikely to replace existing therapies in the frontline CLL setting. The dataset is also likely not strong enough to convince physicians to switch patients from current therapies, especially when considering their relative lack of experience and familiarity with the agent, they added. Still, umbralisib as a once-daily, oral option could be more appealing to patients and clinicians during the COVID-19 pandemic due to the reduced need for in-clinic care, said experts.
Despite hedges on market uptake, experts said they expect FDA approval. Umbralisib is following the same pathway as other previously approved PI3K delta inhibitors, and has an improved safety profile and similar efficacy, they added. Analysts believe umbralisib and U2 will gain an FDA nod based on data released at the recent American Society of Hematology (ASH) virtual conference.
Umbralisib has a 15 February 2021 PDUFA date for the treatment of R/R marginal zone lymphoma (MZL) and a 15 June target date for R/R follicular lymphoma (FL). TG Therapeutics is seeking to complete its regulatory submission for U2 in treatment-naïve and R/R CLL in the 1H21, according to a 7 December press release.
Umbralisib's potential to be used in combination with other agents is an advantage, experts agreed, noting it raises opportunities for umbralisib to be used as a part of a doublet or triplet regimen. For U2, the potential combination with AbbVie (NYSE:ABBV) and Roche's (SWX:ROG) Venclyxto (venetoclax), as being tested in multiple ongoing trials, could favor its application in the frontline and R/R setting for CLL, one expert said. One analyst report was encouraged by the safety profile data and saw this as key to potentially developing U2 as a base for combination treatments.
TG Therapeutics believes these data demonstrate differentiated profiles for umbralisib and the potential of the U2 regimen in CLL, said CEO Michael Weiss. TG Therapeutics' market cap is $7.33bn. Analysts' sales predictions vary from $153m for umbralisib in CLL in 2027 to $1bn for both therapies in 2024.
Despite improvement, competition still an issue
While the umbralisib Phase II trial data at ASH did display an improved toxicity profile over other PI3K delta inhibitors, such as Gilead Sciences' Zydelig (idelalisib) and Verastem Oncology's Copiktra (duvelisib), experts were not convinced it would have widespread uptake among patients and practitioners. Lingering concerns remained regarding common class adverse events (AEs), which include neutropenia, diarrhoea and increased alanine aminotransferase/aspartate transaminase levels.
According to ASH data, AEs led to treatment discontinuation in 16.5% of patients on U2 and 7.6% on the comparator arm of Roche's Gazyva (obinutuzumab) plus Aspen Pharmacare's Leukeran (chlorambucil) (O+Chl) in the Phase III UNITY-CLL (NCT02612311) study. The discontinuation rate was 14.9% on umbralisib monotherapy in the Phase IIb UNITY-NHL (NCT02793583) trial.
Although umbralisib and U2 had safety events, their toxicity profile still improved over competitors, noted Dr Jeff Sharman, medical director of Hematology Research, US Oncology, Eugene, Oregon, and an investigator on UNITY-CLL and UNITY-NHL. Data released at ASH described monotherapy umbralisib's safety profile as manageable, which means that the AEs did not cause treatment discontinuation in most patients, said Sharman.
Meanwhile, the Phase III DUO trial (NCT02004522) of Copiktra for R/R CLL had discontinuation rates of 35% due to AEs, according to the agent's label. AEs included diarrhoea, neutropenia, and pneumonia, and serious AEs were reported in 65% of patients. With Zydelig, the first-in-class IP3K delta inhibitor, AEs resulted in treatment interruption in 35% of patients and dose reductions in 15% of CLL patients, the Zydelig label shows.
Current PI3K inhibitors have shown little uptake, partially due to these AEs, said Dr Loretta Nastoupil, associate professor, Department of Lymphoma/Myeloma, The University of Texas MD Anderson Cancer Center, Houston. Zydelig was approved for CLL, FL, and small lymphocytic leukaemia (SLL) in 2014, and it generated $103m in 2019, down from a peak of $168m in 2016, according to a GlobalData consensus. Copiktra made $12.4m in 2019 after being approved CLL and FL in 2018, according to GlobalData.
While recognising the improved safety profile from other PI3K delta inhibitor agents, Nastoupil noted caution was better when it came to the potential discontinuation of umbralisib and U2 in practice, even based on other drug classes. For AbbVie and Johnson & Johnson's Imbruvica (ibrutinib), an oral BTK inhibitor approved for CLL, MCL and Waldenström's macroglobulinaemia (WM), there has been 40% intolerance among patients leading to therapy discontinuation, Nastoupil said. As BTK inhibitors are thought to be better tolerated than PI3K delta inhibitors, discontinuation rates with umbralisib of up to 20% due to intolerance could not be ruled out, she added. Prior experience with PI3K delta inhibitors in untreated CLL patients was problematic because immunological-mediated AEs were more severe in the frontline setting than in previously treated patients, Sharman explained.
In the R/R and treatment-naïve CLL setting, one major issue affecting patient uptake and reach for U2 is the presence of strong competition from other agents, experts said. U2 would not replace existing treatments such as BTK inhibitors or Venclyxto in the first- or second-line treatment setting for CLL efficacy, but does provide an excellent option in the third-line setting, said Dr Wojciech Jurczak, consultant of Hematology, National Research Institute of Oncology, Krakow, Poland and an investigator on both studies. In UNITY-CLL, R/R patients had a median of one prior line of treatment. In UNITY-NHL, R/R MZL patients had one or more lines of treatment, and R/R FL and SLL patients had two or more lines of treatment, including an anti-CD20 and an alkylating agent.
If CAR-T becomes more accessible and safer, U2 would face even stronger competition, Jurczak said. Novartis' Kymriah (tisagenlecleucel) and Gilead's Yescarta (axicabtagene ciloleucel) secured approval in 2017 for adult patients with R/R large B-cell lymphoma after two or more lines of systemic therapy, but both come with price tags of around $373,000. CAR-T cell therapy would represent even greater competition for umbralisib as a monotherapy due to their strong efficacy profiles, said Nastoupil.
Several non-PI3K delta inhibitors for R/R FL patients already exist, including Bristol-Myers Squibb's Revlimid (lenalidomide) and Roche's Rituxan (rituximab), along with the recent approval of Epizyme's EZH2 inhibitor Tazverik (tazemetostat). The third-line treatment setting for lymphomas is now crowded with drugs with different mechanisms of action, Sharman said. In the next 12–18 months, more drugs are set to enter the space, further compounding competition, he added.
Single administration a positive; combinations on the horizon
Most experts agreed having a once-daily administration is an advantage for umbralisib given the COVID-19 pandemic, albeit with some caveats. A once-daily treatment is clearly preferable for a reduced pill burden when compared with multiple administrations per day, such as with Zydelig, said Emily Pauli, director of research, Clearview Cancer Institute, Alabama, Huntsville. Even before the pandemic, a large proportion of patients would prefer the oral administration route as it reduces their time in the clinic and allows them to live a more normal life, Pauli said. Being the fourth Pl3K inhibitor agent would be beneficial, as there would be a greater understanding of the compound, which will lead to better management and monitoring, Jurczak said. The use of ublituximab as an anti-CD20 antibody is administered by infusion, so it would still make going into the clinic necessary, much like Rituxan, Gazyva and Novartis' Arzerra (ofatumumab).
In terms of ongoing studies, the combination of U2 with Venclyxto could lay the groundwork for a greater use of U2 in frontline R/R for CLL, Sharman said. TG Therapeutics is running a Phase I/II study (NCT03379051) of Venclyxto or Bristol-Myers Squibb's Revlamid (lenalidomide) in combination with U2 in R/R CLL, SLL and NHL, as well as a Phase II (NCT03801525) of U2 in combination with Venclyxto in subjects with CLL. Umbralisib has good potential for being used in combination with other drugs, such as Venclyxto with its improved safety profile, Jurczak agreed.
FDA approval likely, despite weak comparator
An FDA approval for both is likely due to umbralisib and U2's improved safety profile and because the regulator has approved three PI3K delta inhibitors–Zydelig, Copiktra and Bayer's Aliqopa (copanlisib)–recently on the basis of response rate and progression-free survival (PFS), Sharman said. Umbralisib is following this established pathway, he added. Other experts agreed, with Sharman noting the FDA has historically not imposed the most rigorous set of efficacy and safety demands for this drug class.
Patients in the UNITY-NHL trial for MZL achieved an ORR of 49.3%, with 15.9% achieving a complete response (CR), and a 12-month PFS rate of 64.2%. Those with FL had a similar ORR (45.3%) but lower PFS rate (45.9%) and CR (5.1%). At the data cut-off, 60 patients (26 on MZL, 27 on FL, and 7 on SLL) remained on treatment. Meanwhile, patients in the UNITY-CLL trial experienced 24-month PFS rate of 60.8%, compared with 40.4% for the control arm. In total, 421 patients were randomised to the U2 (210) or O+Chl (211) arms, with 57% being treatment-naïve.
The use of Gazyva plus Leukeran (O+Chl) as a control arm in the UNITY-CLL study did raise some concerns about clinical significance as Leukeran is not a standard of care, said Nastoupil. Leukeran will soon become obsolete, experts said, but added there is precedent for its use in clinical trials to date. Sharman referenced current studies where Leukeran is used in the control group, such as in several other Phase III trials in CLL.
Sean Rai-Roche is a Reporter for Clinical Trials Arena parent company GlobalData's investigative journalism team. A version of this article originally appeared on the Insights module of GlobalData's Pharmaceutical Intelligence Center. To access more articles like this, visit GlobalData.