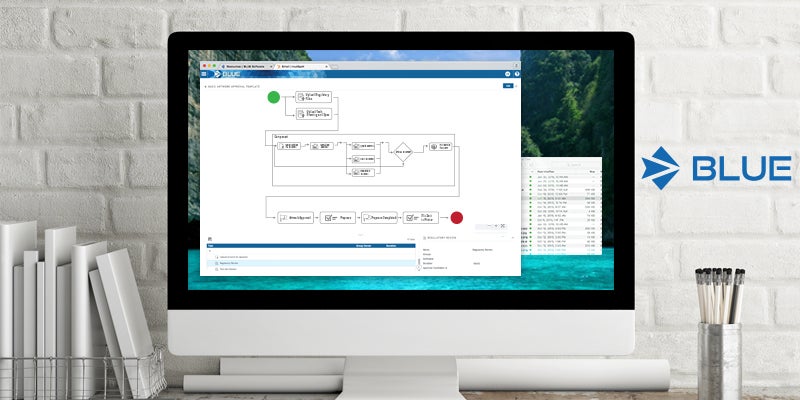 BLUE Software's brand lifecycle management platform delivers online proofing, workflow automation and digital asset libraries for pharmaceutical, medical device, and consumer goods companies. These solutions help health companies efficiently keep brands compliant across media worldwide.
Performance e-reporting programme
BLUE provides clear and concise key performance indicator (KPI) reports compiled of automatically captured data from projects run through the system. This automated retrieval eliminates the need for manual entry and tracks trends across similar projects for management of recurring issues in the production process.
KPI reports allow for quick identification of performance issues, such as product delays and bottlenecks and these can be expanded through the Data Library.
Proofing of artwork and copy for health packaging
For comparison and annotation of artwork, print, video, and online copy, BLUE's Online Proofing Module is suited to project collaboration between copy owners and approvers.

BLUE's software has 100,000 users globally, in more than 5,000 companies.

The management software platform provides online proofing and automated workflow.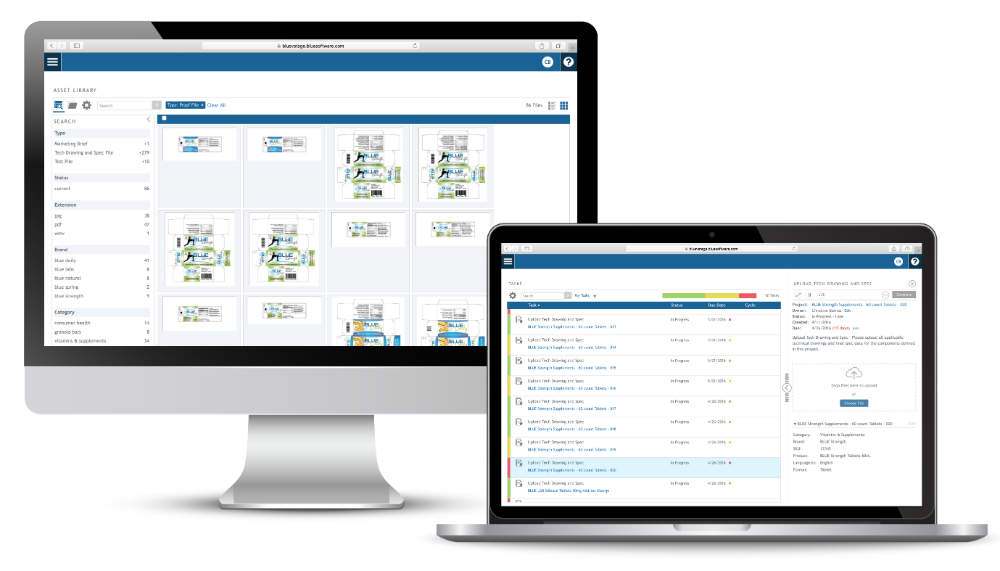 BLUE's Online Proof Module provides users with a tool to compare artwork, video, and copy.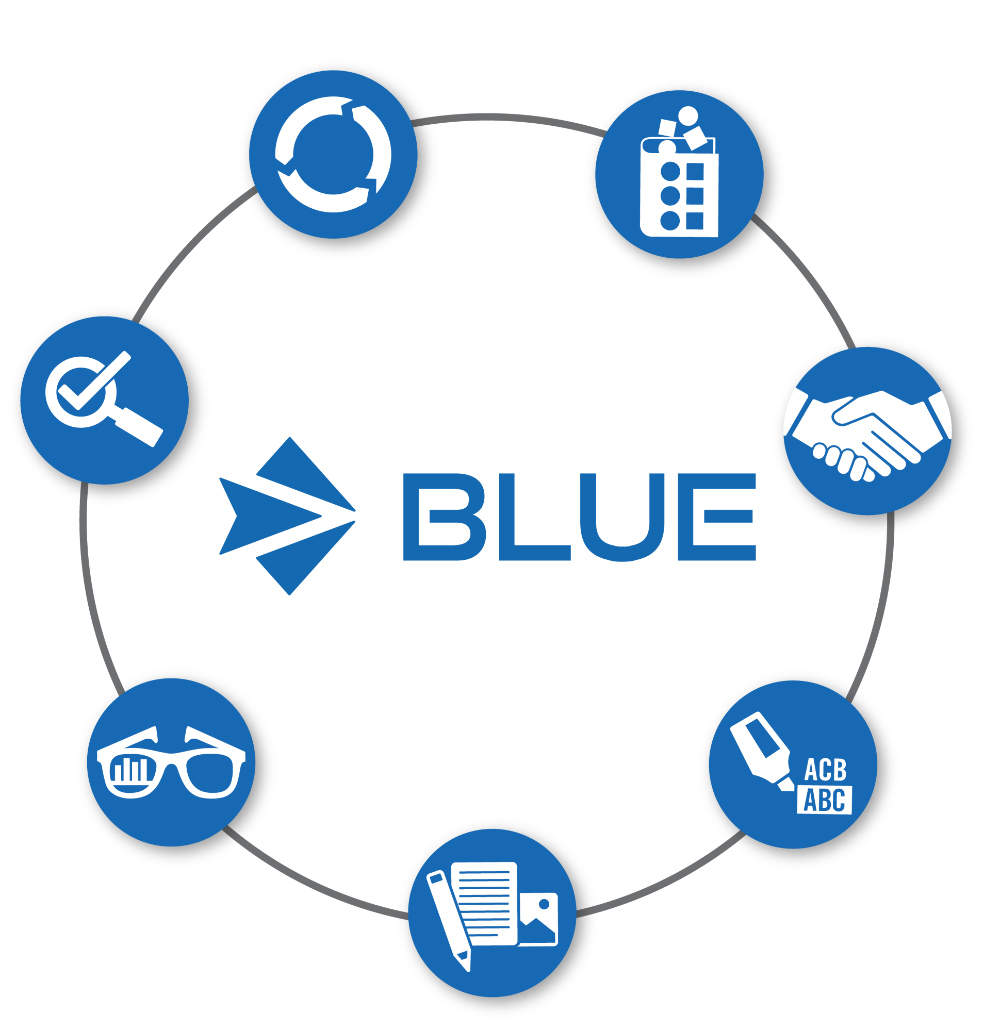 Recurring issues in production are identified using BLUE's e-reporting programme.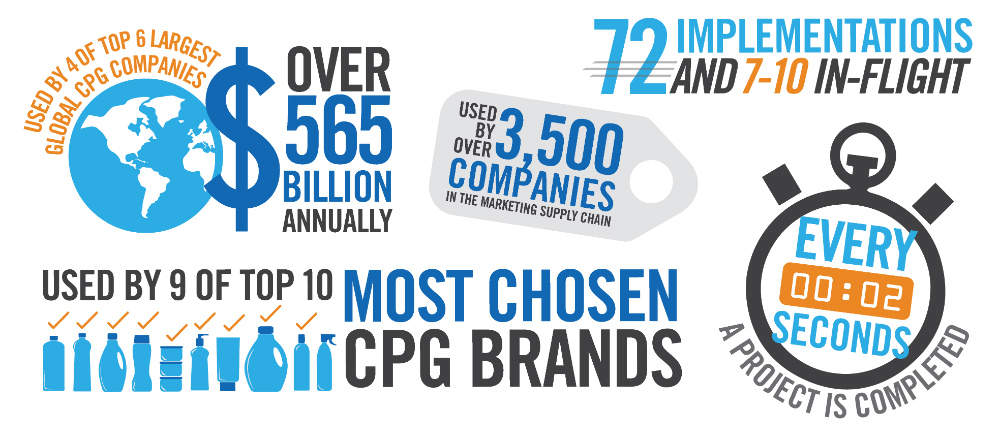 BLUE is used by more than 3,500 companies in the marketing supply chain.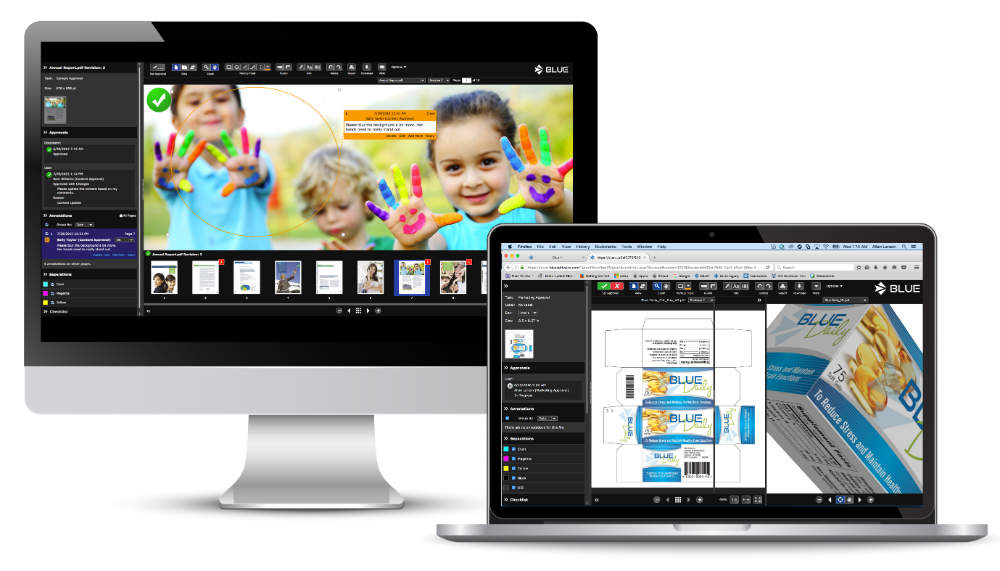 The Online Proofing Module is compatible with a wide variety of file formats.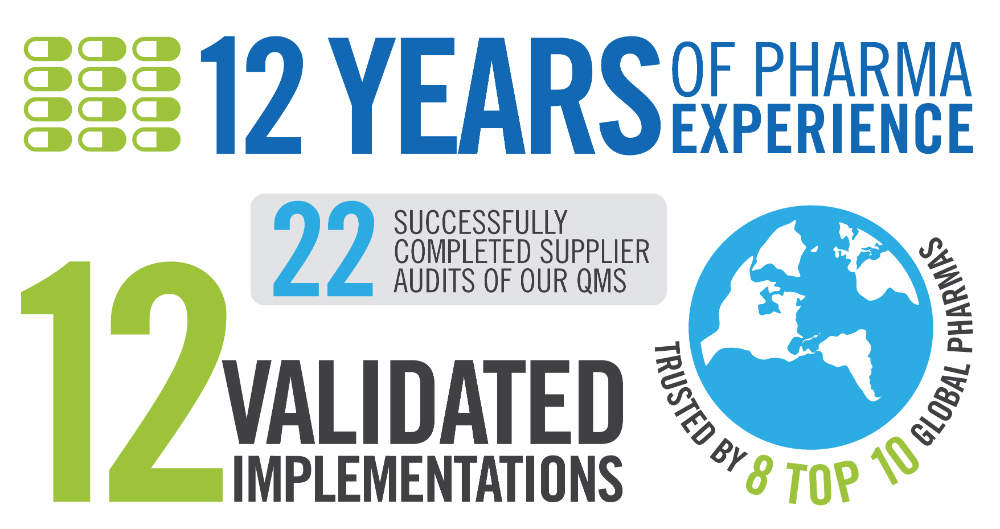 The company has more than 12 years of pharmaceutical experience.

BLUE software is used by five of the most influential retail brands.
With multiple viewing options and compatibility with wide variety of file formats, BLUE's analysis tools allow users to efficiently comment on video using the time-stamped annotation feature.
BLUE also has a copy management feature, which acts as a copy repository. Users worldwide can access and store copy elements, including packaging artwork, websites, and other marketing materials. Once the decision-maker has signed off an item, the BLUE module uses extensible markup language (XML) technology to help publish it to dielines and e-commerce sites automatically.
The XML can also allow for copy to be designated to a correct piece of artwork. If a warning needs to be applied over several label designs, BLUE ensures consistency and quality.
The BLUE Copy Management module has a rich interface for the approval and management of copy. Distribution and revision is dynamic and has a full audit trail. In comparison to paper-based or document copy management systems, this automated approach improves speed-to-market and makes fewer mistakes.
Software solutions for product lifecycle management
BLUE Software's team are able to provide a system implementation lifecycle (SILC) that is fully documented. Each system roll-out is performed through a process that is clearly defined and time-tested, with monitoring and controls for schedule, budget, quality and scope.
The team cooperates with project managers to ensure easy implementation and a partnered approach. A validation package is available, which also helps save time.
Quality management system and validation
BLUE products are used in healthcare companies with extensive regulatory requirements related to electronic records and electronic signatures.
The BLUE team has an established quality management system (QMS), which has been developed to enact similar quality standards and resources as International Organisation for Standardisation (ISO) and current good manufacturing practices (cGMP).
The QMS governs the system development, implementation, and upgrade lifecycles and incorporates all operating functions, objectives, and activities that contribute to the delivery of consistent quality products and services.
BLUE's Validation Services are built into our implementation methodology ensuring success in highly regulated environments such as the pharmaceutical and life sciences industries.
Our project teams have a strong understanding of current Good Manufacturing Practices (cGMP), 21 CFR Part 11, Good Automated Manufacturing Practice (GAMP) as related to BLUE deployments.
BLUE's lifecycles are a structured framework to maintain traceability between all phases and to provide discipline into all aspects of product development and delivery. These internal processes ensure the delivery of a well-tested and supported product.
About BLUE Software
BLUE Software's lifecycle management programme is currently used by some of the world's most high-profile pharmaceutical, medical device and consumer goods companies. The BLUE team has extensive experience in providing solutions based on in-depth knowledge of graphic and copy management for highly regulated industries.