TrialScope is a clinical trial management platform that ensures compliance processes are consistently implemented while optimising disclosure activities and trial data transparency.
This flexible and customisable platform is designed to inform and engage patients through open research sharing. It supports clinical trial disclosure and transparency, from registration to final report summaries.
TrialScope improves patient recruitment and engagement, as well as promotes simplified and validated data-sharing across all of its corporate websites. The platform is intuitive, easy-to-use, and connects data in real-time, which ensures that trial information is promptly displayed for both internal and public viewing.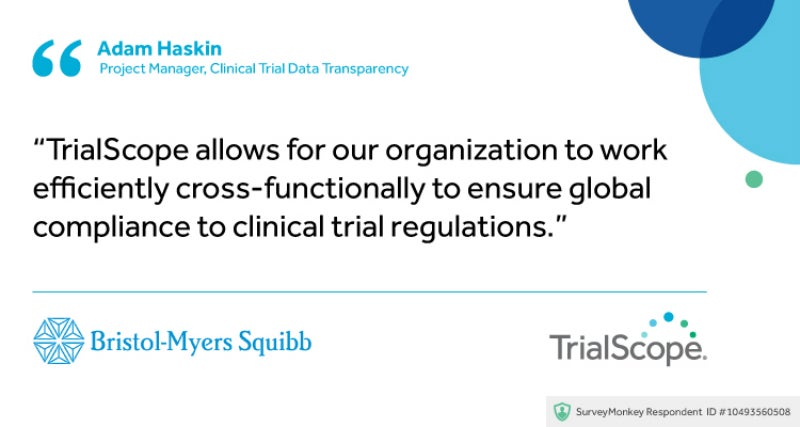 Project manager of clinical trial data transparency at Bristol-Myers Squibb Adam Haskin comments on TrialScope.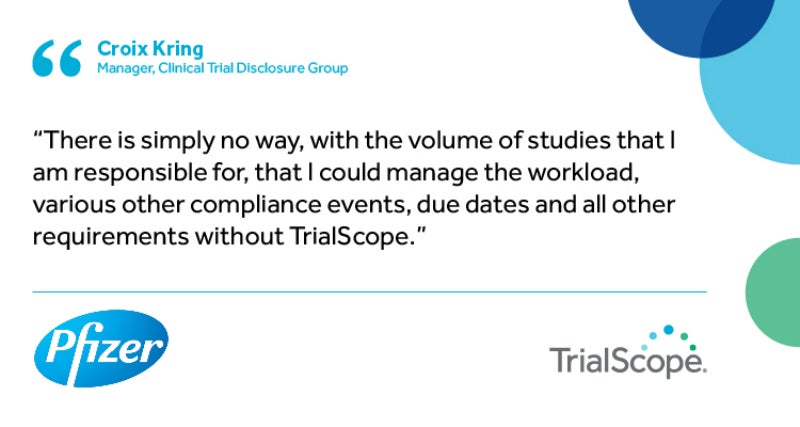 Manager of clinical trial disclosure group at Pfizer Croix Kring comments on TrialScope.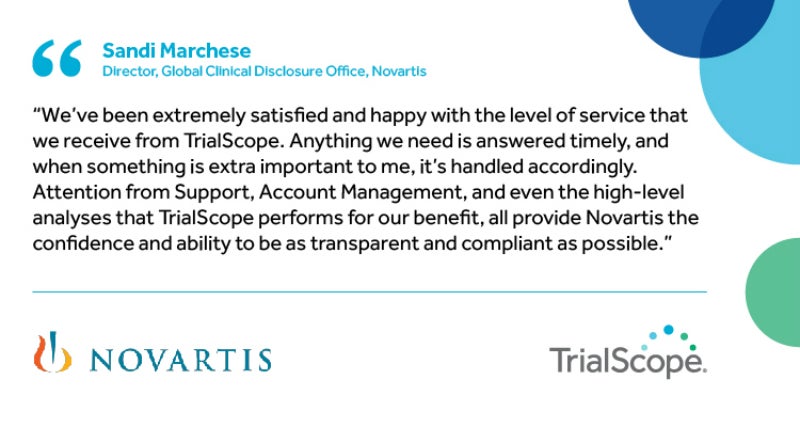 Director of global clinical disclosure office at Novartis comments on TrialScope.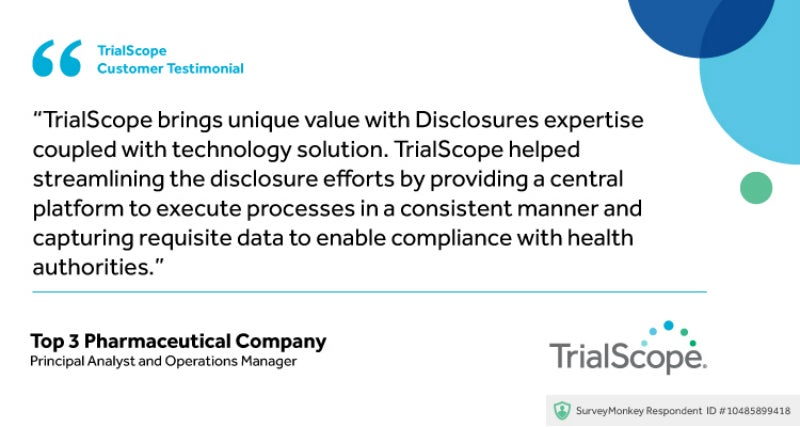 A customer of TrialScope comments on the company.
TrialScope is currently used in 40% of industry trials registered on ClinicalTrials.gov and EudraCT. Today, more than 12,000 users manage more than 30,000 clinical trials using TrialScope's technologies.
Clinical trial disclosure and registration software
TrialScope DiscloseTM centralises, tracks and registers clinical trial data in compliance with disclosure processes. The system mitigates compliance risks and provides greater control over disclosure reputation.
The platform's comprehensive, Cloud-based software includes a full range of capabilities for compliant, confident clinical trial disclosure, from protocol to registration to results.
Turnkey clinical trials website solution for patients
TrialScope EngageTM enables clinical trial sponsors to engage with patients and the public via a user-friendly, high-impact website.
The site openly shares clinical trial information and results, demonstrating leadership in transparency. It also optimises recruitment and patient retention.
TrialScope Engage enables sponsors to deliver clear communications via the clinical trial publication website, and ensuring only pre-approved and accurate trial information is shared using real-time connectivity to ClinicalTrials.gov and TrialScope Disclose platforms.
Disclosure advisory services for data-driven evaluation
TrialScope is one of the most widely used global clinical trial disclosure and transparency management platforms in the world. It offers disclosure services that can be used in conjunction with the platform's state-of-the-art software to make disclosure efforts more accurate and efficient.
The services are scalable, so clients can adjust the parameters to accommodate their changing workload.
Utilising an established, data-driven evaluation methodology, TrialScope's advisory services provide clinical trial sponsors with vital disclosure and transparency reviews and recommendations. These prepare sponsors for pending inspections and help improve assessment results.
TrialScope's experts offer concrete metrics and best practice recommendations to achieve compliant, efficient clinical trial disclosure that also meets evolving transparency trends.