Memmert develops and produces climate chambers, heating and drying ovens, incubators and water baths. The areas of application include microbiological tests, cell cultivation, incubation, conditioning and industrial quality assurance testing.
All parameters are regulated with highest precision and control. Our products, including the CO2 incubator ICOmed, hot-air sterilisers SFplus, heating ovens Um, incubators Im and IFbw blanket warmers, are classified as medical devices with various entities.
These are also designed to support the stringent quality regulations of good manufacturing practices (GMP), the US Food and Drug Administration (FDA), the World Health Organisation (WHO) and comparable regulations.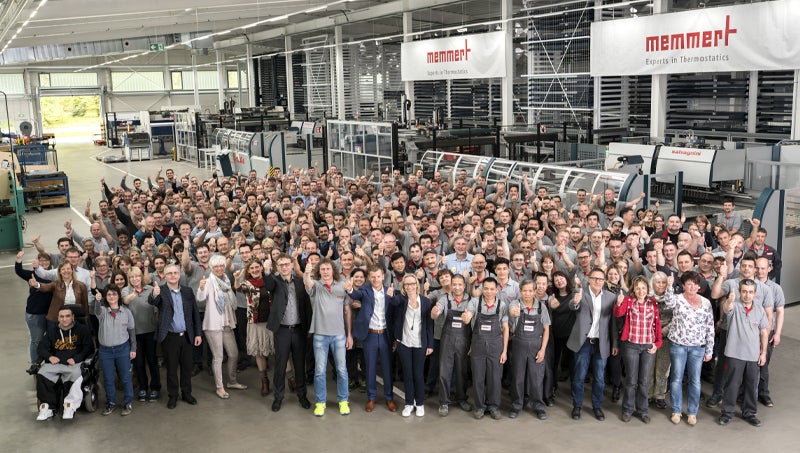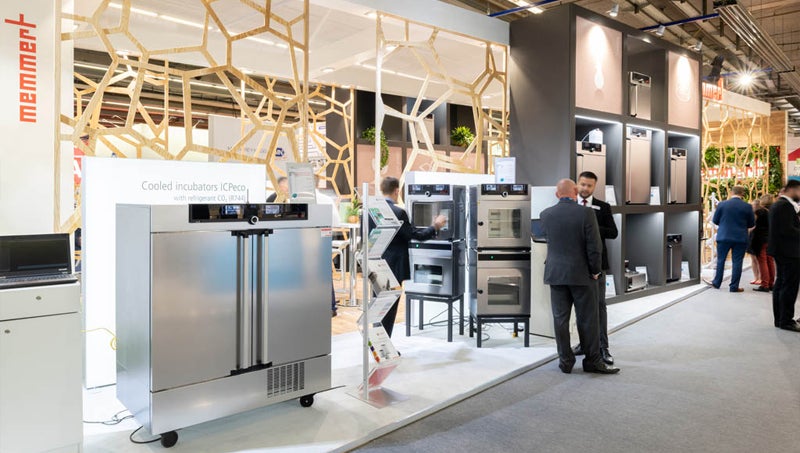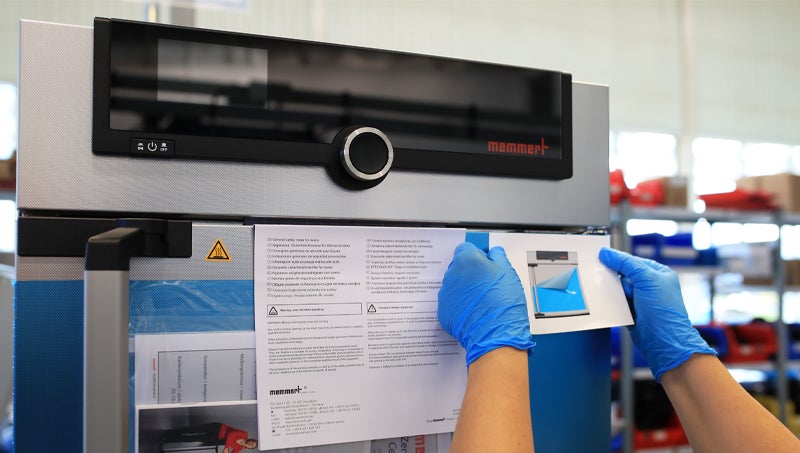 Peltier devices for laboratory use
For more than two decades, Memmert has been the technology leader in energy-efficient incubators and climate chambers, to be heated and cooled with a single Peltier system.
No other manufacturer offers Peltier appliances with comparable performance and a similarly wide range with appliance sizes of up to 2,140l interior chamber volume.
Introduced in 2020, Peltier appliances with the Advanced Peltier Technology set new standards in energy efficiency, precision, quietness and reliability, due to coordinated systems and high energy efficiency.
The Peltier technology is particularly economical and energy-saving at working temperatures close to the ambient temperature, as energy is only consumed when heating or cooling is required.
Constant climate chambers with Advanced Peltier Technology
The constant climate chamber HPPeco was specially designed for long-term applications under constant environmental conditions and scores points with its homogeneous and stable distribution of temperature and humidity.
A new micro-dosing pump in combination with an intelligent control system ensures fast and sensitive humidification of the chamber interior. Common applications include stability tests according to ICH Q1A in the pharma industry as well as stability tests and shelf-life tests in the food and cosmetics industries.
Peltier-cooled incubators with Advanced Peltier Technology
The Peltier-cooled incubator IPPeco is mainly used in the microbiological laboratory for cultivation above and below room temperature, bacterial count determination and shelf-life tests.
As the IPP110eco to IPP1060eco units can be cooled down to freezing point, they offer a wide range of applications. While offering reduced energy consumption, this Peltier-cooled incubator achieves optimum values for finely adjusted heating, cooling and recovery after opening the door.
Stability testing according to ICH Q1A (R2) and GMP
Stability tests are used to investigate the extent to which the microbiological, chemical and physical stability of drugs and individual substances changes when stored under controlled conditions over a defined period of time. From the results, conclusions can be drawn about shelf life and use-by date, as well as the conditions for storage and transport.
For the storage of stability samples, Memmert has two constant climate chambers in its product range: the climate chamber HPPeco and the compressor-cooled climate chamber ICH with climate-friendly CO2 (R744) as a refrigerant.
The ICHeco L version with lighting unit offers the option of photostability testing in accordance with ICH Guidelines Q1B, Option 2, and is equipped with fluorescent lamps with cold white light (daylight: light colour 865, 6,500K) and UV radiation in the 320nm to 400nm spectral range (corresponds to standard light D 65).
CO2 incubators for incubating cell cultures
For the cultivation of cell and tissue cultures, Memmert offers the CO2 incubator ICOmed with air jacket temperature control.
To ensure the reproducibility of experiments, all elementary parameters can be regulated, controlled, and documented. The control is finely tuned so that the set temperature is reached without overshoot.
Even minimal fluctuations in CO2 concentration can stress or irreparably damage the cell culture and thus falsify the test results. To ensure uninterrupted CO2 control, the buffer battery in the ControlCOCKPIT therefore takes over when there is a power failure.
Active humidity control and comprehensive surface heating ensure short recovery times after opening the door and minimal evaporation in the interior. The consistently homogeneous atmosphere is ensured by turbulence-free ventilation.
Software
The software AtmoCONTROL enables quick and intuitive operation of Memmert incubators, climate chambers and lab ovens.
In particular, the graphic programming of the parameters makes everyday laboratory work much easier.
All processes can be completely logged and documented. An FDA edition of the software is optionally available.
About Memmert
At two locations in southern Germany (Schwabach and Büchenbach), Memmert has been developing and manufacturing climate and temperature control appliances since 1947.
Hundreds of thousands of appliances are in use worldwide. A global network of sales and service partners, as well as Memmert's own subsidiaries in China, India and Russia guarantee fast service and expert application advice on site.