Containment Service Providers Joins Forces with ILC Dover and Jet Solutions to Provide Total Flexible Containment Solutions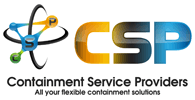 Three world-leading companies have recently come together to provide total flexible containment solutions for customers. Containment Service Providers Ireland, ILC Dover USA and Jet Solutions Switzerland have recently created a forum called Flexible Containment Group.
The group offers the broadest range of high containment flexible systems available for safer and higher quality pharmaceutical processing.
The team aims to bring new products and services to market, and is collaborating on new ideas and investing in product development for a cleaner and safer working environment.
The driver behind the alliance of these three companies is to provide unrivalled expertise, innovative products and after-sales service for customers in need of total containment.
ILC Dover's expertise in film development, CSP Ireland's knowledge in design solutions and Jet Solutions' experience in process installation and planning make this alliance unparalleled in the international flexible containment market today.
The group together has like-minded thinking and a vision to provide cost-effective solutions for their customers thus avoiding disappointment. The partnership provides a 'one-stop-shop' for flexible containment answers.
The Wall-Mounted Fog Shower: Safe Removal of Potentially Contaminated Personal Protection Equipment