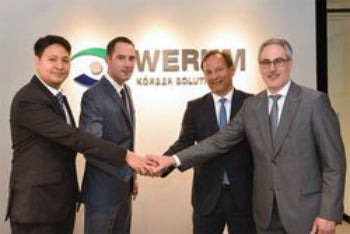 International manufacturing execution systems (MES) software supplier Werum IT Solutions has jointly announced the transfer of Southeast Asia-based consultant Factorytalk's manufacturing execution systems (MES) business to Werum's corporate organisation.
All current Factorytalk MES employees will transfer into the newly established subsidiary Werum IT Solutions in Bangkok, Thailand. This ensures continuation and is a sound basis for future growth operations in the Asia Pacific region.
Factorytalk's ten year collaboration with Werum and proven track record of success in implementing PAS-X MES are the solid platform the business transfer has been built. Through this initiative, Werum can provide a fully integrated and comprehensive solution hub for the benefit of Werum's existing and new clients in Asia.
CEO of Werum IT Solutions in Germany Rüdiger Schlierenkämper says: "This deal is about market leadership and growth. We highly welcome the opportunity to expand our local activities for Asian customers in this important future market together with Factorytalk, a company with outstanding PAS-X MES and compliance expertise.
"The transfer of Factorytalk's MES business to Werum is an important step forward in realising our future business growth strategy in the region."
Newly appointed managing director of Werum IT Solutions (previously managing director of Factorytalk) David Margetts says: "For more than ten years we have greatly valued and been proud to work in such a close and rewarding partnership with Werum.
"By further developing our long-established principles of trust, customer focus, and commitment to ensure compliance and quality we are able to instantly integrate our MES team into Werum's organisation and fit seamlessly to its extensive global network.
"We are rapidly building on our existing success through a 'best of both worlds' concept, which enables us to leverage our strong international expertise. Our very experienced local teams and partners are looking forward to delivering the world's leading Pharmaceutical and Biotech MES solution across every major market, culture and language in the region, and to do this from a central location in Asia."
Senior director of global sales at Werum IT Solutions Lars Hornung adds: "Werum's new Asia hub in Thailand is the first step in our pursuit to be closer to our customers in this region. Our new Werum office in Bangkok will be a centre of excellence for MES projects of pharmaceutical and biopharmaceutical clients in the Asian Pacific region.
"It will also be a first milestone on our way of establishing further offices in key markets in Asia. This will clearly enable us to serve our customers in the region even better than in the past."