Federal Equipment Company is a specialist supplier of pharmaceutical, chemical, and packaging machinery. With more than 15,000 items of equipment in stock and ready-to-ship from more than 600,000ft³ of warehouse space in Ohio, US, we are one of the largest suppliers of used process and packaging equipment in the world.
For more than 50 years, we have been the trusted name in the pharmaceutical processing equipment industry. We routinely deliver quality used components and machinery, consistently outstanding service, and highly competitive prices that meet the needs of our global customers. In addition, we maintain a strategic relationship with Pfizer Inc, which provides us with high-quality stock that includes process and packaging equipment at the forefront of the market.
Comprehensive machinery for pharmaceutical packaging production
Our pharmaceutical inventory is comprehensive enough to meet the equipment needs of the following manufacturing industries:
Pharmaceuticals
Generic drugs
Pharmaceutical contract manufacturing organizations (CMOs)
Vitamins
Nutraceuticals and supplements
Cosmetics and fragrances
Biopharmaceuticals and biosimilars
Beverages
Foods and candies
Federal Equipment's inventory is a one-stop-shop for manufacturing equipment.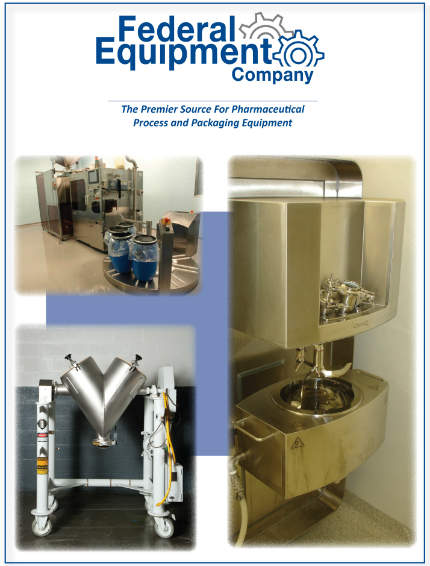 Federal Equipment Company is the premier source for pharmaceutical process and packaging equipment.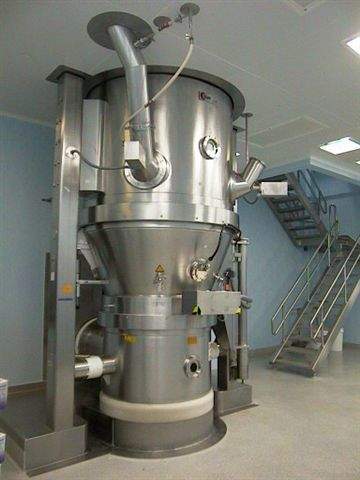 We provide a comprehensive range of used specialist equipment such as a fluid bed dryer, 316L SS product contacts, 304 SS non-product contacts, 1,560l volume, 10bar internal shock rating, swing out cart with bottom dump, split top dust collection chamber.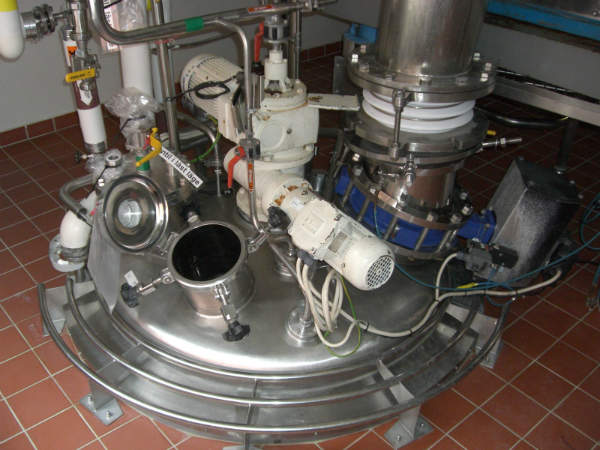 A used 350l (12.35ft³) conical vacuum mixer dryer, model 3-VDC-22, 316L SS, approximately 738l total capacity, 350l working capacity, internal rated full vacuum at 200°C.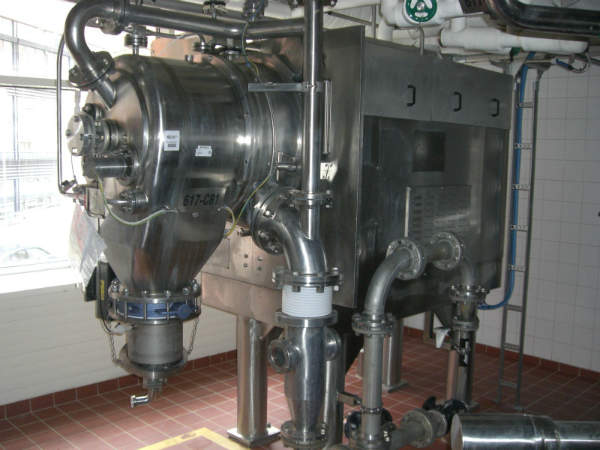 A used COMI condor inverting filter centrifuge, type HT GMP, Hastelloy C22, approximately 150mm diameter basket, 35kg maximum load capacity, unit rated +/- 0.2bar at -20°C to 80°C.
We stock all of the equipment required to set-up a complete manufacturing operation for the following products and packaging:
Solid doses: tablets, soft capsules, hard capsules, pellets and powders
Liquid doses: solutions, suspensions, emulsions
Semi-solids: creams, ointments and lotions
Transdermal patches
Aseptic fill and finish: vials, ampules, syringes, blow-fill-seal and sachets
Primary packaging: blisters, bottles, pouches, bags, flow-wraps, tubes
Secondary packaging: carton, shrink-wrap, trays, casepacks, taping, labelling, neckbands, cottoners
Sourcing process and packaging equipment
Federal Equipment's inventory changes daily. Users can review our inventory at our website or call a sales associate for assistance. If you do not see the equipment you need, please let us know. Even if we do not have it in our current inventory, we can use our extensive network to help source your next piece of process or packaging equipment.
Investment recovery for packaging equipment and manufacturing facilities
Federal Equipment also offers a wide array of unique services, including the liquidation and auction of process lines and manufacturing facilities, as well as equipment appraisals.
With our extensive buying and selling experience, purchasing power, and global marketing reach, coupled with our extensive experience in various specialized markets, we can ensure our customers maximize their investment recovery efforts regardless of the size, location, or complexity of the project. We consistently provide value-added strategies that advance our client's investment recovery goals and optimize profitability.
For example, Federal Equipment Company provides investment recovery services to one of the world's largest and best-known pharmaceutical manufacturers, Pfizer. We are actively engaged at more than 30 Pfizer sites worldwide, evaluating and removing surplus process and packaging equipment for sale to interested parties or for redeployment within Pfizer's own network.
Our current inventory of equipment includes surplus assets from Pfizer's pharmaceutical plants, research and development facilities, and pilot plants, as well as kilo-plants, chemical plants, and API (active pharmaceutical ingredients) and pharmaceutical manufacturing plants.
You can view Pfizer-owned equipment at our website's Pfizer Landing Page. Visit the site to view some of the highest quality pharmaceutical process and packaging equipment available globally.
Our clients save millions of dollars by purchasing high-quality surplus equipment from manufacturing leaders without forgoing quality.
In addition, we have a dedicated pharmaceutical building that satisfies the unique storage requirements of pharmaceutical equipment. Visit us and see all our pharmaceutical equipment under one roof.
Value, experience and service make Federal Equipment the right choice for the smart equipment buyer or seller.
Cost-effective used equipment for pharmaceutical manufacturers
Within the pharmaceutical industry, it is understood that the loss of a patent for a branded pharmaceutical leads to opportunities for contract manufacturing organizations (CMO) and generic pharmaceutical manufacturers. These manufacturers will often gear up quickly to produce lower margin copies.
This can leave pharmaceutical manufacturers with a surplus of manufacturing equipment, with much of it valuable to generic manufacturers and contract manufacturing organizations (CMO). With a reputable used equipment dealer, the branded manufacturer, CMOs, and generic manufacturers can all realize cost savings. Since the investment in new pharmaceutical equipment remains a large and complex commitment for any manufacturing facility, recovering a portion of that capital investment in equipment is vital.
Project managers often opt to work with a used equipment dealer such as us to evaluate and appraise the equipment. CMOs and generic manufacturers have the opportunity to view and evaluate this equipment for their needs. Used equipment is generally a fraction of the price of new equipment and is available immediately. Engaging with a used equipment dealer provides the opportunity for significant cost savings and the ability to obtain high-quality equipment in a short space of time.