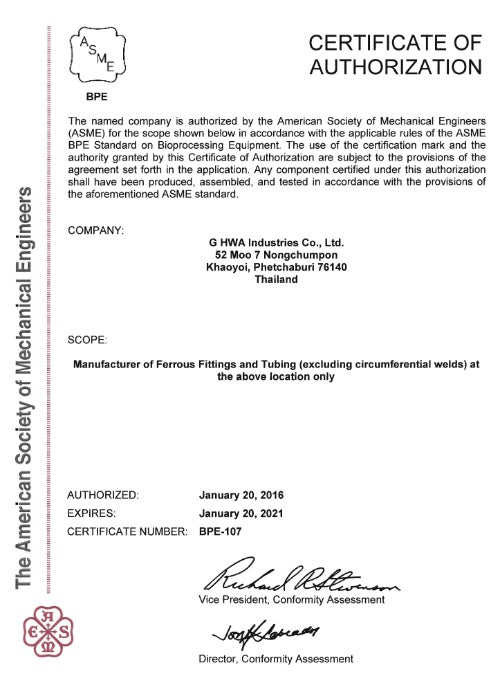 GHWA Industries has become the first tube and fittings manufacturer to be awarded a ASME-BPE Certificate of Authorisation in Asia for its production facility in Khao Yoi, Thailand.
Global sourcing is a common business strategy, and there is an increasing need for high-quality and cost-efficient products. Therefore, regulations on manufacturing practice and quality assurance program are essential.
The ASME Bioprocessing Equipment (ASME-BPE) standard provides designers and process engineers with a reliable and measurable way of specifying hygienic tubes, valves and fittings for use in pharmaceutical and high-purity applications.
The award is the leading standard on designing and building equipment and systems used in the production of biopharmaceuticals. It incorporates current best-practices for enhancing product purity and safety.
Through the American Society of Mechanical Engineers harmonisation programme this very inclusive standard has achieved worldwide acceptance.
The ASME-BPE brings together standard stainless steel component types, length sizing, and round and squareness tolerances. Manufacturing materials are standardised, but there is flexibility to use other materials with proven characteristics in the bioprocessing industry.
Standard mechanically polished and electro-polished internal surface finishes are defined by finish codes that are marked on components for ease of identification.
GHWA Industries is the first manufacturer of both tubes and fittings to receive a ASME-BPE...