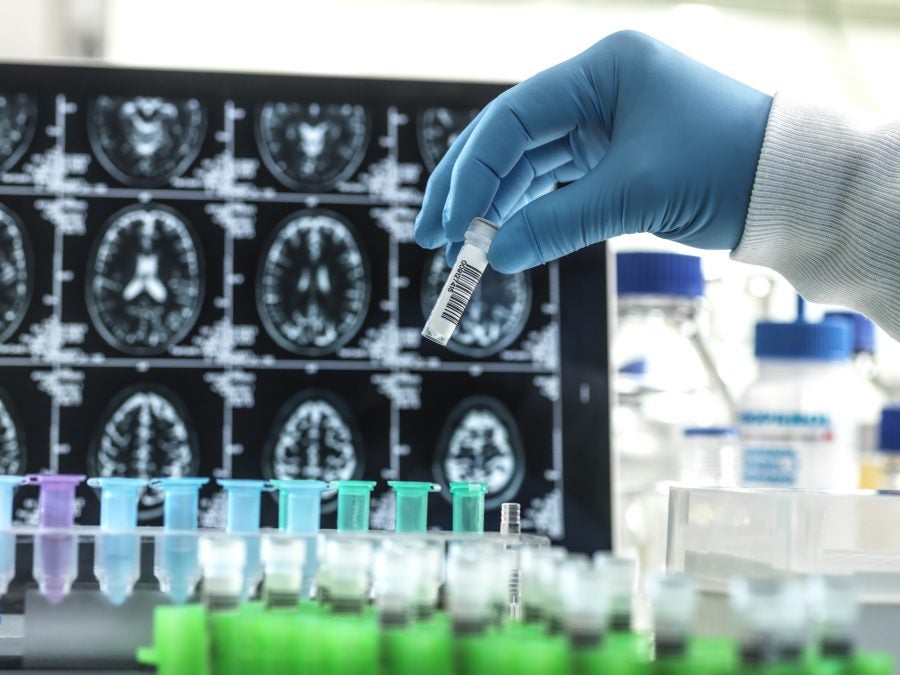 Last week, the quest for an effective Alzheimer's disease therapy received a notable fillip at the Clinical Trials on Alzheimer's Disease (CTAD) Conference 2022, with new data on Eisai and Biogen's disease-modifying therapy lecanemab. Alongside the discourse on what the positive study results could mean for patients, researchers are prioritising the development of more biomarkers to identify potential responders and improve patient outcomes.
The World Health Organization (WHO) defines dementia as "a syndrome in which there is deterioration in cognitive function beyond what might be expected from the usual consequences of biological ageing." Alzheimer's disease is considered a type of dementia. Throughout 2022, several biomarkers have been explored that are beginning to show the potential to transform the diagnostic process for dementia. Some are beginning to be incorporated into clinical research, and identifying new biomarkers is now becoming an essential part of analysing disease pathology and improving diagnostic processes.
The lecanemab results come after several setbacks in the field involving high-profile trial failures, and questions on foundational data supporting the amyloid theory. "I think these results might be the key that unlocks the difficult situation we have been in this field for many years," says Professor Henrik Zetterberg, a professor of neurochemistry at University College London.
Researchers are also investigating blood-based biomarkers to bolster efforts to find Alzheimer's drugs that go beyond targeting the amyloid protein, so new targets can be tackled, potentially widening the pool of patients who may respond to a therapy. Developing treatment biomarkers and diagnostic biomarkers may help achieve these goals.
Amyloid-targeting therapies
Over the last few years, pressure has been building for researchers to find disease-modifying therapies and biomarkers to support the therapeutic landscape for dementia and Alzheimer's disease, more specifically. At CTAD, experts presented data from the Clarity AD clinical trial, where lecanemab met the primary endpoint—a mean change in the Clinical Dementia Rating-Sum of Boxes (CDR-SB) scale—by reducing clinical decline by 27% compared to placebo, at 18 months of treatment. Lecanemab is an amyloid antibody that targets oligomers and protofibrils of amyloid. According to Dr. Serge Gaulthier, the director of Alzheimer's Disease and Related Disorders Research Unit at McGill University, this is the largest decline in cognitive impairment ever shown with a disease-modifying therapy for Alzheimer's disease.
However, Gaulthier says this may be the cap for efficacy of disease-modifying amyloid therapies for dementia and Alzheimer's patients. Given that, there is now a major focus on studying new biomarkers so they can help identify more efficient disease-modifying targets in clinical trials.
Early diagnostic and prognostic markers can reflect disease pathophysiology, progression, severity, and potential differences in disease mechanisms. This is of paramount importance for improving the design of clinical trials and the development of novel disease-specific diagnostic tools and therapies for Alzheimer's disease, Parkinson's disease, and other types of dementia.
Further research into dementia biomarkers
Among the different targets being explored, tau, neurofilament light chain, and amyloid beta plaques have generated the most evidence.
At CTAD, one abstract (no. P108) delved into the comparative specificities of two biomarkers—tau, a microtubule associated protein that plays a key role in Alzheimer's disease pathology, and the well-established Aβ42/Aβ40 amyloid plaque biomarker. The study looked at early brain amyloid deposition in individuals with subjective cognitive decline and concluded that Aβ42/Aβ40 showed a higher specificity than p-tau 181 for identifying disease progression in patients. But p-tau 181 specificity (80.8%) and accuracy (80.9%) was still approaching that of Aβ42/Aβ40 (84% and 83.6)%, respectively.
"P-tau isoforms may indicate a response to treatment," says Gaulthier, explaining that in the case of lecanemab, reduced levels of P-tau isoforms were present in patients after treatment. In another study (S-1 CTAD 2022), scientists analyses blood plasma levels of p-tau along with other biomarkers using opsitron emission tomography (PET) scans and clinical and cognitive measures in local and international clinical cohorts. The authors concluded that biomarkers to track tau aggregation are "highly precise measures" of brain tauopathy and neurodegeneration.
A Phase II study of the pharmacodynamic effects of semorinemab (RG 6100), an investigational drug being developed by Roche and AC Immune, on plasma and cerebrospinal fluid (CSF) also took into account plasma and CSF p-tau levels to determine individuals' response to treatment.
Apart from p-tau, other biomarkers have been extensively studied in dementia. The pathology of certain neurodegenerative disorders has been linked to proteins like alpha-synuclein and TAR DNA-binding protein- 43 (TDP-43). Zetterberg says the field can detect and quantify these additional pathologies with improved biomarkers. In the case of alpha-synuclein pathologies, scientists have used neurofilament light chain biomarkers to diagnose patients and measure their response to drugs.
Gaulthier mentions that lithium drugs are also now being investigated by analysing the presence of tau levels in the blood. With novel biomarkers, it is important to evaluate whether results reflect brain pathology changes and any changes due to a treatment are clinically meaningful, says Zetterberg. In order for that to happen, patients need to be followed over time in clinical cohorts that are large enough to detect differences in pathology and identify biomarkers, he says.
In the future, Zetterberg suggests that re-analysing studies with anti-amyloid treatments that did not work with the newly available biomarkers could give a better sense of which patients could have responded better or worse to the treatment. But he cautions this won't be easy. "These samples are owned by these companies, so perhaps some sort of initiative could make samples of negative Alzheimer's disease clinical trials available," he says.
While these goals are yet to be actualised, in the meantime, scientists are also looking at how biomarkers can be used as diagnostic tools. "Early diagnosis is a huge challenge in Alzheimer's disease. So far, the available biomarkers are not really capable of detecting Alzheimer's disease," says Dr. Shih-Hsiu Wang, assistant professor of pathology at Duke University. Diagnostic tests for Alzheimer's have only been able to detect late-stage progression.
Alongside other researchers, Wang participated in a recent study that investigated post-translational modifications of tau that result in phosphorylated tau or p-tau. The accumulation or aggregation of tau is driven by these post-translational modifications, and these p-tau isoforms are highly expressed in samples from Alzheimer's disease patients, says Wang. The study used a tau antibody screening approach to target tau aggregates and test those that commonly occurred in Alzheimer's patients. The results affirmed that p-tau detection can not only differentiate Alzheimer's patients from those in a control group, but also identify other tauopathies or disorders associated with abnormal tau protein aggregates in patients.
Scientists expect that this recent research may facilitate smoother treatment pathways for dementia patients. Zetterberg envisions a scenario where multiple biomarker tests could detect levels of amyloid, tau, TDP 43, alpha-synuclein, and the different pathologies of patients with suspected dementia. "Then we could tailor the treatments to attack multiple pathways."