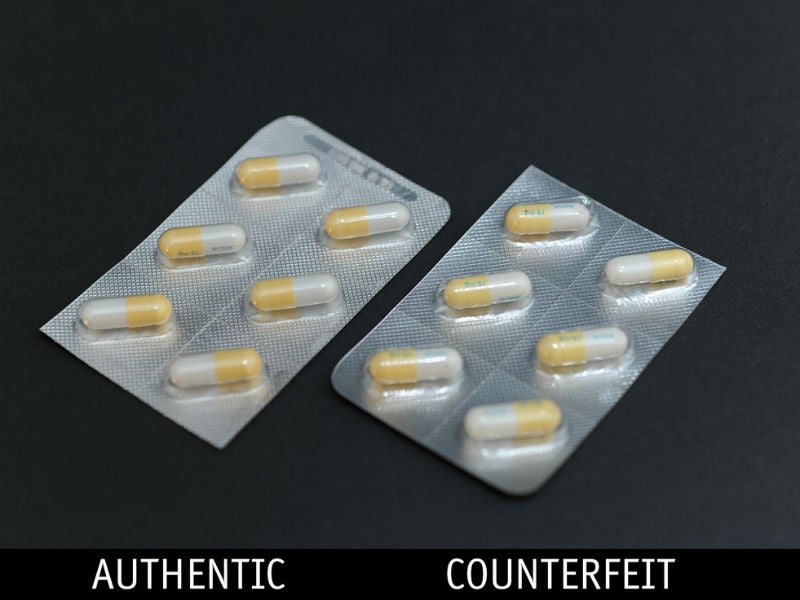 The manufacture and distribution of fake prescription drugs is a global problem. Counterfeit products are causing a lot of damage to economies, industries, consumer health and safety. From the perspective of companies, they know they will suffer revenue and reputational losses whilst also incurring extra expenses for regulations, brand protection and legal advice if a solution to counterfeit drugs is not found.
In the best case scenarios, these fake drugs can be sugar pills that will have none of the effects of the drugs they are supposed to replicate. In the worst cases, the drugs can contain high quantities of dangerous substances, such as paint, antifreeze or fentanyl, which can be fatal for unsuspecting consumers who bought the pills online.
The World Health Organization estimates that counterfeit drug revenue is currently at around $200bn and approximately 10%-15% of global pharmaceutical trading involves counterfeit drugs sold on the black market, internet or directly to patients via prescriptions. Since 2013, the organisation had received approximately 1,500 reports of fake and low-quality products as of April 2018. This year, the US Food and Drug Administration had to arrange a meeting regarding the problem of illegal opioids being sold online through unofficial websites and social media platforms.
The largest majority of counterfeit medications come from India, China and the US.
India is the third largest producer of generic drugs and vaccines and exports to almost 200 countries, accounting for 10% of the world's drug production rates. However, the nation is also a global epicentre for counterfeit drugs, with WHO estimating that one in five drugs sold in the country are fake. Now, an international partnership is bringing together IT giant Oracle, policy institute NITI Aayog, Apollo Hospitals and pharma manufacturer Strides Pharma Sciences to pilot a pioneering drug supply chain using blockchain digital ledger technology to try and tackle the issue.
How can blockchain help companies to counter counterfeiters?
Blockchain is a continuously expanding list of records, each record being referred to as a block, which are linked using cryptography. Each block contains a mathematical algorithm of the previous block called a cryptography hash of the previous block, a timestamp and transaction.
Oracle has said that its blockchain software permanently registers a drug's record in the manufacturer's drug supply chain and leaves no room for tampering.
NITI Aayog CEO Amitabh Kant said: "This agreement with Oracle and our partnership with Apollo Hospitals and Strides Pharma, will help ensure that Indian drug manufacturers and healthcare experts have access to a standards-based, modern technology platform, blockchain and IoT, to help eliminate fake drug distribution."
But, can this digital approach succeed where other anti-counterfeiting measures have failed? Oracle certainly seems to think so.
Oracle's India regional managing director Shailender Kumar said: "With blockchain, every movement of the drug through its supply chain is recorded, that way, the drug supply chain is completely transparent, secure, decentralised and verifiable.
"We believe blockchain and IoT can play a significant role in ceasing fake drug distribution and we are all geared to work with NITI Aayog in this major program."
The tamper-proof nature of this highly precise recording approach should ensure that any offenders will be highlighted clearly and will have a lot of evidence against them should they be identified.
Other companies using blockchain in the medical industry
Blockchain has already been applied to other aspects of the medical industry. By 9 February 2019, EU legislation states that pharmacies will be required to verify that the drugs they dispense have come from manufacturers or repackagers. The same legislation will apply in the US by 2020 due to the Drug Supply Chain Security Act implementation plan.  Health-care analysts have suggested that this impending deadline is leading pharma giants to seriously consider using blockchain to design and create detailed and unchangeable databases.
Brand protection and product authentication firm Systech has already partnered with pharmaceutical supply chain security company Farmatrust in a strategic blockchain collaboration. The partnership involves the leveraging of FarmaTrust's blockchain and AI technologies so that Systech can provide a platform, which would give its clients the most precise proof of product authenticity.
SigmaLedger is a new blockchain-based platform which has the sole purpose of focusing on counterfeit prevention, supply chain transparency and digital marketing. The company will apply its platform to a range of counterfeited products such as leather goods and tech products, as well as drugs. The Global Brand Counterfeiting Report 2018 found that the value of counterfeited goods in 2017 was $1.2tn and identified the most counterfeited products to be footwear, leather, technology and pharmaceuticals.
SigmaLedger recently secured Seed Round funding from EPAM Systems which will be put towards the market launch and for any changes to the platform that customers require. The company says it launched the platform to give suppliers, manufacturers and distributors the ability to store and manage data without central authority which is likely to eliminate the possibility of fraud.