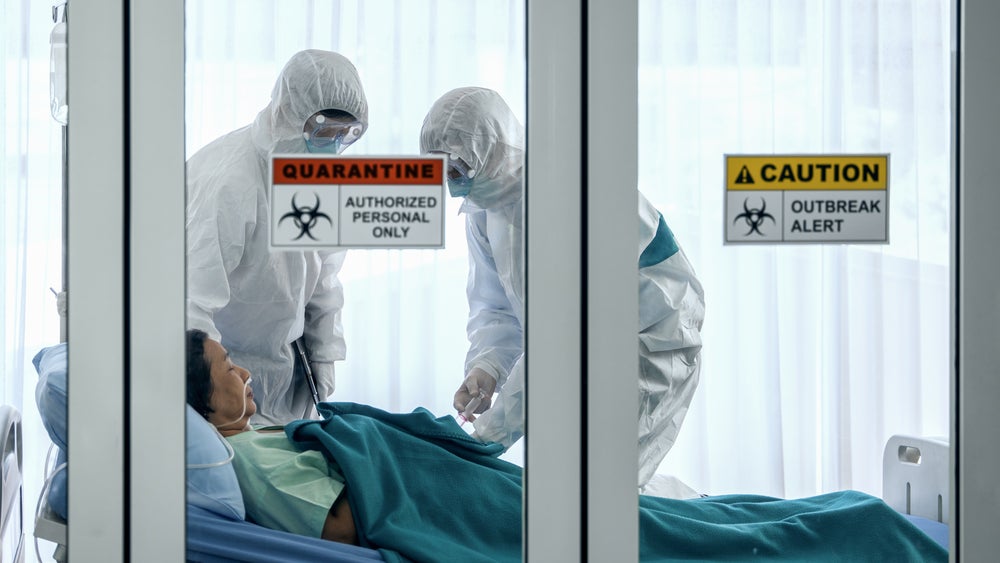 Long before the outbreak of Covid-19, another health emergency has posed a threat to life as we know it. Antibiotic resistance, which occurs when bacterial infections cease to respond to drugs, has been described by health experts as "the silent pandemic"; according to the US Centers for Disease Control and Prevention (CDC), antibiotic-resistant superbugs kill more than 35,000 people in America every year.
While bacterial resistance is a natural occurrence, antibiotic misuse is accelerating the problem. A World Health Organization (WHO) report this month revealed that none of the 43 antibiotics currently being developed "sufficiently address the problem of drug resistance" in the world's most dangerous bacteria. If global antimicrobial resistance (AMR) goes unchecked, we face a future where even minor infections could mean death.
Now, there are concerns that responses to the coronavirus pandemic could be exacerbating the problem. A recent US study by The Pew Charitable Trusts found that more than half of Covid-19 hospital patients received antibiotics during the first six months of the pandemic – and in 96% of cases, treatment was given before a bacterial infection was even confirmed.
The findings echo those from a 2020 study of Covid-19 cases which revealed that over 70% of patients had received antimicrobial treatment, despite less than 10% having bacterial or fungal coinfections.
Monitoring the threat of AMR
David Hyun, director of Pew's Antibiotic Resistance Project, says the high number of Covid-19 patients treated with antibiotics was likely due to concerns about bacterial co-infections, and difficulty differentiating between bacterial and Covid-19 infections so early in the pandemic.
One article from the BMJ also suggests misinformation about how to treat Covid-19, including "overemphasis on the role of antimicrobials", may have contributed to excessive antibiotic use in the early stages of the outbreak.
"[The findings] were concerning when you compare the percentage of patients who received an antibiotic to those who were diagnosed with bacterial infection during the same hospitalisation, because that strongly suggests that there was likely overuse of antibiotics occurring," Hyun says.
"This is where antibiotic stewardship programmes are very much needed, to help providers and clinicians make the best clinical decisions possible for antibiotic prescribing."
Antibiotic stewardship is the systemic effort to ensure effective treatment of infections, and therefore combat AMR, by monitoring and advising on antibiotic prescription and use. Hyun says antibiotic stewardship programmes (ASPs) are integral to tackling antibiotic overuse in hospital settings.
"Stewardship programmes have been proven over and over again to be extremely effective both for improving the quality of antibiotic use, and overall improving the patient's safety and the quality of healthcare that they receive during the hospitalisation," Hyun explains.
"Because of this, there has been a growing consensus of the importance of antibiotic stewardship programmes, and that every hospital should have one," he adds. "More recently, in the last three to four years, there have been requirements coming from the Joint Commission, as well as the Centers for Medicaid and Medicare Services, for hospitals to have stewardship programmes in place."
The CDC reported in 2019 that nearly 90% of US hospitals had implemented ASPs – but the burden of Covid-19 may have disrupted this progress. Hospital resources have been stretched thin by the demands of the pandemic, with many healthcare workers redeployed to assist in the coronavirus response. Antibiotic stewardship teams are no exception, and Hyun says this reduction in ASP resources could lead to further antibiotic misuse.
"It could mean that once we get to look at the data, that could have potentially increased how much inappropriate antibiotic use was occurring," he says.
Expanding the antibiotic pipeline
Tackling the rise of superbugs doesn't lie solely with healthcare providers. Pharmaceutical companies are responsible for bringing new antibiotics to market, but despite the urgent need, these are few and far between. A lack of financial incentives means companies are reluctant to pursue antibiotic research; according to one study, the mean R&D cost of bringing a drug to approval is $985m, while the average annual sales for recently approved antibiotics are less than $50m. Physicians also avoid using new antibiotics unless totally necessary, to delay the development of resistant bacteria, which further reduces their profitability.
"The more [antibiotics] you use, the faster bacteria have an opportunity to develop resistance, but when you're looking at this from the pharmaceutical companies' point of view that also means the revenue and purchase volume for antibiotics is significantly limited," Hyun explains. "And that dynamic is contributing to small pharmaceutical companies that are heavily invested in developing new antibiotics going bankrupt.
"So this is where economic incentives are likely going to be needed to essentially decouple the revenue of antibiotics from the volume of sales, and develop a reimbursement or a revenue mechanism that reflects the value of those new antibiotics from a public health perspective."
Not only is the global pipeline narrow, but the development of an antibiotic by no means guarantees its approval. In fact, only around one in five infectious disease drugs that reach the initial phase of clinical trials will see FDA approval. To increase the amount of antibiotics in development, and therefore the chance of a new drug being approved, pharma companies will need some encouragement.
There are signs of the industry's growing commitment to tackling AMR. Just this month, the charity Antibiotic Research UK launched a small research grants scheme – offering a total of £200,000 – to fund academics' work on antibiotic resistance, new antibiotic therapies or antibiotic stewardship. Last year, more than 20 leading biopharma companies formed the AMR Action Fund, which aims to bring two to four new antibiotics to the market by 2030. The partnership, including major players such as Bayer, GlaxoSmithKline and Pfizer, has so far raised nearly $1bn to support clinical research into new antibiotics addressing the most resistant bacteria and infections.
Hyun says governmental policy and legislation is also crucial to overcoming the industry's antibiotic R&D challenges, citing the recently introduced PASTEUR Act as an example of how the government "could play a significant role in reinvigorating the pipeline".
The PASTEUR Act, bipartisan legislation introduced in the US House and Senate last year, aims to aid the development of much-needed antibacterial therapies by providing generous, subscription-based government contracts for access to innovative, high-priority antibiotics that don't have a high sales potential. The act would also ensure the appropriate use of antibiotics in hospitals by including financial support for antibiotic stewardship programmes.
Pursuing alternatives to antibiotics
As part of its work to combat antibiotic resistance, Pew is conducting ongoing assessments of the approximately 36 non-traditional products currently being developed as alternative approaches to tackling superbugs.
"The pipeline is smaller when you compare it to traditional antibiotics," Hyun says, "but it is an important area that needs to be further developed, because the more we have in our arsenal to treat and cure bacterial infections, the better."
Nearly half of the alternative approaches currently under development are vaccines or antibodies, while others include bacteriophages, lysins, live biotherapeutic products and synthetic antimicrobial peptides. The potential for vaccines to treat serious infections gives pharma companies the opportunity to work on combating AMR, while avoiding the financial losses that are often seen in antibiotic development.
Having claimed over three million lives and counting, the Covid-19 pandemic is understandably at the forefront of public health efforts – but the looming threat of drug-resistant infections, which the United Nations has warned could kill 10 million people a year by 2050, must not go unaddressed.
"I think there is opportunity, within the Covid pandemic experience, to show where the threat of antimicrobial resistance intersects," Hyun says. "We're starting to see reports that the CDC is observing higher levels of specific types of antibiotic-resistant infections in the Covid patient population, especially those that are hospitalised.
"That sort of crystallises the whole notion that antibiotics themselves really underpin all areas of modern medicine," he adds. "If antibiotics are no longer effective, that severely hampers the ability for the medical community to treat other types of illnesses and infections, including Covid.
"It really does demonstrate to the general public and policymakers the true magnitude of the threat."