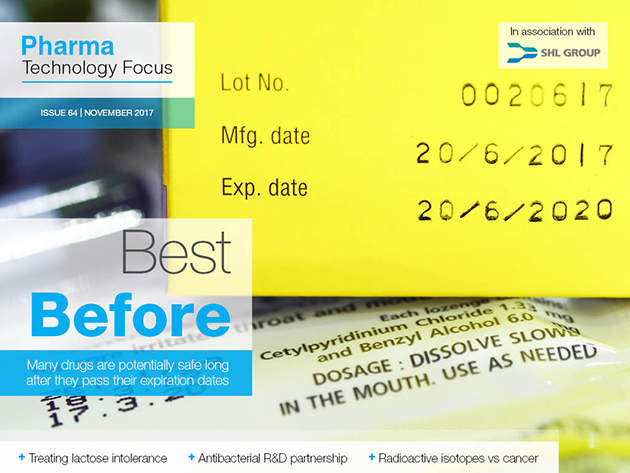 Pharma Technology Focus is free for the iPad. Download our app to read the latest issue and browse our back issues for free.
Hospitals and pharmacies are required to throw away expired drugs, no matter how vital they may be. However, new research has revealed that many of these drugs are effective long after their expiry dates have passed. We find out how these dates are set and ask whether important medications are being wasted unnecessarily.
We also take a closer look at a new drug for the treatment of lactose intolerance, speak to the world's largest public-private partnership devoted to antibacterial R&D, CARB-X, to find out how they provide funding to applicants across the world, and explore a new major breakthrough for treating schizophrenia.
Finally, we find out more about a method of tracking nanoparticles to improve tumour drug delivery, and explore the potential of a new project at CERN, Europe's nuclear research organisation, which aims to use secondary radioactive ion beams as a source of innovative medical isotopes for the diagnosis and treatment of cancer.
In this issue
Dealing with Expiry Dates
Many drugs are potentially safe long after they pass their expiration dates. Given the possible waste when hospitals and pharmacies throw away millions of expired medicines every year, Chris Lo asks, is there more that could be done?
Read the article here.
The Dairy Dilemma
Lactose intolerance affects millions of people around the world but there is no FDA approved treatment for the condition. Elly Earls speaks to Ritter Pharma CEO, Andrew Ritter, to find out how his company intends to change that.
Read the article here.
Inside CARB-X
Resistance to antibiotics is rising but the business model for developing new antibiotic drugs is broken. Could CARB-X, the world's largest public-private partnership devoted to antibacterial research and development, be the answer? Patrick Kingsland finds out.
Read the article here.
From Delivery to Destination
Less than 1% of nanomedicines reach their target. New research is shining a light on why, as Elly Earls reports.
Read the article here.
Treating Schizophrenia
Ground-breaking research has uncovered a new therapeutic approach to treating genetic forms of schizophrenia. Elly Earls meets the lead author of the study to find out about its potential.
Read the article here.
Backing Nuclear Medicine
Radioactive isotopes are a potentially transformative source of innovative cancer diagnostics and treatments. Chris Lo finds out more about the CERN-MEDICIS project, which aims to use excess 'beam dumps' to produce a stream of rare isotopes for testing, from Dr Andrew Robinson of the UK's National Physical Laboratory.
Read the article here.
Time to Refocus
Eli Lilly's second-quarter results shocked investors as the company divulged plans for a strategic move rarely seen in the pharmaceutical industry. GlobalData takes a closer look at the company's decision to refocus its oncology assets.
Read the article here.
Next issue preview
A common theme to emerge from the recent Life Science Industrial Strategy report in the UK is developing more collaboration between the NHS and the pharma industry. Better use of NHS resources and data could improve patient care and boost the UK's healthcare industries. We consider the benefits of such a relationship.
We also find out how small family-owned generic drug factories in India are boosting competitiveness, take a closer look inside Norway's prescriptions database, and learn more about a breakthrough in cardiovascular health after research found that anti-inflammatory drugs could significantly reduce the risk of heart attacks, independent of cholesterol.
Finally, we ask why the US FDA has designated MDMA, or ecstasy, a 'breakthrough' therapy for the treatment of PTSD, and speak to a team of researchers from the University of British Columbia who are using a compound derived from red sage to treat osteoporosis.
Digital magazine FAQ
You can read Pharma Technology Focus for free on the iPad. Download our app from the App Store to read the latest issue and browse the back issues in our archive. Sign up for a free subscription in the app and never miss a new issue.
You can also continue to read the desktop version for free on our web viewer. (Browser compatibility: The web viewer works in the latest two version of Chrome, Firefox and Safari, as well as in Internet Explorer 9 and 10. Some features may not be compatible with older browser versions.)