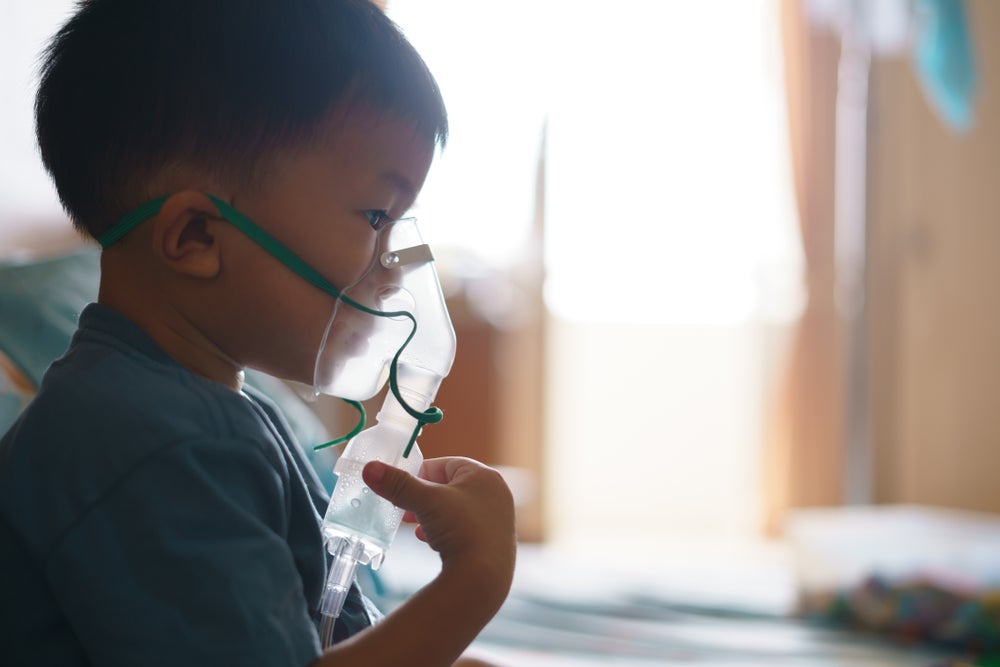 As paediatric hospital wings are flooded with an unprecedented number of respiratory syncytial virus (RSV) cases, healthcare workers have been overwhelmed by an unusually early peak of the RSV season. RSV researchers at major pharmaceutical companies are currently working to develop new RSV drugs to beat future waves of RSV infection and gain the first RSV vaccine FDA approval.
According to the Centers for Disease Control and Prevention (CDC), 45.8 per 100,000 people were hospitalised for RSV-related reasons in the 2022–23 RSV season. This is a significant increase compared to the 2021–20 season when the rate was 28.3 per 100,000. In the Northern hemisphere, RSV season occurs from autumn to the end of spring and tends to coincide with influenza season.
RSV poses a particular threat to older and younger patients, and it is the single most common reason for most children being admitted to most US hospitals. During the 2009–19 period, children in the US ages five years and younger accounted for 58, 000 annual RSV-related hospitalisations and 100–500 annual deaths. Pharmaceutical companies are pushing to develop drugs and vaccines for RSV with these populations in mind.
Since the FDA approved AstraZeneca's monoclonal antibody therapy Synagis (palivizumab) 25 years ago, drug development successes for RSV have been few and far between. Synagis, which was originally developed by Medimmune and was later acquired by AstraZeneca, is indicated for the treatment of serious lower respiratory tract disease caused by RSV in children who are at high risk of RSV disease.
At the time of Synagis's approval, it was believed that continuous improvements in monoclonal antibody therapy and RSV drug development would follow, says Dr. Janet Englund, professor of Paediatric Infectious diseases at the University of Washington. However, subsequent RSV drugs, like Medimmune's motavizumab, failed in clinical trials.
A major breakthrough from the National Institutes of Health (NIH), in mapping the structure of the RSV protein significantly changed the landscape, allowing companies to leap into RSV drug research with better efficacy results. Major pharmaceutical players like Pfizer, GlaxoSmithKline (GSK), Moderna, AstraZeneca, Sanofi, and more have taken on the task of developing an effective vaccine or prophylactic antibody against RSV. Among the many competitors in this space, seven companies are in Phase III trials and some may face regulatory decisions in 2023.
The first RSV vaccine to enter the market will access a first-mover advantage and capture 100% of the market share, says Nancy Jaser, senior infectious disease analyst at GlobalData. Furthermore, the first vaccine may have more time to build "patient/practitioner familiarity and trust", she says in an email to Pharmaceutical Technology.
GlobalData is the parent company of Pharmaceutical Technology.
Journey to RSV drug development
For a long time, the development of RSV drugs remained difficult for many researchers as they struggled to find adequate clinical targets. Moreover, vaccine development for RSV remained difficult as researchers prioritised the development of a live attenuating vaccine, the same type of vaccine used for chickenpox, and measles, mumps and rubella (MMR), says Mark Peeples PhD, a professor of paediatrics at the Ohio State University College of Medicine, However, researchers found that RSV behaved less like those viruses and more like influenza and coronavirus.
In 2013, this changed when an NIH lab reported the structure of the RSV protein, leading to the exploration of the RSV structure in ways that were not previously possible. Tracy Ruckwardt, PhD, Chief of the Respiratory Viruses Core at the NIH Vaccine Research Center, explains that from this development, researchers were able to pivot their focus to explore the RSV pre-fusion F protein for vaccine development, significantly improving patient antibody responses in a "transformative" way. Now, all RSV vaccines that are currently in later stages of development, including the one being developed by Moderna, build off the discoveries made from the NIH RSV model, says Peeples.
A new RSV drug and vaccine landscape
The NIH's discoveries quickened the pace of RSV drug and vaccine development as companies started to advance their candidates in the clinic. The two types of candidates currently in the pipeline can be categorised as monoclonal antibodies and vaccines. Monoclonal antibody drugs act via passive immunisation or a direct transfer of antibodies to a non-immune person for temporary protection, whereas vaccines offer active immunisation so patients can produce their own antiviral antibodies.
In 2022, the EMA approved AstraZeneca and Sanofi's monoclonal antibody therapy Beyfortus (nirsevimab) for RSV protection in all infants. Jaser predicts that, upon its approval in other parts of the world, healthcare providers may replace Synagis with Beyfortus as the standard passive immunisation for RSV due to its better efficacy results and single-dose administration. This would be preferable for patients as doctors must administer Synagis to patients five times per month during peak RSV season.
While monoclonal antibodies are mostly under development for paediatric populations, several companies are developing a range of vaccines for other groups. Currently, GSK's GSK 3844766A (RSVPreF3 OA) and Pfizer's vaccine candidate RSVpreF (PF-06928316) may reach FDA approval first, having Prescription Drug User Fee Act (PDUFA) dates of May 3 and May 31, respectively. In a Phase III trial, GSK's vaccine demonstrated a 94.1% reduction in severe RSV disease and overall vaccine efficacy of 82.6%. Meanwhile, Pfizer's RSV vaccine showed an efficacy of 81.8% against severe medically attended lower respiratory tract illness due to RSV in infants from birth through the first 90 days of life.
Moderna brings up the rear after announcing Phase III results with its own messenger RNA (mRNA) RSV vaccine earlier this month. Christine Shaw, Moderna's vice president and portfolio head of Respiratory Vaccines, tells Pharmaceutical Technology that the company plans to submit regulatory filings based on Phase III data in H1 2023. The vaccine, which recently received an FDA Breakthrough Therapy designation, had an efficacy of 83.7% against RSV-associated lower respiratory tract disease in patients ages 60 years and older. Later on, Moderna also aims to tackle RSV vaccination in conjunction with other common viral infections such as seasonal influenza and COVID-19.
Shaw explains that a combination vaccine could be advantageous due to the seasonal nature of the viruses and the similar increases in frequency and burden during winter in temperate regions.
Vaccine or monoclonal antibody
Such variation in the RSV drug pipeline has prompted the question of which modality may be most efficacious or accessible for each patient. For example, Englund highlights that maternal immunisation, where an expectant mother is immunised with a vaccine, may not be effective for infants born prematurely. In those cases, healthcare providers may give preferential recommendations to monoclonal antibodies, she says. Similarly, vaccines may be less suitable for immunocompromised individuals. In an email to Pharmaceutical Technology, Elif Alyanak, a consultant at Fishawack Health's Avalere Health, explained that she expects maternal immunisations and some paediatric RSV drug costs to be covered by Medicaid, which finances over 40% of births in the US, especially considering the requirements outlined in the 2022 Inflation Reduction Act (IRA). However, for older people, without new legislation affirming the importance of RSV vaccination, it is likely that a vaccine would require out of pocket expenses. Thus, for vulnerable older patients the affordability of the drug may become a major factor. Englund affirmed this saying, "The government needs to study more modalities of prevention, so that we really know what is the better way."
Claire Chadwick, Director at PRMA Consulting, now a part of Fishawack Health, explains that such factors may be considered by the CDC Advisory Committee on Immunisation Practices (ACIP) in its decision-making process for reimbursement and market access. Chadwick says the feasibility of the implementation of vaccine acceptability and patient values will all play into this evaluation process.
Experts are also weighing the pros and cons of different vaccine platforms. Jaser said, "If new RSV strains do become more dominant in the future, Moderna's mRNA vaccine would likely see higher success in the long term as the platform allows for rapid adjustment to target these potential new strains". Jaser highlighted industry concerns about Johnson & Johnson and Bavarian Nordic's recombinant vector-based vaccine platforms. Jaser said "Some experts worry that vector-based vaccines are more likely to revert back to a 'post-fusion' state post vaccination. This has led to failures in development in the past."
Thus far, data has shown that maternal immunisation and monoclonal antibodies like Beyfortus have very similar effectiveness. Furthermore, Alyanak explains that "co-administration or concurrent use of a RSV preventive monoclonal antibodies with an RSV vaccine, or other vaccines, will need to be considered and understood." The field may only discover which is more effective and how the different drugs interact with real-world evidence after a candidate is used for a few years.
Englund says the success of the drugs will depend on delivery and cost issues, and "how to get whatever product we have into a human being". The variety of options for RSV prevention can only be taken as a positive, she says. "It's going to be a lot of work for the medical community to help the government and the insurers figure out which product is best for which group, but I'm excited that we have all these products."