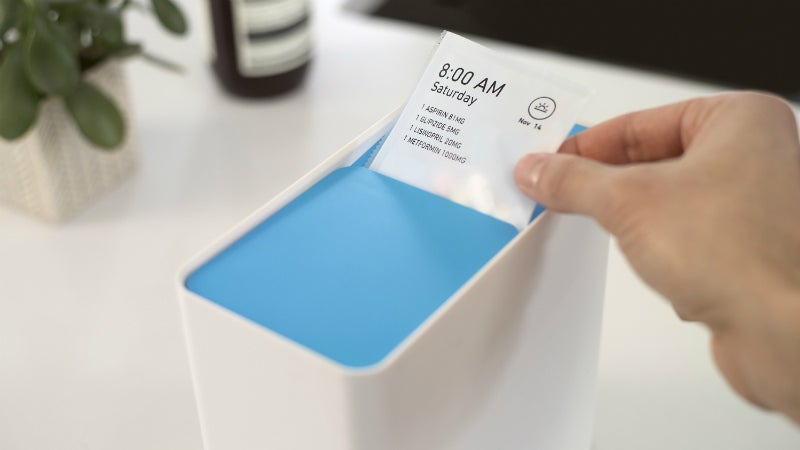 In June this year, the world's first trillion dollar company Amazon announced it was acquiring online pharmacy business PillPack, following months of hints of its intention to enter the lucrative healthcare market.
PillPack's business model involves sending pre-packaged prescription medicine to patients with a convenient dispenser. It uses its own software platform to manage each patient's medication, coordinate refills and renewals, as well as check that shipments are dispatched on time.
At the time Amazon CEO of worldwide consumer Jeff Wilke said that: "PillPack is meaningfully improving its customers' lives, and we want to help them continue making it easy for people to save time, simplify their lives, and feel healthier."
This action has been greeted with suspicion and concern by players in the industry, especially since it follows similar moves by other global tech companies like Google which has launched its own life science companies.
The industry is appealing to these enormous tech companies because, according to digital solution company Virtusa's vice-president of digital business strategy Ruchin Kansal, 'these tech giants have deep pockets and also have shareholders. Shareholders are looking for them to grow. They have to enter into new areas to find growth, and healthcare, especially in the US, is 20% of GDP, so there is money to be made for those shareholders by getting into healthcare'.
Tech giants join the healthcare market
In the past five years, Google has launched two life sciences companies: Calico and Verily. Both of these companies focus on drug discovery and development that involves technology at certain stages; which Kansal terms 'smart integrated medicine'.
Launched in 2013, Calico is headed by Arthur Levinson, chairman and former CEO of Genentech, and works primarily through collaborations with other biotech companies. For example, in June this year, Calico announced a collaboration with AbbVie to build a research and development facility in San Francisco where they will jointly investigate therapies for age-related diseases.
"These platform giants have a very large integrated service."
Verily was established two years later by Google's owner, Alphabet. One of its flagship projects, a smart contact lens, is being created in partnership with Alcon, a subsidiary of Novartis, and aims to build in wireless sensing capability meaning it can measure glucose levels of the people wearing the device.
In addition to developing pharmaceutical products, some tech companies have entered the healthcare market by transforming delivery. Tech giants are primed for this aspect of healthcare because they can deliver 'choice, access and experience' and 'create a similar experience across all sectors'.
One major example of this Kansal emphasises is Ping An Good Doctor: "Ping An was an insurance company in the 1980s, and now they have become an integrated healthcare delivery platform where you can buy insurance, you can actually see a doctor or diagnostics, order your prescriptions.
"A whole ecosystem has been created on these platforms, meaning these platform giants have a very large integrated service."
In September 2017, Apple CEO Tim Cook hinted that healthcare would be a big part of Apple's future; now a whole segment of the US company's business is dedicated to the space.
Apple has created apps called Health and HealthKit for a variety of platforms that help hospitals to work more efficiently and remotely connect patients with their clinicians from home. In addition, its ResearchKit provides a foundation for medical researchers to build upon when developing apps, speeding up the development process.
The tech giant has also begun to move into the clinical-grade data capture market through its collaboration with MediSafe, which creates medication tracking solutions. Merging Medisafe's medication management app with Apple Health Records improves clinician knowledge of which drugs have already been prescribed and thus reduces the likelihood of drug-to-drug interaction-related hospital visits.
How should pharma companies respond?
Big pharma companies have created space for tech giants to move into the healthcare in the opinion of Kansal because although they have been highly successful and innovative at bringing solutions to the market, they are focused on preserving the status quo.
However, the increasing involvement of tech giants in the healthcare market means they need to 'decide if they want to become a leader in healthcare and enter the technological aspect of the market'.
"If you don't collaborate and acquire companies then you cannot move forward."
Kansal continues by saying: "[investing in technology], in my opinion, is not even a choice question anymore. If you don't invest in technology, then you will get priced out."
He thinks that the crucial, first step for pharma companies looking to improve their digital capabilities in an attempt to keep up with the tech giants is a strategy roadmap.
However, this needs to be supported by 'leadership alignment in terms of supporting technology and trialling it. They need to manage product failure and staying focused on pushing forward'.
Stakeholder management is also essential because 'even if the CEO or the leadership is focused, often the stakeholders need handholding in understanding the technology and why it is important'.
Kansal believes the best way to achieve this new business model is through collaborations because 'pharma does not have all of the end to end, tech giants don't have it all end to end'.
He said: "If you want to create a productive, coordinated care for patients, then you must work by collaborating with a goal in mind.
"In my mind, if you don't collaborate and acquire companies then you cannot move forward and you move from side to side."
The threat to high street pharmacies
Amazon's acquisition of PillPack more acutely threatens the livelihoods of high street pharmacies, and has triggered pharmacy chains to re-consider their approach to prescription delivery.
Amrit Bance created PharmZap, a UK-based online platform that better connects pharmacists and patients, in part to address this issue. Bance says the aim of PharmZap is to help pharmacists to 'better delegate their time'.
The app was created with the support of pharmacists and doctors and has two components: a pharmacy portal and a patient app. Pharmacies can use their portal to advertise their services, as well as to label and organise patient messages and requests better.
"The world has moved on, but very little has changed in pharmacy for many decades."
Patients can use the app to message multiple pharmacies about opening hours, prescription collection and stock availability, however, they cannot actually order repeat prescriptions through the platform currently. While the app saves patients time, it is also more confidential than talking to a pharmacist on the phone or in person.
Another example is the UK's Well Pharmacy, which has recently launched an app that delivers NHS prescriptions to its customers, as well as discrete digital subscription service for Viagra.
Well Pharmacy head of digital Dan Sheldon says: "The interest of big tech companies in pharmacy should be a wakeup call to our sector. The world has moved on, but very little has changed in pharmacy for many decades. The experience for most customers is the same as it was in the pre-smartphone era. We don't think that will be acceptable for much longer – especially if the tech companies get into pharmacy.
"At Well, we are investing heavily in a 'bricks and clicks' strategy, with the launch of our new app and prescription delivery service. Pharmacy stores will continue to be fundamental to our business, but – as we've seen with the early success of our digital ventures – customers want choice.
Kansal sees these kinds of initiatives as positive since he believes it is crucial that high street pharmacies think about how to better integrate themselves into the larger, technological ecosystem, particularly because they are the consumer face of the industry.