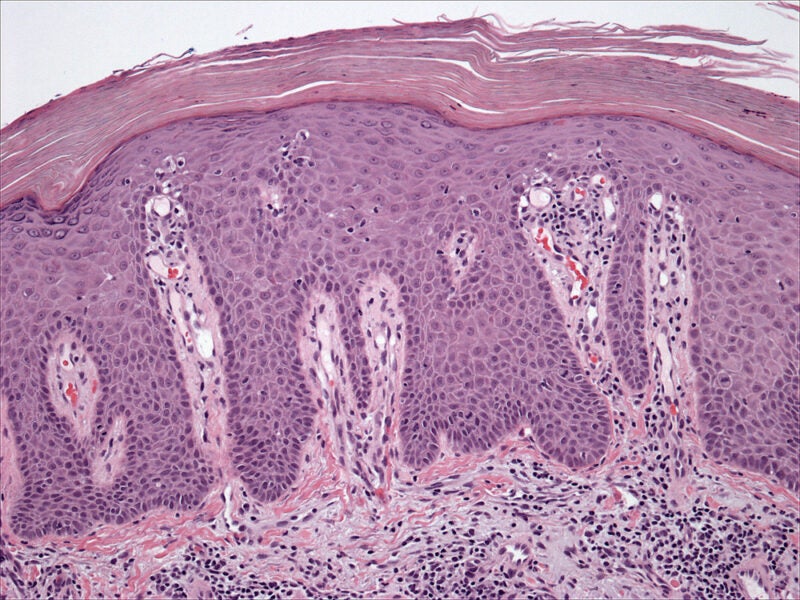 The Committee for Medicinal Products for Human Use (CHMP) of the European Medicine Agency (EMA) has recommended granting conditional marketing authorization (CMA) for Boehringer Ingelheim's spesolimab as a therapy option in adults with generalised pustular psoriasis (GPP) flares.
Based on the data from the Phase II EFFISAYIL 1 clinical trial of spesolimab in patients with GPP flares, the committee provided a positive opinion.
The 12-week trial analysed 900mg spesolimab administered intravenously versus a placebo.
After a week of treatment, 54% of patients in the spesolimab arm had no visible pustules versus 6% in the placebo arm.
Following 12 weeks, 84.4% of the subjects had no visible pustules while 81.3% had clear/almost clear skin.
Additionally, adverse events were observed in 66% of subjects who received spesolimab versus 56% in the placebo arm after a week.
A new humanised, selective antibody, spesolimab hinders interleukin-36 receptor (IL-36R) activation.
It is marketed as Spevigo in Japan and the US.
Apart from GPP flares, spesolimab is being analysed to treat other neutrophilic skin ailments.
Boehringer Ingelheim Human Pharma head Carinne Brouillon said: "This positive recommendation recognises spesolimab's potential as a new targeted monoclonal antibody that could treat the underlying cause of GPP.
"The accelerated development of spesolimab underscores our continued commitment to developing faster and more novel treatments for people with high unmet medical needs."
A rare, heterogenous and fatal neutrophilic skin ailment, GPP is caused by the build-up of neutrophils in the skin.
The neutrophil accumulation leads to painful, sterile pustules in the body.
In October last year, the EMA agreed to review the company's marketing authorization application for spesolimab to treat GPP flares.