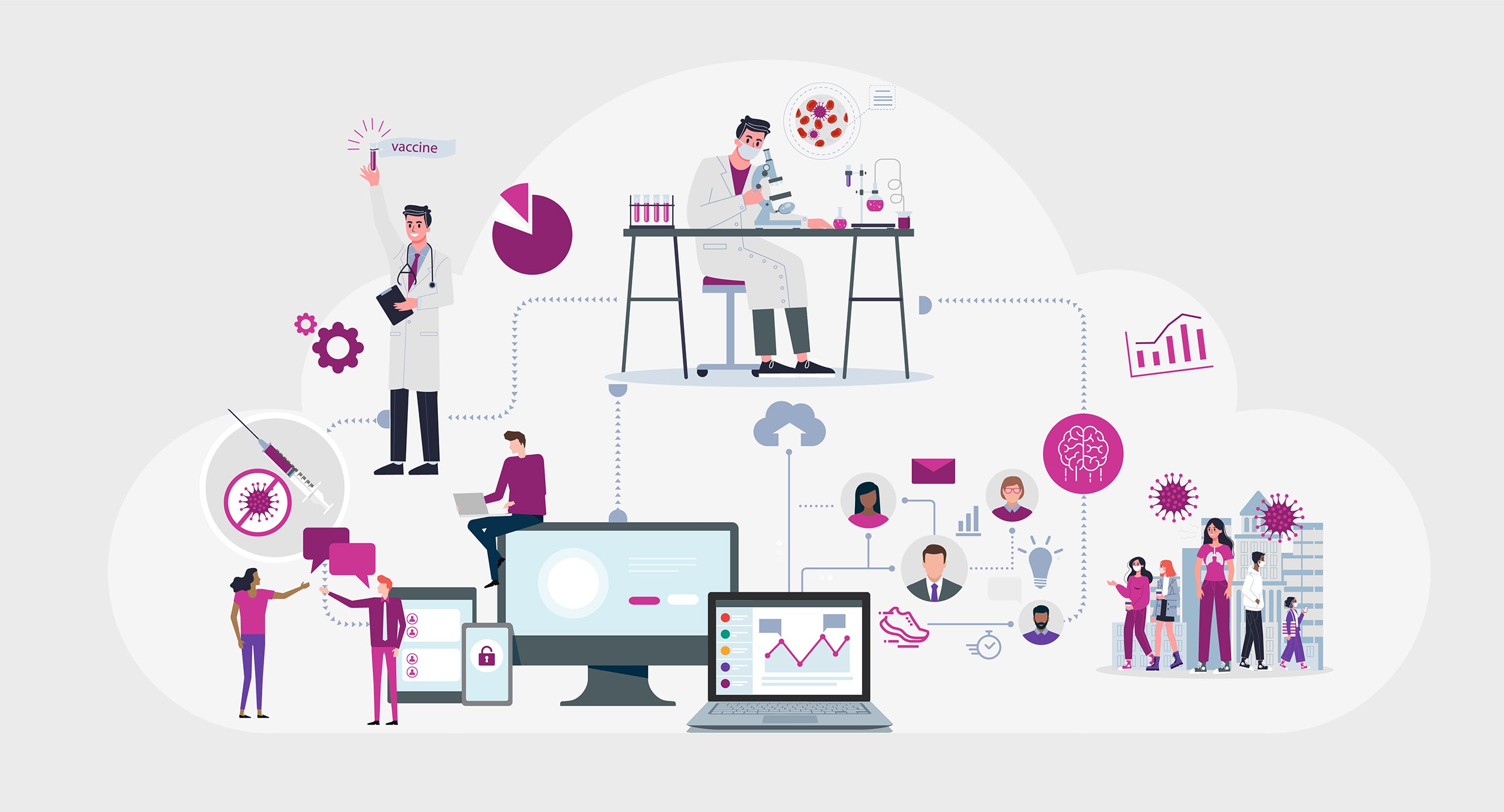 Over the last 18 months, pharmaceutical companies worldwide have had to engage rapidly with new ways of working – some of which had already been growing in uptake for years. Companies have had to embed digital transformation at every level of their operations, from market access and tendering to commercial product launches.
If used correctly, digital tools can make launches more organised and effective, assist with market access planning and execution, and track tendering process variations across markets in real-time. Last July, Medisafe and Dynata surveyed 2,000 US consumers and found that 37% had started using more digital technologies, while 42% had used digital healthcare options for the first time. And even after the pandemic has subsided, the industry will be expected to continue using at least some of these solutions in the long term.
How Pfizer embraced digital transformation
US-based pharmaceutical giant Pfizer is one company that has embraced the digital changes brought to the industry by Covid-19 and used them to its advantage. The company has highlighted several aspects of its operations, including research and development (R&D), manufacturing, commercialisation and the supply chain, as key target areas for digitalisation.
Pfizer's digitalisation roadmap includes:
Introducing augmented reality tools to diagnose and repair laboratory and manufacturing equipment remotely.
Equipping commercial teams for virtual engagement with healthcare companies.
Virtual monitoring options for a global vaccine trial in which almost 50,000 patients are enrolled.
Use of artificial intelligence to analyse clinical trial data in real-time.
These are just some of the capabilities now available to healthcare companies brought about by digital developments in the industry and expedited by the pandemic. Previously, companies would have to physically examine equipment to discern any issues, which was harder if there were no experts available in the near vicinity. Similarly, most teams' engagements with healthcare companies would be done in person or over the phone, which was particularly troublesome if issues required face-to-face interaction that was not possible due to distance.
The ability to monitor trial results in real-time rather than for weeks or months afterwards is another development made possible by the digitalisation of the pharmaceutical industry. In addition, the increased use of 'Internet of Things' solutions such as fitness bands and wireless heart monitors has allowed doctors to monitor patients' conditions more accurately and flexibly. Furthermore, it enables better-informed prescription decisions, so pharma companies have a better idea of which indications to focus on.
For Linda Fonseca, Pfizer's chief digital and technology officer, these developments are opportunities to drive horizontal thinking and alignment with patient experiences, promote agile ways of working (not just sequential but parallel), foreground 'what matters most' and 'radically simplify' processes. The company's goal of enhancing its operations with these new technologies and solutions is driven by a desire to improve health outcomes, customer relations and customer experiences.
Turning big data into actionable insights
One of the pharmaceutical industry's advantages when it comes to digital transformation is the wealth of data it already has, as well as the new data made available due to the rise of digital solutions and methods. The advent of so-called 'Big Data' has allowed companies to inform their strategic planning and analyse prescriptions and patient records to minimise the risk of serious issues when deciding on treatments. Companies can also use Big Data to match and recruit patients for clinical trials, determine trends such as patient acceptance and adherence to treatments, and design flowcharts to match and recruit more patients.
Accumulating data, however, is one thing; knowing what to do with them is another. Earlier this year, Anne Heatherington, head of Takeda Pharmaceuticals' Data Science Institute, told the Financial Times' US Pharma and Biotech Summit that data streams yielded from clinical trials are only useful in terms of the analytics that turn them into workable insights – only once these have been determined can companies try to generate value propositions for a fast-changing, digitally transformed industry.
There are considerable challenges to address for all the opportunities that digital transformation presents to the pharma industry. For example, when conducting clinical trials, it is crucial to ensure attention to quality, monitoring, and governance are not compromised as operations shift to virtual methods and avoid creating bias due to patient activity outside the study protocol. As well as this, companies can easily overstate the financial benefits of digital transformation. In her address to the FT Summit, Anne Heatherington emphasised that in decentralised trials, there is an 'outlay' for implementing new technologies, setting up data platforms and hiring data analysts. Because of this, companies can expect to wait around two or three years before companies start to see financial savings.
It is important, therefore, to find the right balance and harness the best aspects of digital solutions while keeping any previous methods, such as site visits in clinical trials, that may work well and serve your ends effectively. For example, in Pfizer's commercial operations, customer touchpoints are collated and processed daily by digital rep advisors, who then feed recommended next steps to team iPads. The result is that whereas sales and marketing personnel can still decide what to talk to customers about, they can go into these conversations more informed and prepared.
Taking advantage of the digital transformation shaping the industry
The digital transformation of the pharma industry is gaining pace. The Covid-19 pandemic has expedited it, and companies must engage with it if they wish to not only profit financially but produce better medicines, enhance their patient experiences and make their operations more sustainable. This will involve integrating and analysing different datasets to help identify cost-effective and holistic health outcomes, such as by highlighting more viable drug targets, 'failing faster' or making clinical trials more effective.
TRiBECA Knowledge offers a range of tools to help your operations get the best from the digital transformation taking place in the industry. These include coordinating launch activities and making cross-team collaboration easier to drive excellence in your launch execution (SmartLaunch™), streamlining the collection of pricing data from country teams worldwide and automating the creation of any associated reports (SmartPricing™), and helping to drive tender sales across countries (SmartTender™). To learn more about how our products can benefit your operations, get in touch today.