Fabtech Technologies International
Turnkey Solutions for the Pharmaceutical Industry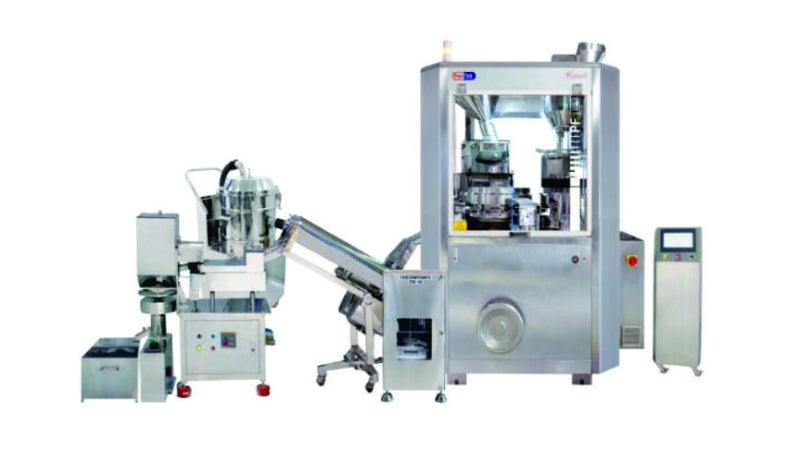 Fabtech provides the pharmaceutical, biopharmaceutical and health care sectors with turnkey solutions for in-house designing, engineering, and expertise in pharmaceutical equipment manufacturing.
Having started out specialising in cleanrooms and controlled environments, the company uses it's more than 17 years of experience in its solutions, including the manufacturing of its own pre-fabricated panels and cleanroom equipment. Fabtech also has a range of Pharmaceutical machinery and services for the Pharmaceutical Industry
Fabtech is growing at a compound annual growth rate (CAGR) of 23%, with 72% repeat clients in India and internationally.
Prefabricated modular cleanroom solutions
Fabtech's 15,000m² state-of-the-art manufacturing facility uses the latest CNC (Computerized numerical control ) machines. It manufactures prefabricated modular cleanroom partitions and doors, as well as a variety of cleanroom equipment. This includes laminar air flow benches and work stations, pass boxes, sampling and dispensing booths, bio safety cabinets, air showers, isolators, and oral solid dosage equipment.
Regulatory-compliant turnkey services
All of Fabtech's products are Conformité Européene (CE) certified and its modular panels are approved by Warrington Fire part 22 (UK), BRI (Poland), FM -applied and ASTM, which speaks volumes for its quality.
With the company's experienced team of engineers, pharmaceutical and research and development (R&D) professionals, validation experts, and technicians who have worked with top-end multinational pharmaceuticals and engineering companies, Fabtech has the capability to successfully execute projects from concept to commissioning.
Many projects have been audited and certified by acclaimed international agencies such as US Food and Drug Administration (FDA), Medicines and Healthcare Products Regulation Agency (MHRA) and European good manufacturing practice (GMP).
External infrastructure for pharmaceutical facilities
The company manufactures structure using Plaswall and Plasmolite, which are pre-rendered wall solutions.
With factors such as construction speed, heavy industrial loads, and aesthetic view taken into consideration, Fabtech offers a unique combination of conventional / pre-engineered building (PEB) structures with Plaswall / Plasmolite external and internal walls. These are termite, leakage, and seepage-proof.
Internal infrastructure, modular partitions and heating, ventilation, and air conditioning (HVAC)
To build a cleanroom, major coordination is required between the heating, ventilation, and air conditioning (HVAC) contractor and modular panel installation team. With Fabtech, both services are under one roof, ensuring all coordination is handled effectively and efficiently.
Mechanical, electrical, and piping (MEP)
With vast experience of more than 70 turnkey projects, and in-house engineering, installation and commissioning capabilities, all MEP requirements can be taken care of by Fabtech.
With hands-on experience with all pharmaceutical equipment, utilities such as black and clean water and air can be designed, installed, and commissioned in an organised manner.
About Fabtech
Fabtech provides turnkey solutions to a wide range of industries, with a strong focus on pharmaceuticals. The company owns more than 700 installations worldwide, covering more than 42 countries. It has developed from designing and constructing cleanrooms and controlled environments to a complete solution provider for the pharmaceutical industry.
The company has a strong presence in GCC, Afro Arab, Africa, Persian Gulf, Bangladesh and USA.
Areas of the pharmaceutical industry Fabtech has experience working with include:
Oral solid dose (OSD), oral liquids, intravenous (IV) large volume Parenterals (LVP) or small volume Parenterals (SVP), dry injectable, ointments and creams, Capsule filling Lines and complete set of granulation equipments
Biotech projects
High-potent drugs (oncology, hormones)
Metered dose inhalers (MDI)
Other industries that Fabtech provides turnkey support to include:
Fast-moving consumer goods (FMCG)
Nano-technology laboratories
Medical disposables
R&D labs, quality assurance (QA), and quality control (QC)
In-vitro fertilization (IVF) labs
Hospitals
Food and beverages
Approved vendor for defense
Automobiles
Fabtech Technologies International Images