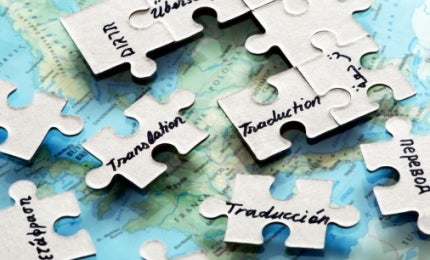 Conversis Medical specialises in carrying out translation of material in any format associated with clinical trials and medical communications.
We have worked intensively with many CROs, pharma companies and healthcare advertising agencies over the last ten years, so we understand the need for fast, responsive project support and understanding both the quality/regulatory needs of the pharma market, alongside the need to understand the context and message of the translated material.
Medical translation specialists
We offer fast, personal project management with almost all quotes are sent out within one day of request. Each project is important to us, whether large or small, not just one of hundreds in 'the system'.
We have a commitment to understanding the science behind the translation, underlined by recruiting our director of Conversis Medical (Dr Mark Hooper) who has worked in the pharmaceutical services field for the past 13 years.
We have a stable, friendly senior management team, who are available to respond directly to the clients.
Customised medical translation services
We personally select the most suitable, in-country translators to ensure the quality of your translations.
We have produced translated material in all the marketing formats, from the patient and site-facing materials, to voice-overs, email blasts/newsletters, computer games (to aid teenage clinical trial compliance), websites, videos, subtitles etc.
We have in-house DTP experts who can offer stand-alone services.
Conversis Medical operates a Quality Management System that complies with ISO9001:2008 as well as the translation-industry's specific standards BS EN 15038:2006 and DIN 2345.
About Conversis Medical
Conversis Medical was launched in 2007 when we recognised a need for precise medical translation within the pharmaceutical industry, focusing on patient recruitment and clinical trials.
Our success is based on a specialist medical team with knowledge and expertise, capable of accurately translating specific medical documents following a robust system of quality controls, providing dedicated internal project managers with deep technical knowledge.
We have a passion for breaking down communication barriers through translation for more than 120 languages.
In addition to translation experts, Conversis employs designers to produce your marketing materials as they were originally intended but in a way that also enables them to meet local customs and print standards.
Conversis offers a comprehensive range of translation services for materials that include websites, marketing materials for product launches, newsletters and safety information.
Theories suggest the myriad of global languages may one day die out, which can result in the decline of translation and localisation services.
The London Cancer Hub is a facility for cancer research and treatment located in Sutton, London.
Seattle Children's Research Institute (SCRI) is building a paediatric research building, Building Cure, at Stewart Street in Seattle.
Conversis has released new research which reveals that many UK and US businesses are struggling to expand internationally because they cannot find employees with the appropriate language skills and cultural awareness.
Dr Mark Hooper
Conversis Medical
Bignell Park Barns
Chesterton
Bicester
OX26 1TD
Oxfordshire
United Kingdom