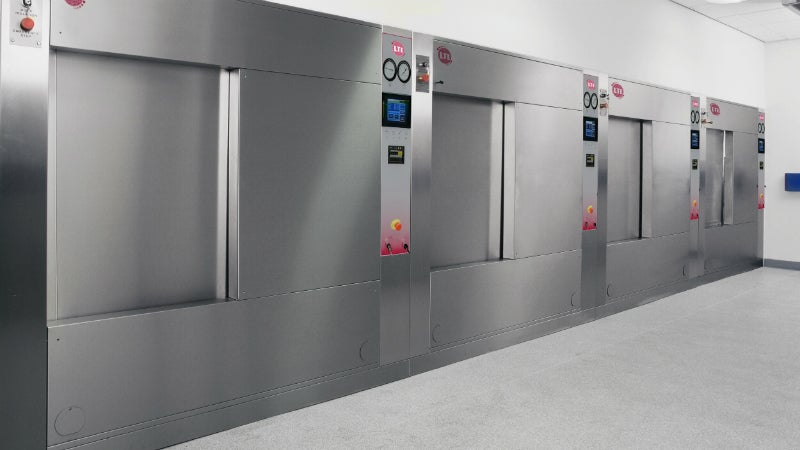 LTE Scientific manufactures, services, and supplies laboratory, dental, and porous load autoclaves, as well as endoscope drying and storage cabinets.
The company also supplies a large portfolio of thermal equipment including ovens, incubators, and freeze-dryers for the laboratory.
In addition, LTE Scientific designs and manufactures environmentally controlled chambers and rooms for stability testing, large-scale incubation, growing plants, and keeping insects. The company provides a specialised design, ensuring products are tailored to suit highly specific requirements.
Autoclaves for sterilisation in the laboratory and medical facilities
LTE Scientific offers a wide range of models, covering capacities from 23l to 1,050l capacity. This can be customised up to 6,000l.
The Touchclave Systems range includes large-capacity process sterilisers for heavy-use and high-throughput. Available in sizes between 326l and 1,050l, this range features a vacuum and air ballast. It also includes either a water jacket for cooling efficiency or a steam jacket for optimum drying performance.
The Touchclave System is available as a single entry or pass-through model and popular options include a loading or carriage trolley, stainless steel pipework, and independent monitoring. The system is also suited for use in the central sterile services department (CSSD).
The Touchclave Lab is a rectangular and chambered range, which is available in capacities between 150l and 450l. Designed to offer maximum capacity in minimum floor space, this range can be adapted for many applications. Pass-through models are available from 300l.
The Touchclave-R is a high-specification round-chambered range, with capacities from 40l to 160l. As well as for use in standard laboratories, this model can be utilised with no access to a drain or water supply as sensors within the chamber prevent the cycle continuing if there is insufficient water. It can be modified for specific requirements, including operating from steam supplies or being fitted with an auto-drain or auto-fill system.
The Eco-tech model offers high-level performance, while reducing energy and utility usage. This new range is available as a 40l model. Ecotech saves water through its external steam generation system and also delivers steam in seconds for shorter cycle times and energy savings.
For use in chiropody, dental, veterinary, and medical surgeries, Mediclave is available in capacities from 6l to 23l. An adaptable and well-equipped range, Mediclave has fast cycle times with either class B, S, or N pumps. It also has a built-in fill and rain tank, a printer, and motorised door locking system.
Laboratory drying cabinets, freeze dryers, and ovens
LTE Scientific's Scope-Store range offers drying storage solutions for up to 20 endoscopes. Shelf and vertical hanging models are available, as well as the shelf-loaded model, which has pivoting shelves for easy loading and unloading. There are also single entry and pass-through variants, alondside an option for fully automatic or manual controls. All Scope-Store+ models comply with EN16442 standards.
For a wider range of laboratory drying needs, LTE Scientific also offers cabinets with capacities from 100l to 1,000l, ranging from bench or wall-mounted to large floor-standing models. The filtered air drying cabinet model is fitted with a fine filter for reduced contamination, while the economy drying cabinet model features internal heaters for natural convection drying. Finally, the sliding door drying cabinet models have adjustable shelves and are used for low-volume materials.
LTE Scientific's cost-effective freeze-drying solution Lyotrap is used for low-volume laboratory and industrial applications for freeze-drying flasks, trays or shelves, vials, and ampoules. A cost-effective and simple solution, there are four model options, with temperatures spanning -55°C and -80°C. The smallest range is the Mini Lyrotrap, which has an ice capacity of 3kg and is used for common freeze-dry applications or as a cold trap for single or multiple units. The largest is the Lyrotrap Ultra, which has a capacity of 18kg and is used for high-volumes and long running times between defrosting.
LTE Scientific's ovens are designed to meet the increasing demands of laboratories and process facilities. The OP series holds between 60l and 250l, whereas Swallow ovens have a capacity range from 480l to 1,000l. Operating temperatures span from 40°C to 250°C and each model offers flexibility and performance, with all used for sterilisation applications.
Incubators, environment rooms. and chambers for stability testing
LTE Scientific's laboratory incubators are flexible and offer close temperature performance. The IP series has a capacity of 60l to 250l, while Swallow incubators hold between 480l and 1,000l. The operating temperature range is from 10°C to 80°C.
The cooled incubators have a temperature operating range between 2°C and 50°C. With a choice of a white epoxy or stainless steel case, the units have either solid or double-glazed glass doors depending on requirements and have a capacity of 92l to 516l.
LTE Scientific offers temperature and relative humidity (RH) solutions for a wide range of applications, including stability testing, shelf-life trials, and large-scale incubation. The company's rooms and chambers are designed to be flexible to suit individual applications and site conditions.
Training and maintenance
LTE Scientific's Service Centre provides high levels of after-sales care through servicing, maintenance, and testing. Services are provided by the nation-wide service teams, which work to NHS and UKAS guidelines, as well as various national standards. The company also provides preventative maintenance contracts, service work, calibrations, and load validations.
The service team works with both LTE equipment and other major brands available in the UK.
In addition, LTE Scientific's training centre conducts a wide range of courses for operators, supervisors, and engineers.
LTE Scientific's new Touchclave EcoTech autoclave combined a high level of standard features with exceptionally low energy and water usage.
Michigan State University (MSU) has opened a bioengineering facility at its campus in East Lansing, Michigan.
Provider of sterilisation and endoscope storage solutions, LTE Scientific is also committed to providing a wide range of first class training courses.
LTE Scientific Ltd
Greenbridge Lane
Greenfield
Oldham
OL3 7EN
Greater Manchester
United Kingdom