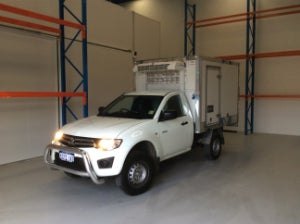 Mediport delivers cold chain medicines in validated refrigerated vehicles.
Over the past eight years, Mediport has successfully delivered more than 500,000 consignments, saving pharmaceutical companies in Australia hundreds of thousands of dollars by eliminating cold chain breaches.
Mediport successfully completed the expansion with Clifford Hallum Health (CH2) into Perth and Adelaide from its initial successful trial in Melbourne.
For Sanofi Pasteur, Mediport completed a 100% successful four month pilot, taking over metropolitan deliveries from DHL in a move away from foam eski and cold packs.
Mediport currently service Victoria, South Australia, Western Australia and New South Wales with plans to expand to Brisbane early in 2016.
Currently Mediport is looking for opportunities to expand and is looking for trading partners in America and Asia.
For more information, please click here.
Cold chain medicine distribution company Mediport has invested in new fleets across Australia.Since the successful...
In South Australia and New South Wales, services are supplied to wholesalers and manufacturers, which...