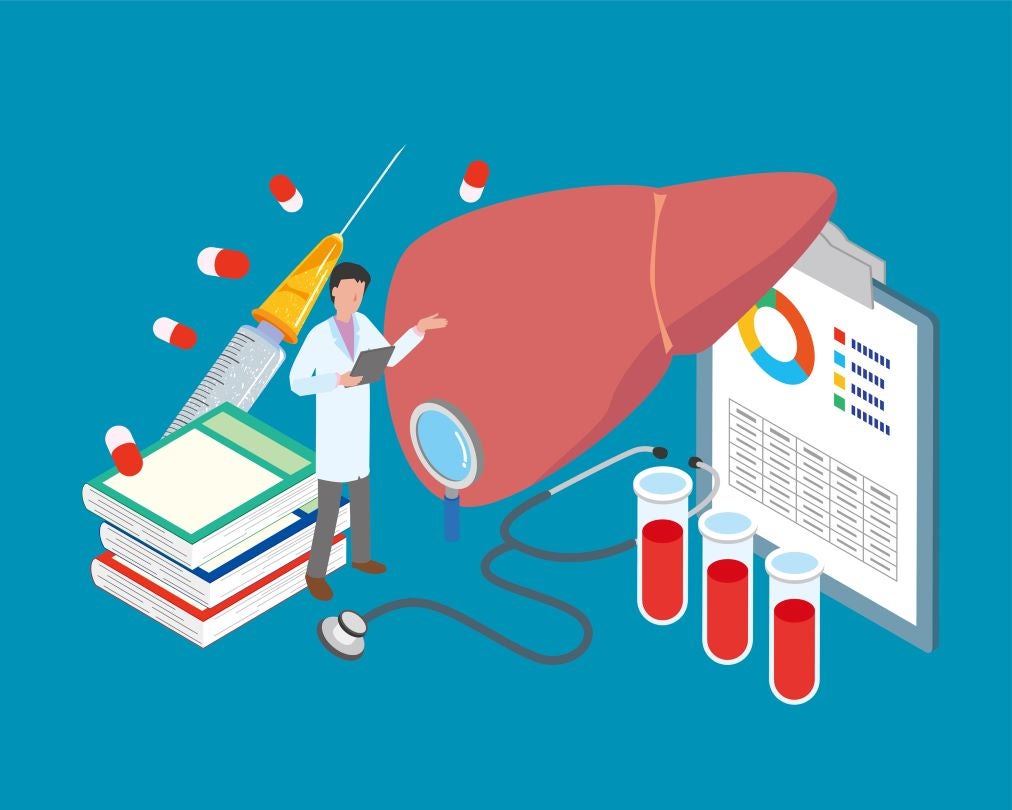 Following a negative US Food and Drug Administration (FDA) decision for Intercept Pharmaceuticals' Ocaliva (obeticholic acid), all eyes are now on the next possible drug to lead the race to market for non-alcoholic steatohepatitis (NASH).
After several attempts to reach the market by pharmaceutical giants such as AstraZeneca and Gilead Sciences fell short, a handful of companies are edging closer to the final stages of clinical development. On 23 June, Intercept joined this list after announcing it will shut down its Ocaliva NASH clinical trials and all NASH-related investment by the end of 2023.
NASH is a severe form of non-alcoholic fatty liver disease (NAFLD), a condition where fat builds up in the liver, potentially causing liver damage or cirrhosis. The American Liver Foundation estimates that approximately 25% of US adults have NAFLD, and 5% of US adults have NASH. However, there have not yet been any successfully FDA-approved therapies for the condition despite growing unmet need.
Until this point, the main focus of research has been to prevent the progression of NASH into cirrhosis, explains Dr. Rohit Sinha, an associate professor in the Department of Endocrinology at Sanjay Gandhi Post Graduate Institute of Medical Sciences, Lucknow, India. However, the clinical success of new NASH drugs that target a range of factors affecting disease pathology, such as lipid and bile metabolism and fibrosis, could provide a departure from the norm.
While New Jersey-based Intercept was initially leading the pack, in May 2023, panelists on an FDA Advisory Committee (AdCom) voted 12 to four against its approval, which was later followed by the FDA rejection. Jay Patel, a GlobalData Analyst specialising in NASH, highlights Intercept's recent Phase III (NCT02548351) results where Ocaliva did not meet the endpoint of NASH resolution as a possible reason for the negative result.
GlobalData is the parent company of Pharmaceutical Technology.
Another contender is Madrigal Pharmaceuticals' oral NASH therapy resmetirom. The drug has positive Phase III data from an ongoing trial (NCT03900429) and has received an FDA breakthrough therapy designation. On 22 June, Madrigal presented additional data from the trial, showing that resmetirom achieved both liver histological improvement endpoints that the FDA highlighted as likely to provide clinical benefit for accelerated approval. In comparison, Ocaliva's Phase III trial failed to meet the key clinical NASH resolution endpoint. Patel says that these results indicate that the FDA may favor resmetirom over other NASH drugs similar to Ocaliva.
However, despite this, the NASH field has seen a major increase in activity in recent years with increased effort to develop validated biomarkers and improved drug candidates. Dr. Jean-François Dufour, a principal investigator on multiple NASH clinical studies, lists five main classes of drugs aiming to reach the market in the current NASH landscape: Farnesoid X receptor (FXR) agonists, fibroblast grow factor (FGF) 21, thyroid hormone receptor-β (THR-β) agonists, glucagon-like peptide 1 (GLP-1) agonists, and PPAR agonists.
These renewed developments in NASH come after other NASH drugs fell short in different ways. In April, AstraZeneca chose to discontinue its clinical development program for its NASH GLP-1RA cotadutide after reaching Phase II/III trials, and Gilead's selonsertib failed at Phase III after the therapy achieved worse results than placebo.
Challenges in drug development
According to GlobalData, there are five therapies in Phase III clinical trials for NASH. Dufour says a major challenge contributing to this sparse landscape is related to the diagnosis of NASH. Clinical trials currently use histology-related endpoints that require repeat biopsies, which complicates trial design. "It is very difficult to convince the patient to do a liver biopsy, because ultimately even if you see that NASH has progressed or reduced, you don't have any drug treatment," says Sinha. The lack of validated biomarkers also prevents easy classification of the condition.
New biomarkers are being developed to understand long-term outcomes and measure clinical response. Dufour says that this could majorly improve the design of NASH studies and signal an alternative to liver biopsies. For example, Hepion Pharmaceuticals is currently developing noninvasive HepQuant SHUNT tests to assess NASH progression. In an email, Robert Foster, CEO of New Jersey-based Hepion Pharmaceuticals said, "The earlier stages of the disease (e.g., excess liver fat) are, for the most part, asymptomatic. As such, if a person has a fatty liver and is asymptomatic, how would they know to seek treatment? Without a simple diagnostic, this presents a significant challenge."
Hepion used its novel functional test in a Phase II study of its NASH therapy rencofilstat. The drug reduces NASH fibrosis by inhibiting cyclophilin, a protein that has a major role in fibrosis. Foster said the biotech plans to investigate the therapy again using liver biopsies in order to ensure the accuracy of the Phase II results and establish the reliability of Hepion's test. The company aims to complete its Phase IIb rencofilstat NASH trial in early 2025.
Sinha explains that a common reason for the failure of NASH drugs also stems from the massive genetic variation in NASH patients. "There are a lot of genetic predispositions, so it's not that one-size-fits-all. Some patients benefit from a class of drugs and some do not," says Sinha. The stage of disease can also massively affect the drug's efficacy.
Frederic Cren, CEO of Inventiva Pharma, which is developing a NASH therapy, said, "Given the heterogeneity of the patient population, there is a need for different drugs with different mechanisms of action in order to meet the needs of patients."
The current NASH pipeline
In May 2016, the FDA approved Ocaliva for treating primary biliary cholangitis (PBC), another liver condition. However, five years later, the agency restricted its use after the identification of 25 cases of serious liver injury related to the therapy. The drug's safety was at the center of the discussion at the AdCom discussing its use in NASH, where panelists expressed worries about side effects such as gall bladder inflammation, bile duct stones, and the onset of diabetes.
The question remains on how the FDA verdict on Intercept's therapy could impact a NASH pipeline full of FXR agonist monotherapies and combination therapies. FXR agonists correct the dysregulation of FXR expression, which is a major cause of dysfunction in lipid and bile metabolism in NASH. However, Patel predicts that the FDA will approve Madrigal's resmetirom within the next several months. Consequently, other THR agonists may benefit from its success. For example, after Madrigal released positive Phase IIb results, the share price for Viking Therapeutics, another company developing a THR agonist, rose by 12% the following day. Patel predicts that THR agonists may become the main focus of the field in the upcoming years.
Sinha explains that outside of these drugs, GLP-1 agonists are particularly effective due to their specific targeting of insulin resistance, which is a core issue for NASH patients. For example, Novo Nordisk is currently developing its blockbuster diabetes drug Ozempic (semaglutide) in combination with Gilead Sciences' investigational FXR agonist cilofexor and its acetyl-CoA carboxylase (ACC) inhibitor firsocostat to treat cirrhosis associated with NASH. The combination therapy is currently in a Phase II (NCT04971785) clinical trial.
Daix, France-based Inventiva is tackling NASH with lanifibranor, a peroxisome proliferator-activated receptor (PPAR) agonist. PPAR activation causes the inhibition of mucosal production of inflammatory cytokines (interleukin-1beta and TNFalpha) and chemokines. Cren says the company expects topline Phase III results (NCT04849728) to be released in H2 2025, which will be used for regulatory submissions.
In terms of coverage upon drug approval, as per the US nonprofit Institute for Clinical and Economic Review's (ICER's) assessment, the long-term outcomes data was lacking for both Ocaliva and resmetirom. Still, resmetirom was found to be more cost-effective than Ocaliva and was given a placeholder annual price of $19,000 versus $85,000 for Ocaliva. Moreover, ICER recommends that payers should include of NASH drugs in their coverage for obesity drugs in the future.
In a statement following ICER's assessment, Dr. David Rind, ICER's Chief Medical Officer said, "If these drugs receive FDA approval, while awaiting long-term liver and cardiovascular data, patients and doctors will need to balance the risks, burdens, and potential benefits of each of these therapies."