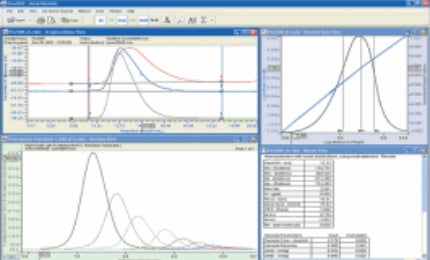 OmniSEC software is an integrated solution for advanced analysis of proteins and polymers by GPC/SEC, and is essential for Viscotek systems and detectors.
Selectable protein or polymer interfaces with simplified workflows to improve productivity and help maximize the information and efficiency of experiments.
Simply load samples and the software controls all sequencing, enabling automatic operation.
OmniSEC supports multi detection including single, dual, triple and tetra, and features absolute molecular weight and dedicated user interfaces for analysis of polymers and proteins, with OmniSEC BIO.
Other features include molecular conformation/branching, copolymer analysis, Mark-Houwink plots, flow injection polymer analysis (FIPA), universal and conventional calibration, as well as the ability to exchange sequences with Waters Empower.
Key benefits of OmniSEC software include:
Protein-specific language, settings and workflows
Two clicks from raw data to results
Built-in, intuitive report designer
Manual or fully automatic baseline setting
Automatic determination of dn/dc, UV extinction coefficient and A2
Proven asymmetric band broadening corrections
Fully automatic process control/LIMS mode
Integrated help system to guide users
Full export capability of raw data, results and intermediate calculations
Enables compliance with 21 CFR part 11
OmniSEC provides direct control of any Viscotek instrument, acquires and displays results in real time, and performs an automatic search to detect connected devices, and select appropriate COM ports.
Malvern Panalytical, manufacturer of analytical systems, and Concept Life Sciences (CLS), a contract research organisation,...