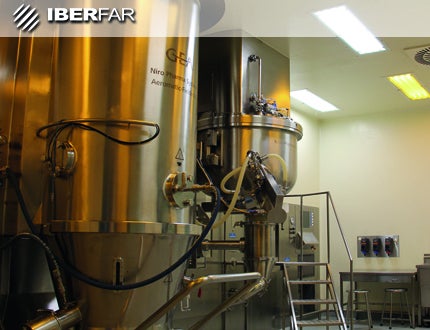 IBERFAR focuses on improving health through innovative technology for the pharmaceutical industry.
Manufacturing of non-sterile solid and liquid dosage forms
IBERFAR has more than 90 years of experience in the pharmaceutical sector at a national and international level.
IBERFAR is an outsourcing specialist that offers contract manufacturing and packaging, as well as quality control and EU batch releases. The company operates an EU current good manufacturing practice (cGMP) approved manufacturing site near Lisbon.
Pharmaceutical tablets, capsules and granules
IBERFAR manufactures high-quality, non-sterile solid and liquid dosage forms for third parties.
Tablets, film and sugar-coated tablets are available, as well as capsules, granules and various kinds of liquids. Each project is customised to individual requirements.
IBERFAR also offers project work for manufacturing, packaging and quality control as an all-in-one service.
Quality in pharmaceuticals
High-quality standards allow the company to correlate its processes, performance and site with state-of-the-art practices.
IBERFAR's services are cGMP compliant and meet ISO 9001: 2008 standards. Audits are conducted by local authorities and clients to ensure it is up to date with working standards in the pharmaceutical industry.
The company is certified to OHSAS 18001: 2007 requirements. Sustainability is achieved using IBERFAR's environmental management system, which meets ISO 14001: 2012 specifications.
About IBERFAR
IBERFAR has been recognised for four consecutive years as SM Enterprise of the Year, and also won the SME Excellence award for the performance and risk profile (Portuguese SME Excellence 2014). It has been a Lean-Six Sigma company since 2007 and focuses on eliminating waste and controlling process variation.
IBERFAR Group has two companies in different business areas with autonomous operations, which are Ferraz Lynce and Logifarma.
Ferraz Lynce registers, promotes, distributes and sells medicines and health products.
Logifarma is one of the biggest pharmaceutical logistics and warehousing companies in Portugal. The company provides services for biotech and branded medicines, as well as generics and veterinary products.
IBERFAR manufactures high-quality solid and liquid dosage forms for third parties that have distinctive competencies and flexibility for customers.
IBERFAR performs contract packaging of medicines and health products, and can provide bulk packaging and integrated filling and packaging lines for primary and secondary packaging of solid and liquid forms.
IBERFAR develops quality control activities under products that are ready for release in the European market (EU batch releases).
IBERFAR is part of a Portuguese group operating in the manufacturing and packaging of pharmaceutical products; marketing, distribution, and regulatory affairs; and logistics and warehousing.
IBERFAR – Indústria Farmacêutica SA
Rua Consiglieri Pedroso, 123
2734-501
Portugal