As regulatory decisions to influence a drug's future on the market trickle in, companies have already set in motion efforts to produce or manufacture these therapies. Each month at Pharmaceutical Technology, we take a look at drugs with recent regulatory verdicts and the manufacturing relationships that their parent companies have set in place.
This analysis is based on a list of contract manufacturing organizations (CMOs) that are impacted by regulatory decisions since late March. Pharmaceutical companies that develop these drugs regularly outsource the production of active pharmaceutical ingredient (API), and drug dose or packaging to the CMOs. An examination, based on the GlobalData Pharmaceutical Intelligence Center's Deals database and PharmSource reports from late March to early April, reveals the impact of regulatory decisions on the manufacturing plans for several therapies. This list includes drugs that received approvals from agencies like the US Food and Drug Administration (FDA), European Medicines Agency (EMA), and reimbursement authorities like the UK's National Institute of Health and Care Excellence (NICE).
A compilation of drugs with major regulatory decisions and CMO contracts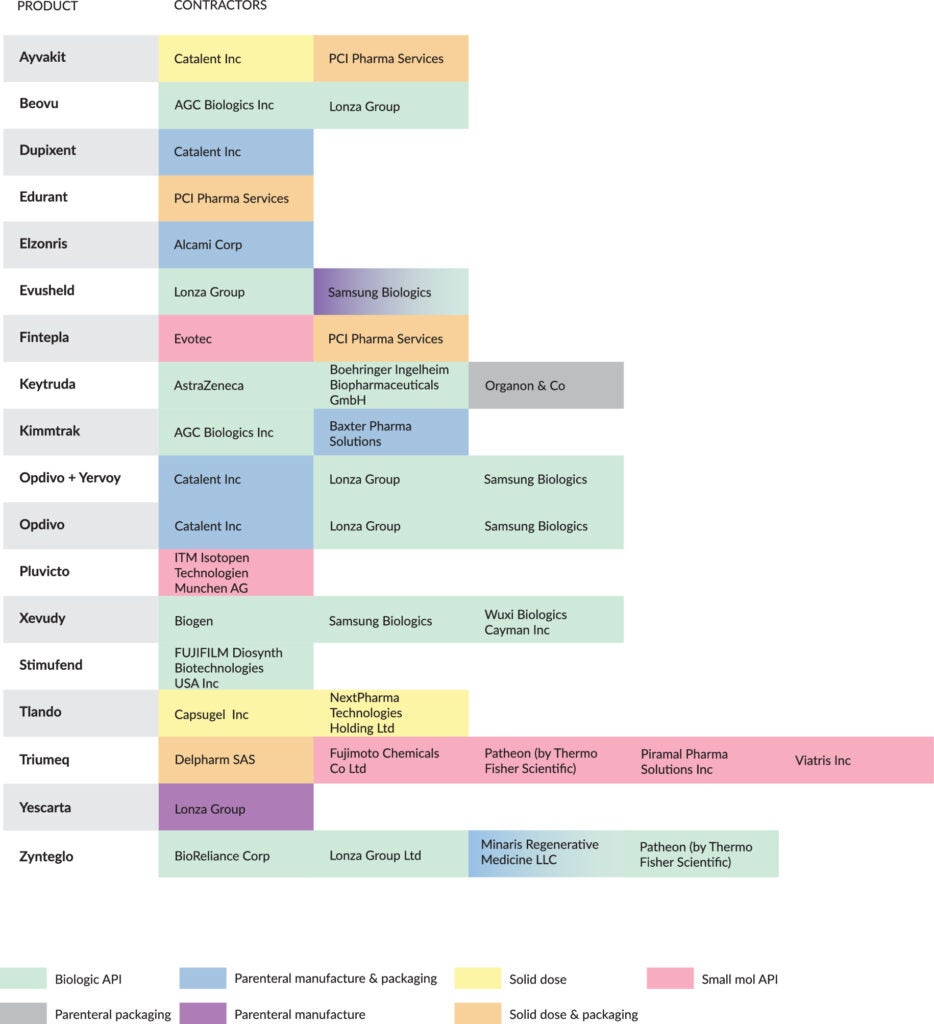 Beginning in late March, a number of regulatory verdicts involving biologics have come to fruition. Lonza hit it big as several biologics it's contracted to manufacture, received positive decisions. This included AstraZeneca's long-acting preventive Covid-19 antibody Evusheld (AZD7442), which received an EMA marketing authorization in the final days of March. Around the same time, the European regulator also validated Bristol Myers Squibb's type II variation application for its leading immunotherapy combination of Opdivo (nivolumab) with chemotherapy in the neoadjuvant setting for early stage non-small cell lung cancer, where it is already FDA-approved. Once an application is validated, the EMA's centralised review procedure starts. This came just a few days after NICE recommended Opdivo in combination with the anti-CTLA-4 antibody Yervoy (ipilimumab) as a therapy for untreated advanced renal cell carcinoma. The manufacturing of these checkpoint inhibitors has been outsourced to Lonza and Samsung Biologics.
In other EMA-related news, the regulator approved Immunocore's novel T-cell receptor (TCR) therapy Kimmtrak (tebentafusp) last month. The bispecific protein consists of a TCR fused to an anti-CD3 immune-effector function, and AGC Biologics has been contracted to manufacture its API, while Baxter Biopharma Solutions is in charge of parenteral manufacture & packaging.
Developing drugs for rare diseases is challenging, but the case of bluebird bio's Zyntelgo has only shown that what comes next is also as important. While the EMA approved this therapy for beta thalassemia in the summer of 2019, Zyntelgo's €1.6 million ($1.8 million) price tag discouraged many, and eventually last year the company decided to wind down its operations. In late March, bluebird withdrew its marketing authorization for the therapy, whose API production has been outsourced to Lonza, BioReliance, and Patheon, by ThermoFisher Scientific, from the European Commission.
As Covid-19-related guidance continues to evolve, GlaxoSmithKline's monoclonal antibody Xevudy (sotrovimab), whose API production has been outsourced to Samsung Biologics and Wuxi Biologics, has seen a turn of fortune. The FDA suspended Xevudy's use in early April, after initially limiting it since it was ineffective against the Omicron BA.2 sub-variant.
This data is based on the GlobalData Pharmaceutical Intelligence Center's Deals database and PharmSource reports.