In recent weeks, several regulatory decisions on Covid-19 vaccines and boosters have come through that are expected to spur vaccine manufacturing in the near future.
In this ongoing series, Pharmaceutical Technology uses data from GlobalData's Pharmaceutical Intelligence Center Deals database and PharmSource reports, along with publicly available news on the pharmaceutical and biotech industry, to analyze which players may be impacted by critical decisions by regulatory agencies. In particular, contract manufacturing organizations (CMOs) act as an important stakeholder in the pharma supply chain, given their contracts with pharmaceutical companies to manufacture therapies and vaccines.
GlobalData is the parent company of Pharmaceutical Technology.
This month's edition covers news events from late July to early September on regulatory decisions by the US Food and Drug Administration (FDA) and European Medicines Agency (EMA), along with reimbursement authorities like the UK's National Institute of Health and Care Excellence (Nice). Additionally, this analysis includes some clinical trial results that were released in the same period.
Contracts to manufacture biologic active pharmaceutical ingredients (APIs), parenteral packaging, solid dose manufacturing, and small molecule APIs, among others, are pursued with CMOs to then contribute toward manufacturing a particular therapy.
Covid-19 Omicron boosters enter the fray
Pfizer/BioNTech completed the EMA submission for its bivalent Comirnaty vaccine to be used as a booster. Baxter Biopharma, Allergopharma GmbH & Co, Mibe GmbH Arzneimittel, Delpharm SAS, Led dd, Lonza Group, Novartis, and Patheon by ThermoFisher Scientific, have been assigned to the parenteral manufacturing and packaging of this vaccine. Additionally, EuroAPI, Exelead Inc, Polymun Scientific ImmunbiologischeForschung GmbH, and The Biovac Institute are in charge of the parenteral manufacturing.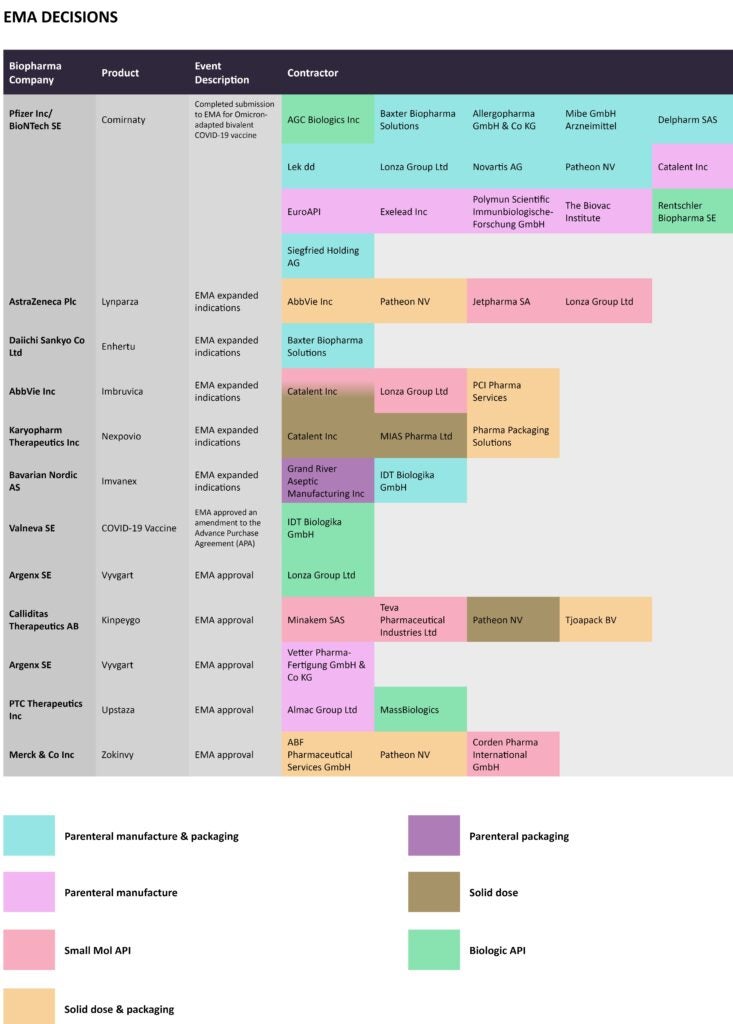 Additionally, in mid-August, the UK's Medicines and Healthcare Products Regulatory Agency (MHRA) also granted a conditional authorization for Moderna's Spikevax booster vaccine for adults.
Across the pond, on 31 August, the FDA amended the emergency use authorizations (EUAs) to allow the bivalent formulations of both Moderna's Spikevax and Pfizer/BioNTech's Comirnaty to be used as a booster dose. These vaccine boosters contain one original strain of the SARS-CoV-2 virus and another strain that is common in the BA.4 and BA.5 lineages of the virus's Omicron variant.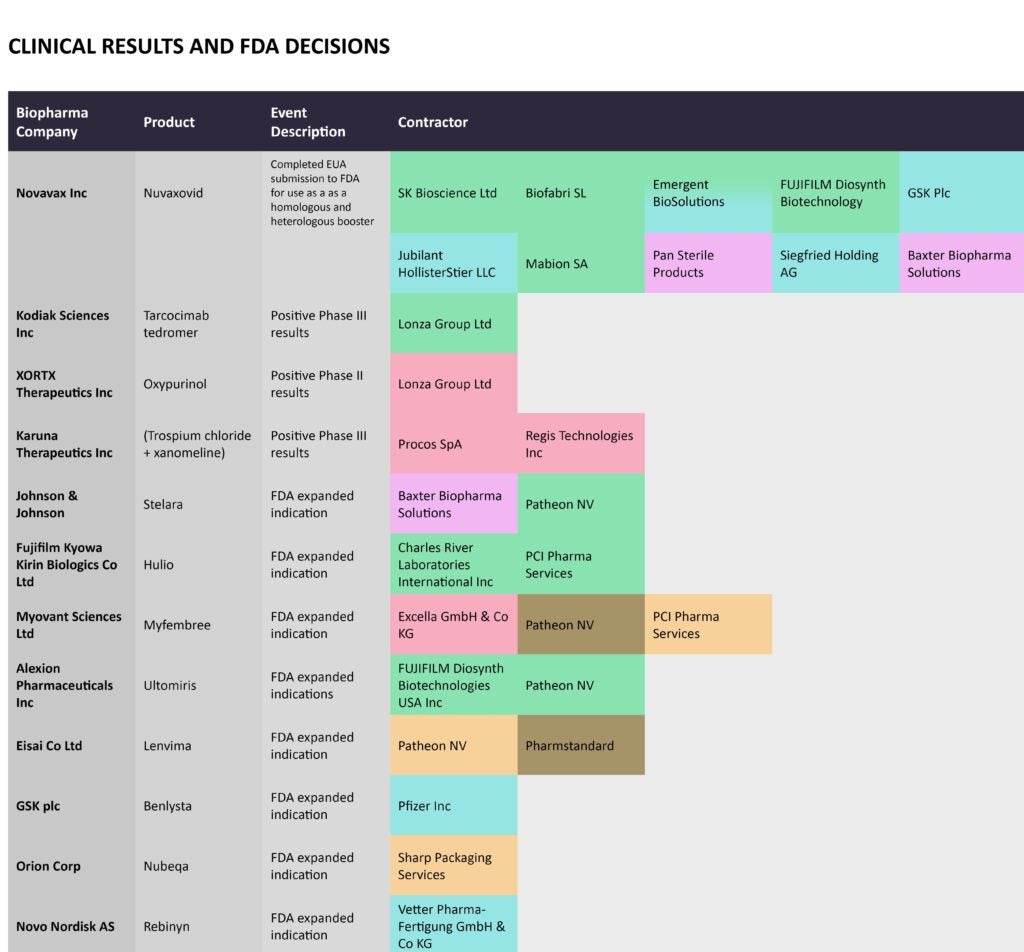 A few days later, the EMA Committee for Medicinal Products for Human Use (CHMP) recommended an expanded conditional marketing authorization for Novavax's Nuvaxovid Covid-19 vaccine as a booster for adults. The company has also completed an EUA submission for Nuvaxovid's use as a homologous and heterologous booster. Several companies, including SK Bioscience, Biofabri, Emergent Biosolutions, Fujifilm Diosynth Biotechnology, and Mabion SA are tasked with manufacturing the biological API, while Emergent and Jubilant Hollisterstier are in charge of the parenteral manufacturing and packaging.
European Commission and UK regulatory decisions
The UK's NICE recommended Hansa Biopharma's enzyme imlifidase to be used to desensitize certain adults before a kidney transplant from a deceased donor. Biotechpharma UAB is tasked with manufacturing the biologic API and parenteral manufacturing and packaging.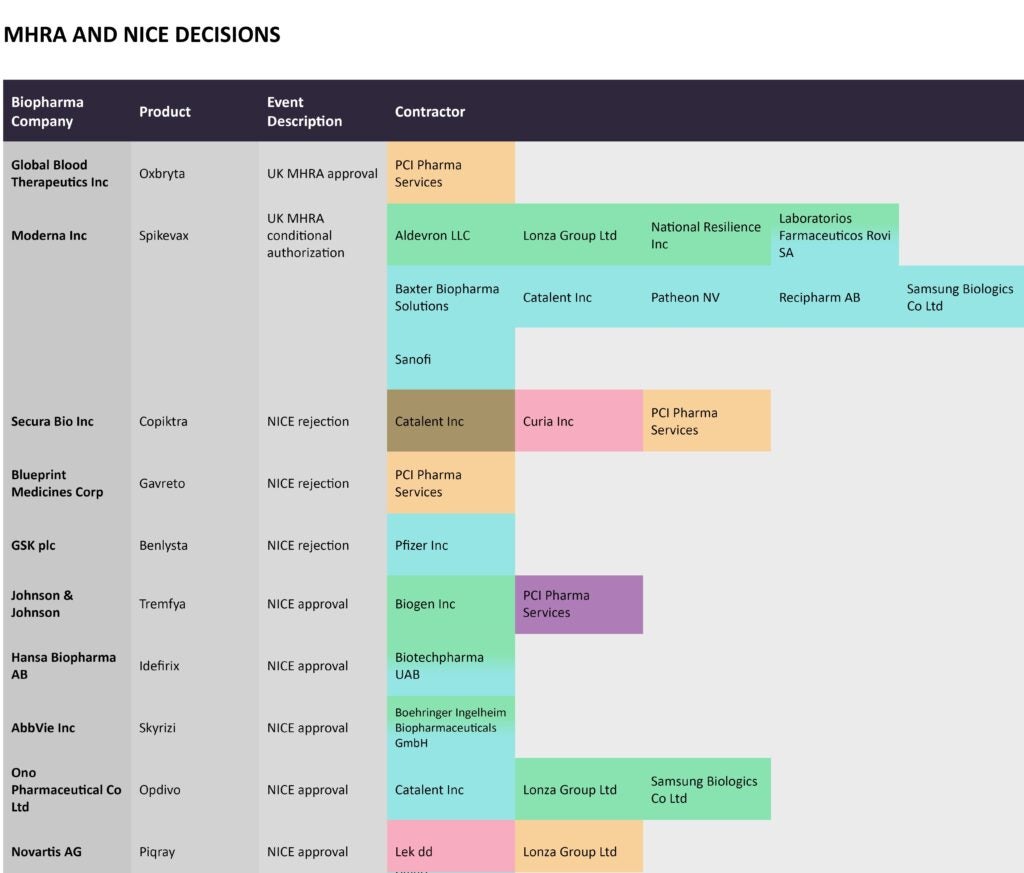 In early August, AstraZeneca's and Merck & Co's PARP inhibitor Lynparza received yet another approval from the European Commission (EC) as an adjuvant treatment for patients with high-risk early-stage breast cancer with germline BRCA1/2 mutations. AbbVie and Patheon are charged with the solid dose and packaging for the PARP inhibitor, while Jetpharma SA and Lonza Group are manufacturing the small molecule API.
AstraZeneca continued its streak of successful collaborations as news of Enhertu, an antibody drug conjugate (ADC) developed with Daiichi Sankyo, gained new approvals in mid-August. While the EMA expanded its use to include HER2+ metastatic breast cancer, the FDA granted approvals for the ADC in HER2-low breast cancer and previously treated HER2-mutant non-small cell lung cancer (NSCLC). Baxter Biopharma is contracted for parenteral manufacturing and packaging.
On 5 August, the FDA approved Pfizer and Myovant Sciences' one-pill treatment Myfembree (relugolix) for endometriosis-related pain. Excella GmbH & Co is assigned to manufacture the small molecule API, while Patheon NV and PCI Pharma Services will be doing the solid dose manufacturing and solid dose and packaging, respectively.
To read the previous edition of this series, click here and here.