Decontamination Programmes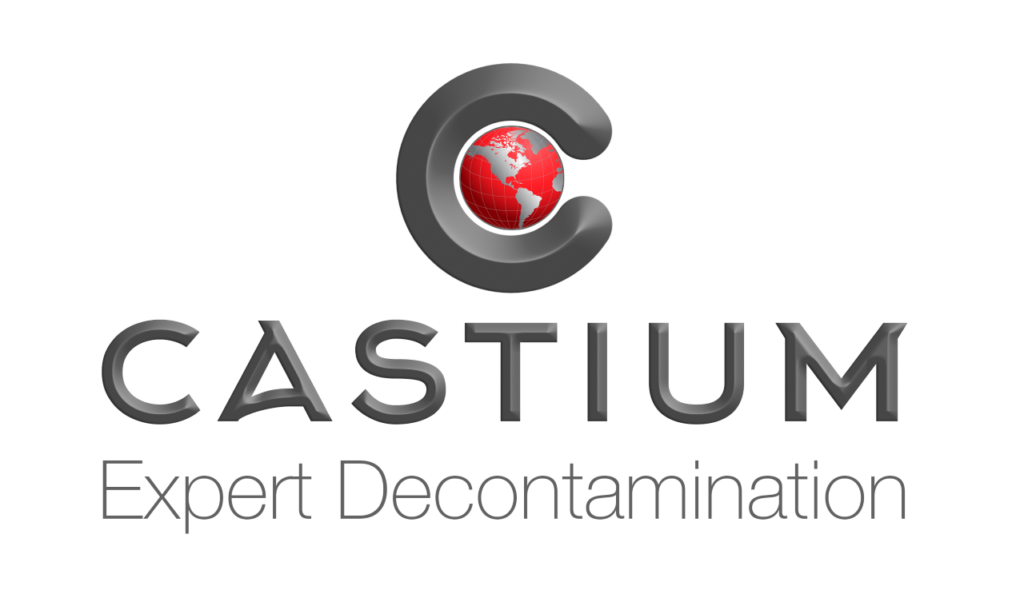 Decontamination is the process of decreasing antimicrobial presence in an area or on a surface.
Decontamination is the process of decreasing antimicrobial presence in an area or on a surface.
Castium specialises in the design and delivery of bespoke decontamination solutions across a multitude of industries, with the aim of reducing/eradicating known contaminants to facilitate the safe continuation of business activities. Castium has a wide range of validation methods to verify the efficacy of all projects undertaken.
Castium liaises closely with the customer to ensure that every programme includes the decontamination solutions that when delivered separately or in sequence will best minimise the level of bio-burden present. It is important that each level of service results in the optimum hygiene conditions for the processes to follow.
A Scope of Work is produced as part of a detailed Method Statement and a provisional Risk Assessment based on the sequence of decontamination processes to be performed and may include:
Systematic Deep Cleaning focuses on burden reduction through Particulate Cleaning to remove dust and other detritus. Combined with our Detergent Clean that involves the wipe down of all surfaces using recognised cleaning techniques to avoid the dispersal of anaerobic micro-organisms and ensuring that no lipid residues remain.
Chemical Cleaning employs the appropriate disinfectants to address specific biological or chemical contamination associated with various laboratory environments.
Endo and Ecto-parasitical and environmental treatment (application of a specific chemical aimed at the treatment of known parasitic or fungal contaminations).
Dry Steam Sanitisation Systems are proven to remove Salmonella, Listeria, Monocytogenes, Staph Aureus, MRSA, Saccharomyces, Cerevisiae, Bacillus Cereus, TVC 37, TVC 22 and Clostridium Difficile by greater than 99.9% – all of these results are available on request in our microbiology report. The deep cleaning effect of steam ensures that bacteria and other unwanted micro-organisms are destroyed right down into the deepest pores of the polluted surface. Bacteria is unable to duplicate and the surface is dry and hygienically clean. Dry Steam Sanitisation focuses on areas of fungal growth to reduce the proliferation of airborne spores when areas of solid growth are agitated.
Ethylene Oxide (predominantly used for the sterilisation of equipment that cannot support conventional high-temperature steam sterilisation). Our plant is run by a customised control system which provides detailed cycle logs and batch pallet tracking. For customers launching new devices, we offer a tailored service including rapid validations and clinical trial batch runs. In addition, we can process delicate and often awkward products. We accept certified battery-operated devices for our oxygen-depleted cycles as well as sensitive devices in our specific low vacuum cycles. We also process equipment from animal facilities for treatment against syphacia muris and other microbial contamination producing extremely effective results.
Hydrogen Peroxide Vapour (as a replacement for formaldehyde is well established as a bio-decontamination agent due to its broad-spectrum efficacy and its ability to rapidly inactivate the most resilient microorganisms.) The residue-free nature of hydrogen peroxide vapour (breaks down to oxygen and water vapour) and low temperature, vapour-phase application increases the practicality of the process. Hydrogen Peroxide Vapour systems and services eliminate 99.9999% of pathogens for a 6-log kill via application of a 30-35% hydrogen peroxide solution. Achieving complete coverage of every exposed surface in an enclosed area, the process is residue-free, proven safe on sensitive electronics and has demonstrated a kill of a wide range of microorganisms including bacteria, viruses, fungi, spores and more.
PCR Laboratory Cleaning Programmes focus on the reduction of amplicons by delivering Nucleic Acid decontamination combined with UV-C treatments.
Mould contamination is addressed through a programme of fungicidal washes and VHP treatments.
Castium 'Hydrogen Peroxide Bio-decontamination service' uses pre-qualified mobile bio-decontamination equipment that meets all of the new EU regulatory standards including the current BPR regulations which...