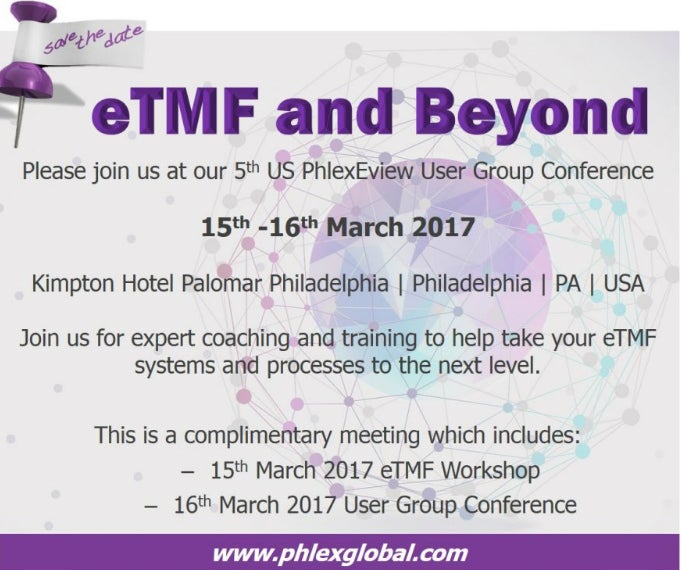 Phlexglobal has announced it will host the 5th US PhlexEview User Group Conference in Philadelphia, Pennsylvania.
The event will take place at the Kimpton Hotel Palomar Philadelphia, from 15 March to 16th March, 2017.
It follows the success of previous User Group conferences and is a must for your calendars.
The meeting provides a key forum to network with electronic trial master file (eTMF) peers, share best practices, and learn more about Phlexglobal's technology PhlexEview.
Phlexglobal's trial master file (TMF) experts will gather with industry professionals and guest speakers for informative sessions and panel discussions.
The agenda will focus on "eTMF and Beyond" and will include:
High profile key note speakers
A series of case studies with Phlexglobal's clients
Discussions on how PhlexEview can improve worldwide pharmaceutical businesses' eTMF maturity programmes.
Roundtable discussions
PhlexEview roadmap
A full agenda will be sent out shortly.
Phlexglobal is also offering a complimentary eTMF workshop on Thursday 15th March 2017. The day will be focussed on eTMF challenges and industry best practices for resolution. The attendees will drive the agenda.
Whether we like it or not, inspections are a crucial part of clinical trials. It...