Owen Mumford
Automatic Injection Pens and Auto Injectors for Self-Injection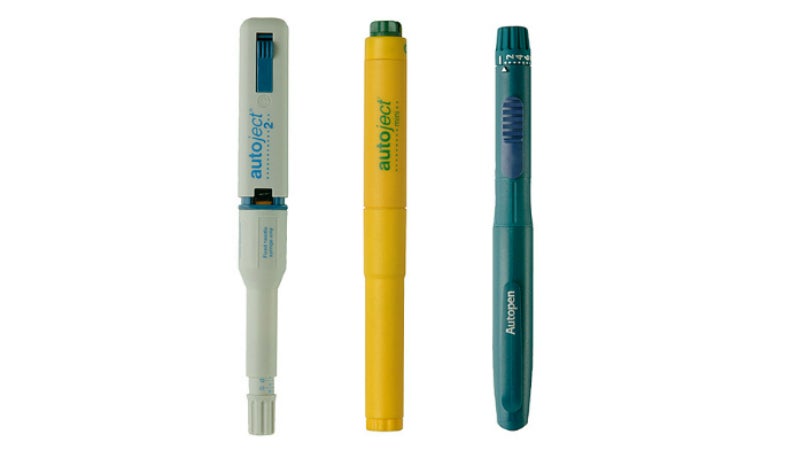 Owen Mumford specialises in integrated design and build services from a broad range of self-injection platform devices for the pharmaceutical industry.
Autoinjectors for the pharmaceutical industry
Owen Mumford offers self-injection device platforms and autoinjectors. The Autoject Micro, a next-generation disposable autoinjector features automatic needle insertion.
Its compact design is a result of patented drive mechanism technology, which allows auto-injection in a discreet package.
The design improves adherence by overcoming barriers to self-injection and addresses cold store and logistics costs.
Disposable autoinjectors with a pre-filled syringe
Autoject Micro is a disposable device, which can be supplied fully assembled with a pre-filled syringe or delivered in separate parts, ready for final assembly at any facility.
Key features of the Autoject Micro include needle insertion and dosage delivered at the touch of a button, a concealed needle to reduce injection anxiety and sharps injury prevention, which is achieved by hiding the needle before and after use.
The autoinjector has a protective cap and locking mechanism to prevent accidental activation. An activation button appears when the device is unlocked and ready to use.
Autoject Micro provides audible and visual feedback at the start and end of the dose. The device is a convenient size for storage and portability, with a large window for easy viewing of the syringe.
In addition, the device is ergonomic, which is evident in its oval shape and large grip detail on the cap.
Unique device solutions
Owen Mumford has six decades of engineering experience in designing unique device solutions.
Design engineers interact with different teams at an early stage to aid the transition through to production.
Device projects are coordinated by a dedicated project manager who understands commissioning manufacturing equipment, design and its manufacturing ability.
All manufacturing processes follow global regulatory guidelines and full compliance is evident at every stage of development to ensure products are brought to market quickly.
Project managers handle design, manufacturing and delivery, which means consistent communication is maintained and services are efficiently organised.
Autoinjectors with a safety interlock mechanism
Owen Mumford provides a wide range of autoinjectors, including Autoject 2, which is durable, reliable and proven across multiple therapy areas.
The autoinjector features a safety interlock mechanism to prevent accidental activation until the device is pressed against the skin and provides visual feedback after the dose.
Safe and easy needle shield removal is provided for rigid and soft needle shields.
Autoject Mini is an autoinjector platform designed to make self-injection easier, even in challenging scenarios. It is available in disposable and reusable versions.
Owen Mumford can assist with the final assembly of drug device combination products.
Various conditions have been treated using Autoject Mini, which include chronic inflammatory diseases such as rheumatoid arthritis, Crohn's disease and psoriatic arthritis.
The Autoject Mini also helps those at risk of anaphylactic shock and migraine sufferers.
The device has similar features to Owen Mumford's product range and includes an optional visual indication of injection completion and a closable viewing window.
Safe and easy needle shield removal is also provided for rigid and soft needle shields.
Disposable devices with needle retraction
Owen Mumford provides Autoject Uni, a disposable autoinjector with needle retraction. The device gives patients control by allowing them to automatically retract the needle when ready by pressing a button.
The device is also available as a prefilled, ready-to-use variant.
Autoject Multi is a cartridge-based autoinjector that enables patients to inject multiple, fixed doses.
At the touch of a button, the needle is automatically inserted, and the dose delivered, with the needle hidden at all times.
The device, which is available as a pre-filled, ready-to-use variant, is ideal for therapies for thrombosis, such as heparin, where patient adherence is important, and the same dose is required for each injection.
Autoject Multi also includes a spring-loaded needle shroud.
Self-injection pens
Owen Mumford offers self-injection pens, including Autopen with side button automatic delivery, which is easier to handle, even for people with smaller hands or reduced dexterity.
Autopen has played a role in treating growth hormone deficiency, infertility, osteoporosis and multiple sclerosis. The platform also offers a suitable device for administering insulin to dogs and cats.
The device is an easy-to-use dose selector with audible clicks, which is compatible with pen needles, including Unifine and Pentips.
Autopen 2 is an easy-to-use, durable device with a side-mounted button for easy firing and a click-back function to correct over-dialling prior to injection.
It has been used to treat diabetes, growth hormone deficiency, infertility and multiple sclerosis.
Press Release
Owen Mumford has unveiled a new addition to its range of medical devices at PDA: The Universe of Pre-Filled Syringes and Injection Devices event in Vienna.
Read more
Owen Mumford has unveiled a new addition to its range of automatic injection devices at the CPHI event in Paris.
Read more