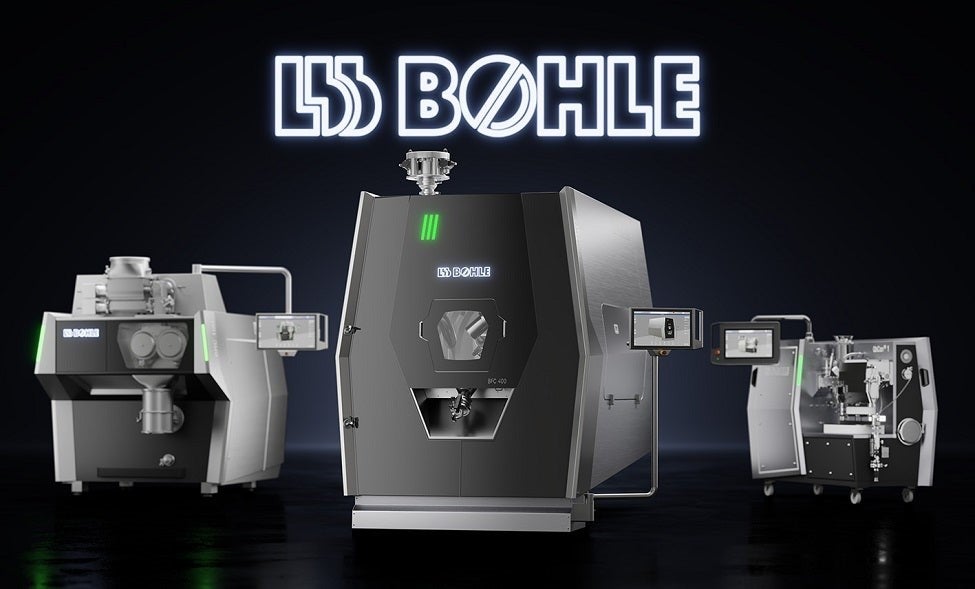 LB Bohle develops and manufactures customised single machines and complete assembly lines for pharmaceutical solids production applications.
Our product portfolio comprises all process steps. In addition to weighing, granulation and blending systems, the range also includes milling and sieving systems, film coaters, and containers and lifting systems that are tailored to meet sensitive material handling requirements.
High-performance coaters for the pharmaceutical sector
All production steps, from spraying to drying to blending, must be aligned to achieve high-quality results in the coating process. From laboratory to process machine, LB Bohle's cutting-edge coaters guarantee high profitability.
Aside from homogeneous coating, the machine series delicately handles tablets. A flat tablet bed in an extensive drug geometry, as well as continuous adjustment of the inclination angles, ensures optimal movement of the cores.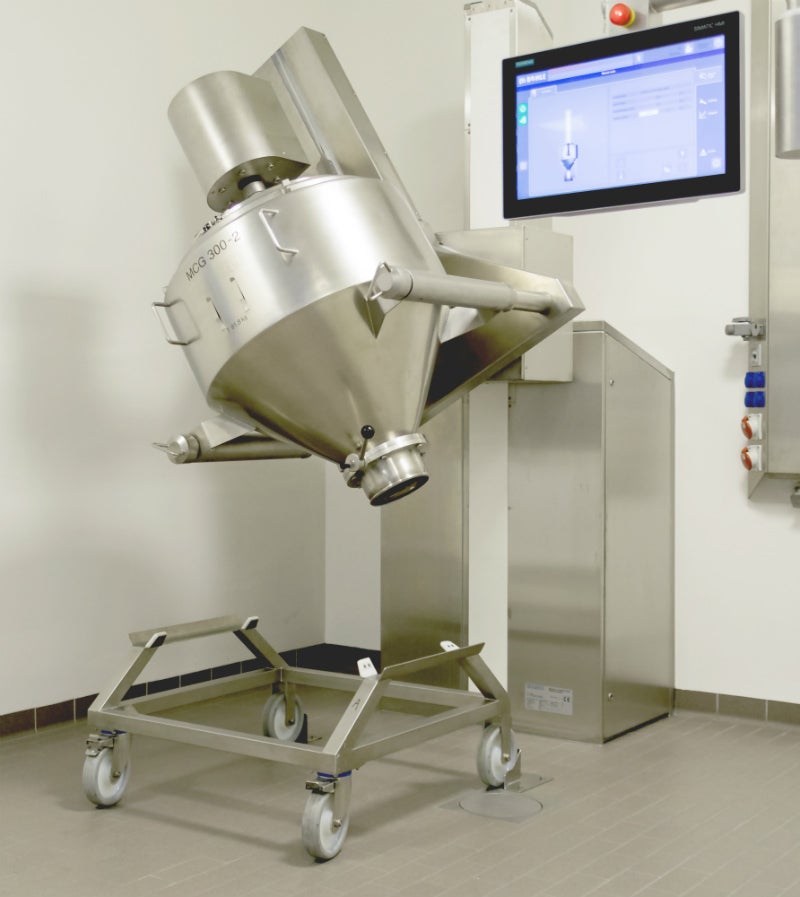 Bohle is a world market leader for blending technologies.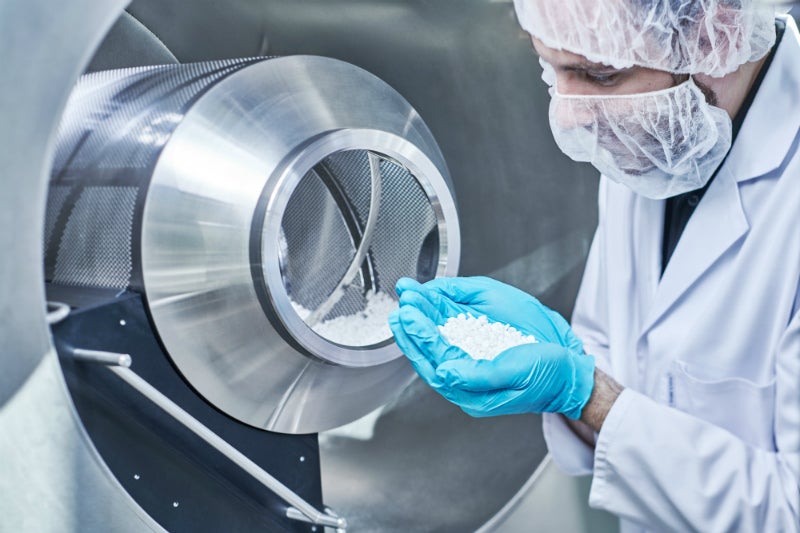 All Bohle coaters guarantee the best coating uniformity with a RSD < 2%.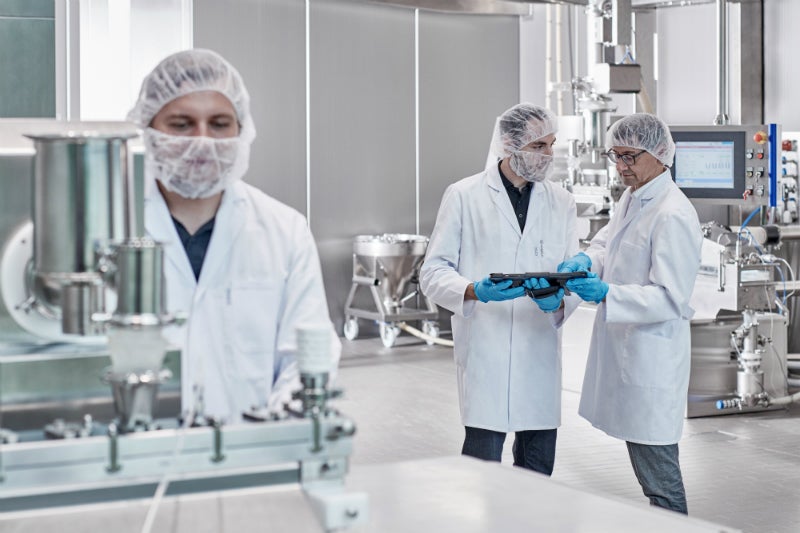 More than 45 patents strengthen Bohle's position as a technical leader in the pharmaceutical industry.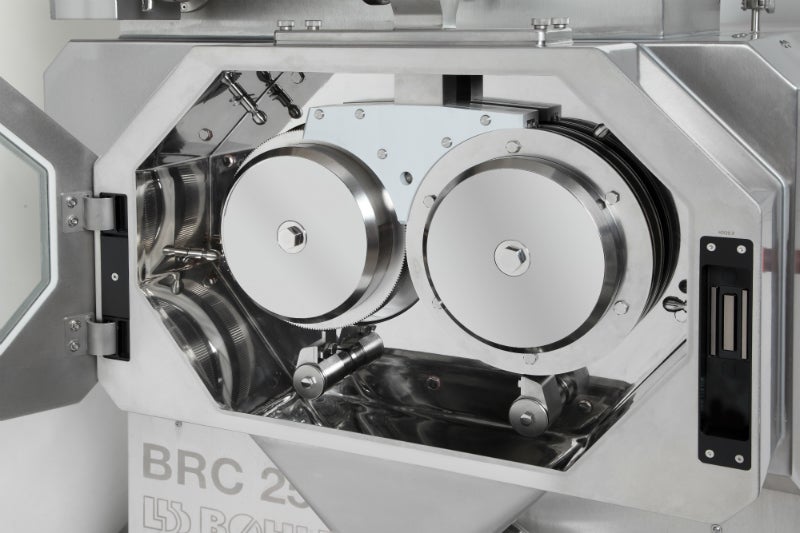 The roller compactor BRC enables high-production capacity with minimal material loss.
Continuous product movement is enabled through the systematic compulsory guide within the drum, preventing tablet twinning and significantly decreasing losses in solids and coatings. Furthermore, the air system creates advantages in process technology, eliminating the risk of spray drying of the suspension.
Blending processes within the pharmaceutical industry
Our smaller-scale laboratory blenders and the production-scale blenders PM employ container volumes between one to 12,000 litres.
Our PM systems are not only distinguished by their patented technology with a counter-current process but also maximum flexibility in their application, assuming a blending function and acting as a feeder of process machines.
Aside from the PM range, the series also comprises blenders specifically for third-party containers.
Dry granulation operations
We meet the growing demand for dry granulation applications by offering the BRC 25 and the innovative variable gap dry granulator BRC 100.
The BRC machines allow high production volumes with marginal material loss, which is achieved through fast and precise control of the compaction force with electromechanical spindle drive for the two rollers.
In arrangement with delicate control of the adjustable gap through a screw-feeding system, continuous ribbon properties are guaranteed over a comprehensive product range from less than 1kg to 400kg / h.
Testing and production capabilities of pharmaceuticals
Our headquarters are in Ennigerloh, Germany, and have an operating area of approximately 40,000m² and a highly qualified team of 250 specialists.
In LB Bohle R&D department, pharmaceutical experts, mechanical engineers and process and software experts work together with the entire production process carried out in the company's service centre.
Spanning an area of more than 600m², the production of batch sizes between 10kg and 30kg is possible. Comprising weighing stations, granulators, fluid-bed technology, container blending, sieving and milling stations and tablet presses, our machines can be used in a modular way or for clinic sample production.
For our company, the ongoing development of processes and machines is an essential part of the business model. More than 45 patents strengthen our position as a technical leader in the industry. State-of-the-art solutions range from ventilation systems to individually shaped coils, which inhibit spray throughout the coating process.