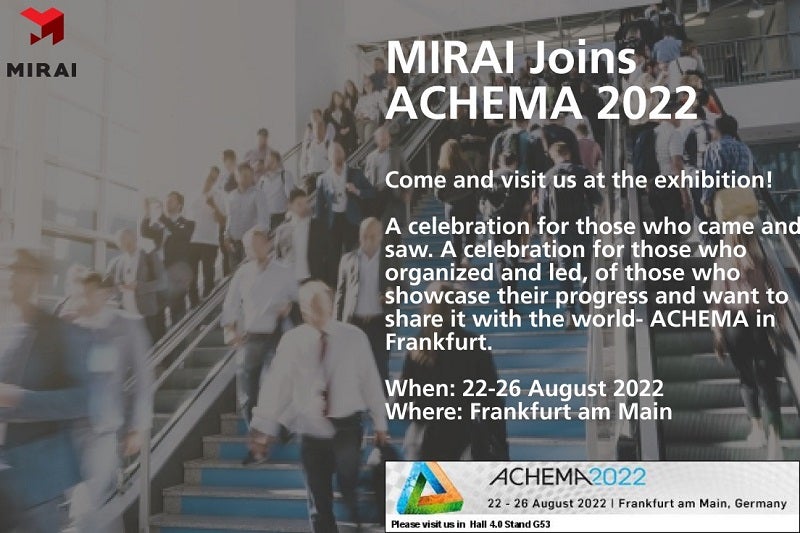 ACHEMA is a pioneer for globally connected technology industries and their experts, decision-makers and solution providers.
At the ACHEMA exhibition in August, Mirai is going to present a unique closed-cycle machine, MC 15 C/W/T.
MIRAI Cold closed-cycle machines are the true plug-and-play refrigeration solution for ultra-low temperatures with environment and sustainability in mind. Multiple machines can be used in a modular configuration for redundancy and convenience.
MC 15 T is the same size as MC 10 T but has more power. Cooled by water, it is ideal for applications where the cooling power of MC 10 T is not enough.
MIRAI Cold 15 T is an air cycle refrigeration machine designed to provide and maintain ultra-low temperatures from -40°C down to -110°C in cooling processes in numerous industries, especially in freeze-drying/lyophilisation applications.
Freeze Drying
Freeze drying is a freeze-drying process in which water is removed from the product after it has been frozen and placed under a vacuum, thus allowing the ice crystals to pass directly from the solid state to the vapour state. The process is based on the physical phenomenon of sublimation, which allows a direct transition from the solid to the liquid state.
Lyophilisation is mainly used in pharmaceutical and biotechnological research and the industrial production of cosmetic products or drugs such as tablets, but also in the drying of foodstuffs and the preservation of archival materials (ie. books and documents).
Process Cooling
Large industrial plants or facilities need to cool their production processes almost all year round. Mirai's solution is not only environmentally friendly and free of any F-gases or oils, but it is also extremely efficient.
The primary role of cooling systems in industrial refrigeration systems is not only to be extremely efficient, reliable and cost-effective, but also to improve the initial production processes and contribute to environmental protection.
Solvent Recovery
Solvent Recovery is based on the fact that the vapour of a boiling mixture will be richer in low-boiling point components such as alcohols, acetones, aliphatic hydrocarbons and ketones. When the vapour is cooled and condensed, the liquid condensate becomes a valuable product that can be sold back into the industrial marketplace.
A solvent recovery system is the preferred recycling method among many industrial manufacturers since it provides a cost-effective solvent recuperation solution and minimises adverse environmental effects. Only natural refrigerant (air) is used in multiple stages of the refrigeration process. The ultra-low temperature process is realised with a MIRAI INTEX air cycle refrigeration solution MIRAI Cold.
Mirai Systems offer such advantages as:
SAFETY
Air as a refrigerant! With our systems, the customer is completely independent of the phase-out of synthetic refrigerants and can use storage for decades.
HIGH RELIABILITY AND EFFICIENCY
Innovative technology using only one compressor, compared with cascade systems that depend on multiple compressors running simultaneously, is advantageous in terms of reliability and convenience.
Our technology has no phase change, no oil and, thanks to the air bearing, it is not subject to wear and tear. The air as a refrigerant is free, which makes the technology very economical to run.
A plug-and-play solution that does not require any additional construction work, moreover its worldwide delivery.
FLEXIBILITY
Temperature adjustment from -30°C to -110°C in just a few clicks via an easy-to-use touch screen. Reliable and innovative technology guarantees high availability with low maintenance.
Mirai Intex at ACHEMA 2022
With the new event date at the end of summer, we are confident that ACHEMA 2022 can be held reliably, safely and with maximum success for all participants. We at Mirai are looking forward to this highly anticipated on-site exhibition.
Come and experience the power of Mirai's ultra-low temperature systems.
Event details
Location: Frankfurt am Main, Germany Date: 22-26 August 2022 Opening hours: 9am–6pm, Friday until 4pm Registration link: Please click here.