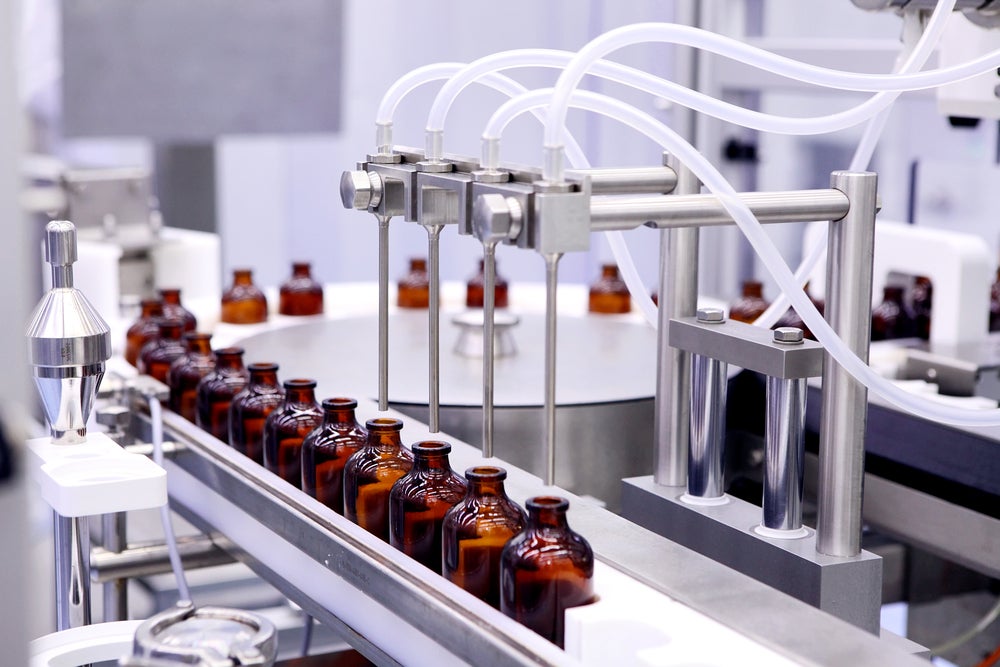 The biotech industry is currently undergoing a wider financial upheaval after the collapse of Silicon Valley Bank (SVB), which was favoured by many biotech companies. In such turbulent times, ensuring the most efficient and cost-effective manufacturing frameworks becomes even more important. Most pharmaceutical and biotech companies outsource certain production tasks to contract manufacturing organizations (CMOs). Based on the individual contract, these CMOs manufacture small molecules or biological active pharmaceutical ingredients (APIs), as well as packaging material, and are charged with other related functions.
The ongoing monthly CMO Moves series is outlining the relationship between pharmaceutical and biotech companies, and CMOs using recent news events and clinical trial catalysts. In this month's edition, which covers events from late January to early March, manufacturing contract-related data from GlobalData's PharmSource reports and news from GlobalData's Pharma Intelligence Center have been collated to identify stakeholders at the center of new developments.
FDA and EMA decisions
In January, the European Commission (EC) approved Roche's Xofluza (baloxavir marboxil) to prevent and treat influenza in children ages one year and older. Sharp Packaging Services is producing the solid dose of the drug and packaging it.
A few weeks later, the EC extended the approval label of AstraZeneca's Forxiga (dapagliflozin) to include the treatment of symptomatic hearth failure. The SGLT2 inhibitor is already approved to treat type 2 diabetes (T2D), chronic kidney disease (CKD), and heart failure with reduced ejection fraction (HFrEF) in patients with or without T2D. Bristol Myers Squibb is in charge of the solid dose manufacturing, while Catalent is doing the solid dose production and packaging. SK Biotek is contracted to manufacture the small molecule API.
In early February, the FDA approved Regeneron Pharmaceuticals' Eylea (aflibercept) injection to treat the rare disorder retinopathy of prematurity (ROP) in preterm infants. Vetter Pharma-Fertigung GmbH & Co KG is contracted for the parenteral manufacture and packaging for the vascular endothelial growth factor (VEGF) inhibitor, while Biogen and KBI Biopharma are producing the biologic API.
The US agency also extended the approval of Gilead Sciences' Trodelvy (sacituzumab govitecan-hziy) to include the treatment of HR-positive HER2-negative breast cancer patients after endocrine-based therapy and at least two systemic therapies. Samsung Biologics is producing the biologic API, while BSP Pharmaceuticals SpA is manufacturing the biologic API and the parenteral portions of the antibody-drug conjugate.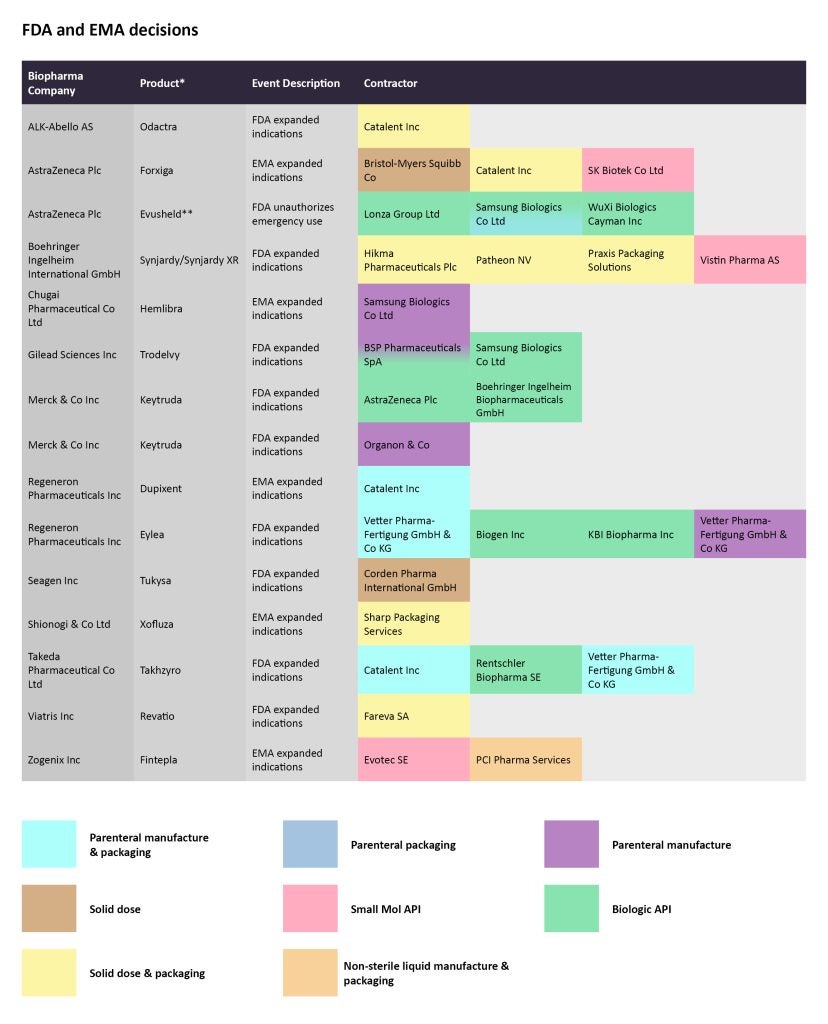 Regulatory and reimbursement decisions in the UK
In late January, the UK's Medicines and Healthcare Products Regulatory Agency (MHRA) granted a marketing authorization to Beigene's Brukinsa (zanubrutinib) to treat chronic lymphocytic leukemia (CLL) and marginal zone lymphoma (MZL) after at least one prior anti-CD20-based therapy. While Catalent is in charge of the solid dose manufacturing for the small molecule, PCI Pharma Services is responsible for solid dose manufacturing and packaging.
On February 1, the UK's National Institute for Health and Care Excellence (Nice) published a recommendation to cover Daiichi Sankyo and AstraZeneca's antibody-drug conjugate (ADC) Enhertu (deruxtecan) to treat HER2-positive metastatic breast cancer after one or more anti-HER2 treatments. Later that month, China's National Medical Products Administration (NMPA) also granted an approval for the same indication. Baxter Biopharma Solutions is contracted for the parenteral manufacture and packaging of Enhertu.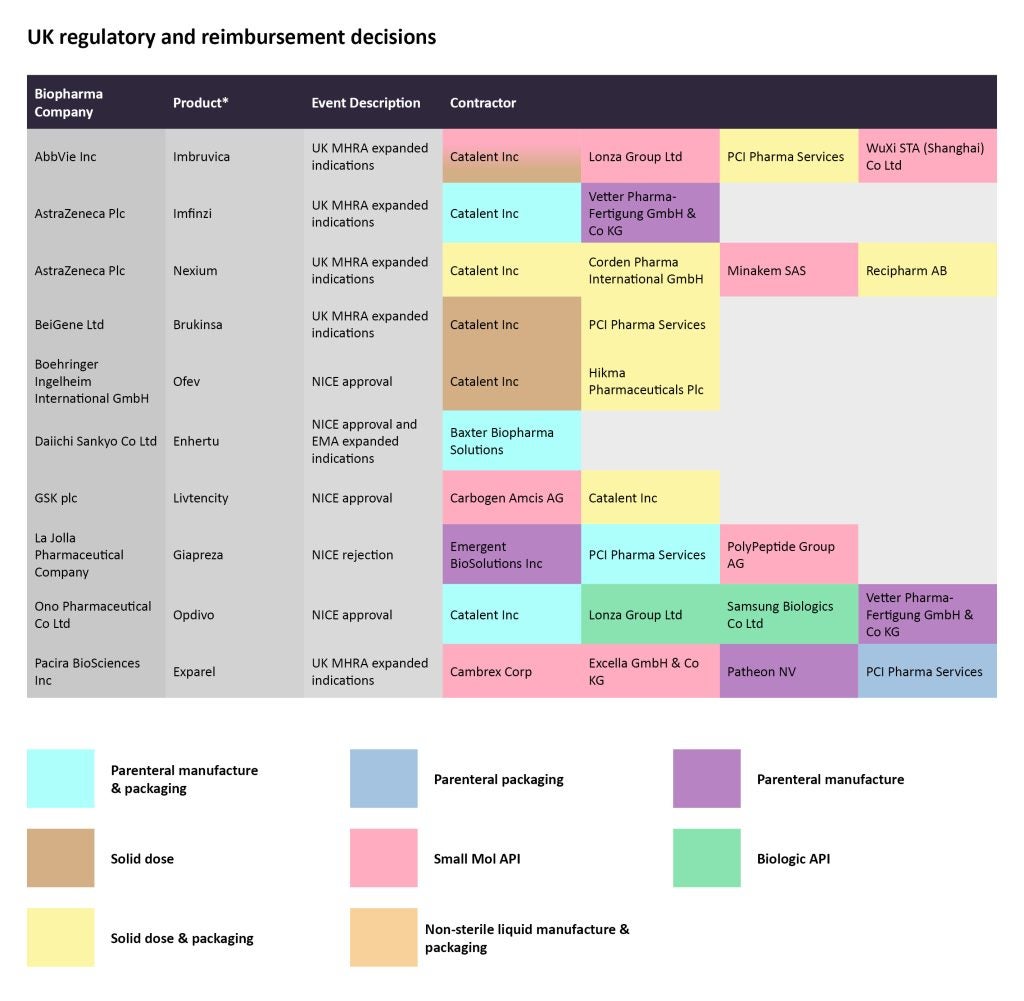 Clinical trial catalysts
In late January, AC Immune released positive interim results from the Phase I/II trial (NCT05462106) studying the company's vaccine in patients with prodromal Alzheimer's disease. The vaccine ACI-24.060 elicited an anti-Abeta antibody response in the first patient cohort after six weeks, as per the results. Bachem Holding and Polymun Scientific Immunbiologische Forschung GmbH are contracted for the parenteral manufacturing, while WuXi Biologics Caymanis producing the biologic API.
In the same time period, Warren, New Jersey-based Tevogen Bio released positive data from a trial evaluating its allogeneic T cell therapy TVGN 489, which is meant to treat high-risk COVID-19. The study was conducted at Thomas Jefferson University Hospital in Philadelphia evaluated the therapy in 12 ambulatory patients. BioCentriq is contracted to manufacture the biologic API.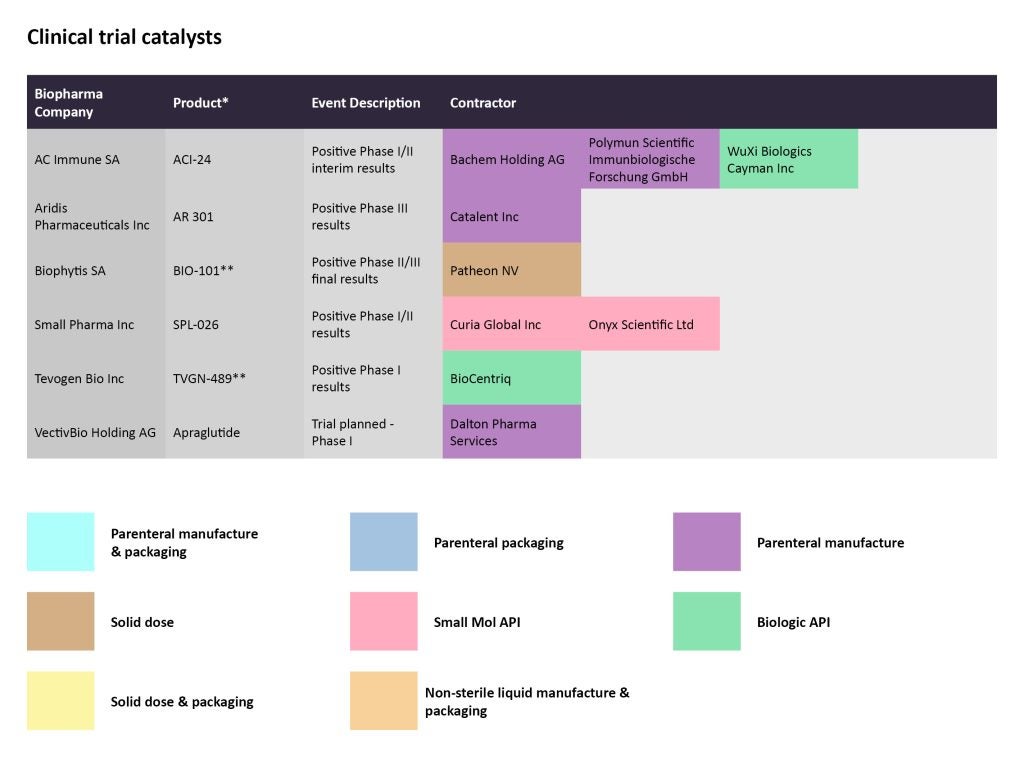 To read the previous editions in this series, click here, and here.