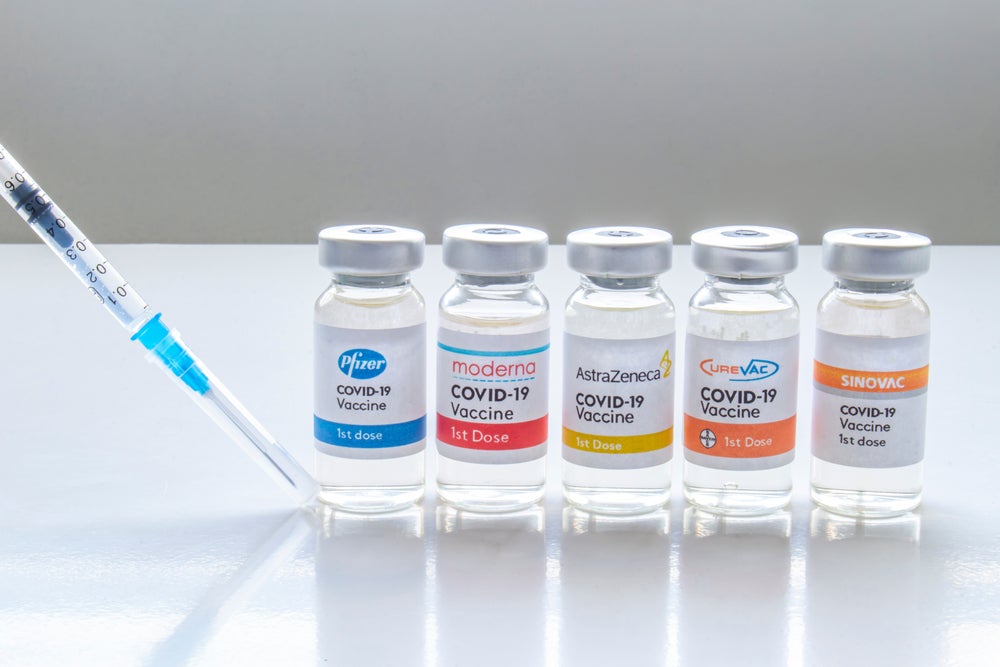 A total of 21 Covid-19 vaccines have been approved for use worldwide, and almost five billion doses have been administered globally. While most jab recipients experience mild side effects, if any, a number of rare, more serious adverse advents have been observed in some of those who have been vaccinated.
Pharmaceutical Technology rounds up the unexpected side effects and potential adverse events so far associated with the six World Health Organization (WHO)-approved vaccines.
Oxford-AstraZeneca, Vaxzevria
In March, several countries in Europe suspended use of the AstraZeneca vaccine after cases of rare, fatal blood clots were reported in a small number of those who had received the jab. A month later, the European Medicines Agency (EMA) concluded that unusual blood clots with low blood platelets, now known as vaccine-induced immune thrombocytopenia and thrombosis, should be listed as a very rare side effect of Vaxzevria.
The EMA maintains that the benefit of the vaccine outweighs its risk of blood clots – and it is important to note that the risk of blood clots is far higher in those who catch Covid-19.
The EMA's Pharmacovigilance Risk Assessment Committee (PRAC) has also concluded that people who have previously had capillary leak syndrome, a rare but serious condition that causes fluid leakage from small blood vessels, must not be vaccinated with Vaxzevria. The Committee also said capillary leak syndrome should be listed as a new side effect of the vaccine, after reviewing six cases of the condition in people who had received the AstraZeneca jab, including one person who died.
PRAC said in July that the product information for Vaxzevria should include a warning of cases of Guillain-Barré syndrome (GBS) reported after vaccination. GBS is a rare immune system disorder that can cause pain, muscle weakness and difficulty walking, and was identified during the jab's marketing authorisation process as a possible adverse event that requires specific safety monitoring.
In September, the European Medicines Agency officially listed GBS as a possible, very rare side effect of Vaxzevria. It said that a causal relationship between the vaccine and the disorder was "at least a reasonable possibility".
Pfizer-BioNTech, Comirnaty
The EMA has said there is a possible link between Comirnaty and very rare cases of the inflammatory heart conditions myocarditis and pericarditis. The PRAC has recommended updating the vaccine's product information to include the conditions as potential side effects, after reviewing 145 cases of myocarditis and 138 cases of pericarditis in those who had received the Pfizer vaccine in the European Economic Area (EEA). At the time, over 177 million doses of Comirnaty had been administered in the EEA.
PRAC is currently investigating reports of erythema multiforme, an allergic skin reaction, to establish whether it is a side effect of the Pfizer vaccine.
Glomerulonephritis, inflammation of filters within the kidneys, and nephrotic syndrome, a disorder causing the kidneys to leak excessive protein in the urine, are also being assessed by PRAC as potential side effects of Comirnaty.
Moderna, Spikevax
As well as the Pfizer vaccine, the EMA has also concluded a possible causal link between Moderna's Spikevax and cases of myocarditis and pericarditis, and recommended they are listed as potential side effects of the jab.
According to the Washington Post, the jab is yet to be authorised for adolescents due to FDA concerns that it may be associated with a higher risk of myocarditis than previously thought. A source said data from Canada has suggested young people getting the Moderna vaccine – especially males under the age of around 30 – may carry a higher risk of myocarditis than those who receive the Pfizer-BioNTech jab.
PRAC is also currently assessing whether glomerulonephritis, nephrotic syndrome and erythema multiforme could be side effects of the Spikevax vaccine.
Johnson & Johnson, Covid-19 Vaccine Janssen
The J&J vaccine has also been associated with the rare blood clotting disorder thrombosis with thrombocytopenia syndrome (TTS). After administration of the jab in the US was briefly paused, the FDA concluded the risk of TTS was very low, but advised that healthcare providers and jab recipients read up on the J&J vaccine fact sheet including information on the condition.
The EMA also recommended that J&J include a warning about TTS in the product information for the vaccine.
As with Vaxzevria, the EMA has recommended that people who have previously had capillary leak syndrome must not be vaccinated with Johnson & Johnson (J&J)'s vaccine, and said the condition should be added as a new side effect of the product, along with a warning for health professionals and patients.
The EMA has also announced that GBS will be listed as a very rare side effect of the J&J vaccine and that a warning will be included in the product information to raise awareness of the risk to those receiving the jab.
Sinovac, CoronaVac & Sinopharm, BBIBP-CorV
The Covid-19 jabs produced by Chinese vaccine makers Sinovac (CoronaVac) and Sinopharm (BBIBP-CorV) are WHO-approved, but are yet to receive authorisation in the UK, Europe or the US.
Safety data for these vaccines are relatively limited, but the WHO has identified two serious adverse events that could be linked to Sinopharm's jab: serious nausea and a rare neurological disorder called acute disseminated encephalomyelitis. Both events were observed in clinical trials of the jab, as well as one participant that experienced a blood clot.
According to a background document on CoronaVac by the WHO's Strategic Advisory Group of Experts on Immunisation, a number of serious adverse reactions have been seen since the vaccine was rolled out in China. These include anaphylactic shock, Henoch-Schönlein purpura, facial paralysis, cerebral haemorrhage and GBS. A causal link between CoronaVac and the adverse events is yet to be established.