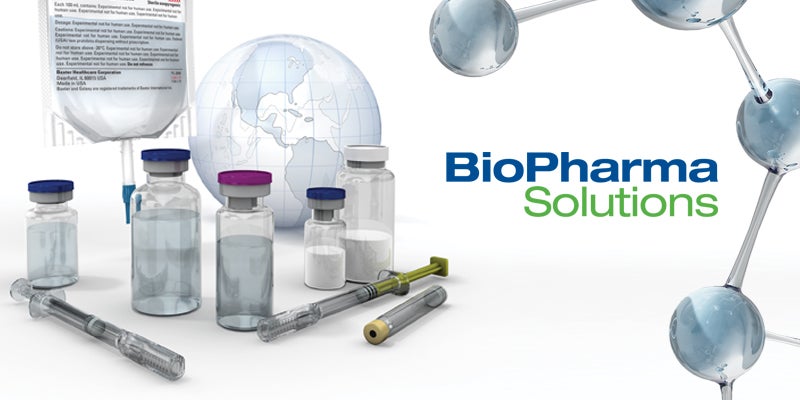 Baxter's contract manufacturing organisation (CMO) BioPharma Solutions offers form / fill / finish services for injectables.
With a successful combination of strong collaborations and more than 85 years of injectable drug experience, the company provides manufacturing services for a wide range of pharmaceutical drugs, including for the areas of oncology, biologics, antibody-drug conjugates (ADC), small molecules and vaccines. These are applicable for a variety of sterile dosage forms, including pre-filled syringes, cartridges, diluents for reconstitution, prefilled syringes, and lyophilised / liquid vials.
Baxter BioPharma Solutions helps clients with challenges in clinical supply, formulation, risk mitigation, patent expiry, scale-up of production, and addresses rises and falls in market demand.
Each solution is tailored specifically for each individual case, meeting clinical, commercial, traditional, and complex issues in sterile manufacturing.
Baxter BioPharma Solutions
Sterile current good manufacturing practice (cGMP) production facilities
With more than 50 manufacturing facilities worldwide, Baxter BioPharma's award-winning current good manufacturing practice (cGMP) production facilities provide unique, high-value collaboration opportunities. The company's extensive global network utilizes a key systemic approach to cGMP manufacturing to share efficiencies and expertise.
Baxter BioPharma Solutions' manufacturing units have recently won 2016 Facility of the Year (FOYA) award for Operational Excellence; 2012, 2013, 2015, 2016, 2017, 2018 and 2019 CMO Leadership Awards from Life Science Leader magazine; and the 2010, 2011, 2012, 2015 and 2017 Best Contract Manufacturing Organization at the Vaccine Industry Excellence Awards.
Syringe, cartridge, and vial filling for sterile products
Based in Bloomington in Indiana, Baxter BioPharma Solutions' state-of-the-art 600,000ft² campus is one of the largest contract manufacturers of sterile products in North America. This facility helps clients develop and manufacture quality products and packaging, with particular expertise in regulation and lyophilisation.
Contract manufacturing of oncology products
Baxter BioPharma Solutions' facility in Halle in Germany focuses on the manufacturing of cytotoxic and highly potent drugs. With more than 60 years of experience, the facility is certified by Safebridge and provides clinical and commercial production, with integrated technologies and services.
The recently expanded facility is dedicated to contract manufacturing of oncology products, such as cytotoxic, highly potent compounds, and ADCs. It received the FOYA in 2016 for Operational Excellence. Capabilities include liquid and dry powder filling, sterile crystallisation, disperse systems, clinical and commercial-scale lyophilisers, and flexible compounding areas.
Formulation and process development expertise with a wide variety of drug categories
Helping tackle technical challenges such as technology transfer and formulation, process, and analytical development, Baxter BioPharma Solutions' teams help clients develop freeze-fried dosage forms, solutions, and suspensions for full optimisation of drug products throughout manufacturing.
The company provides expertise in optimisation and development in lyophilisation, converting drugs from a lyophilised to a liquid state through reformulation, converting drugs from vial to prefilled syringe form, analysing extractables and leachables, and selecting components, including flexible containers, syringes, vials, and stoppers.
Baxter BioPharma Solutions' scientific team provides a large amount of industry experience across a wide variety of drug categories, including vaccines (adjuvant, conjugate), biologics (monoclonal antibodies, therapeutic proteins), cytotoxics, highly potent compounds, and antibody-drug conjugates (ADC).
Lyophilization Center of Excellence
Increasing stability for injectables and improving lyophilisation cycle times are vital parts of parenteral product development. With this optimisation, Baxter BioPharma Solutions formed the Lyophilization Center of Excellence to act as a resource centre for the production of high-quality freeze-drying.
Scientists and educators Dr Steven Nail and Wendy Saffel-Clemmer lead Baxter's development team to assist with the modification and reformulations that optimise lyophilised products. The company offers:
Cost-effective and targeted lab-to-product correlation for optimum product manufacturing
State-of-the-art equipment for the detection of aggregation and other stability problems
Automatic loading and unloading of lyophilisers to minimise microbial exposure and handling
Top analytical methods for protein biophysical characterisation and measurement of aggregates
Capillary electrophoresis expertise, including capillary isoelectric focusing (cIEF) and capillary gel electrophoresis (cGE)
Four research freeze-dryers for development of cycles for future clinical manufacture
Proven scientific approach to cycle development, verses traditional methods of trial-and-error
BioPharma Solutions, a global contract manufacturing leader in prefilled syringe fill-finish, provides clinical through high-volume commercial sterile manufacturing.
An industry leader with a global presence, Biopharma Solutions is a contract manufacturing organisation (CMO) with a focus on injectable pharmaceuticals.
Cancer incidence is on the rise and cytotoxic therapies continue to be at the centre of oncology treatment programs. Through this latest expansion in Halle, Germany, Baxter BioPharma Solutions will continue to support pharmaceutical companies' effort
The production of seasonal vaccines, such as those for influenza, presents unique challenges to manufacturers due to the necessary time constraints resulting from annual strain selection.
Manufacturing in multi-product facilities affords numerous advantages but also presents significant challenges.
A prefilled syringe is a convenient primary packaging option for delivery of parenteral medication.
In August 2016, German pharmaceutical company Fresenius Kabi announced plans for an expansion of the pharmaceutical manufacturing capabilities of its site in Melrose Park, Illinois.
In May 2017, Chinese animal vaccine company Jinyu Bio-technology unveiled plans to establish its first US-based vaccine research lab and office facility, located in Kansas.
US-based biopharmaceutical company Baxalta, a spin-off of Baxter International, began building a biologics facility in Georgia, US, in August 2012.
Baxter International, a global leader in sterile medication production and delivery, and Moderna, a biotechnology company pioneering messenger RNA (mRNA) therapeutics and vaccines, today announced that they have entered an agreement for Baxter BioPharma Solutions to provide fill/finish sterile manufacturing services and supply packaging for approximately 60-90 million doses of the Moderna Covid-19 Vaccine in 2021.
Baxter Healthcare Corporation
BioPharma Solutions
One Baxter Parkway
Deerfield, IL 60015
United States of America