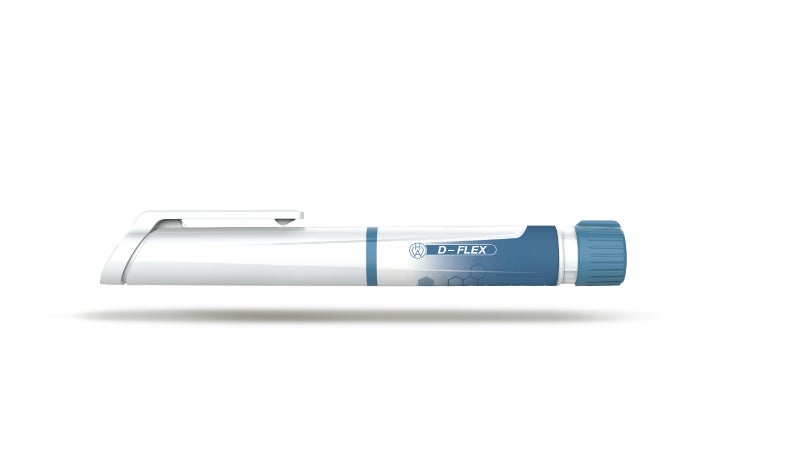 Haselmeier has announced that its new product the D-Flex Just one has won the GOOD DESIGN™ Award.
This especially flexible disposable pen D-Flex stands out in the market primarily thanks to its uniqueness. Deployed flexibly, it helps deliver patient safety, used with 3ml cartridges. It closes the gap between fixed-dose pens, which only allow a single fixed dose, and variable-dose pens where the dose can be finely adjusted by the patient.
The D-Flex can be configured for several fixed doses. These dose values can essentially be freely selected when assembling the pen. The system only permits set doses and the patient cannot select an unintentional dose by mistake. This significantly reduces the risk of any operating error and increases the safety of the patient.
This makes the D-Flex the ideal, flexible platform for adapting to set doses in accordance with the therapy. This platform can be flexibly configured to suit desired dose values, from the first clinical study to series production, thereby significantly reducing time-to-market and capital expenditure (CAPEX).
The benefit for patients and the advantages for Haselmeier customers are comprehensive:
Just one pen permits one or more pre-set doses
Just one pen, with dose correction to avoid injection errors or loss of the drug
Just one pen does not permit any in-between values besides the doses set
Just one flexible platform enables the customer to easily adapt to a wide variety of dose values
Just one strong platform from the initial clinical study to series production
Strategic product manager at Haselmeier Stefan Gaul explains: "In line with the needs of the market, we at Haselmeier were looking for an improved solution for unconventional or somewhat more complicated applications.
"Aspects such as patient safety and convenience of operation and handling were central elements of the process. The idea of designing an extremely flexible, strong platform for our customers was naturally a central aspiration. With the D-Flex we have found the ideal way to put this into practice. And it is all the more gratifying when the product design is explicitly appreciated by outside bodies.
"But above all, it is a good feeling to know that an innovation is far enough advanced in the development process to ensure that patients can be helped within a few years."
Type 2 diabetes is a global health problem. According to expert estimates, the number of patients worldwide will increase by 48% by 2045.
The D-Flex injection pen can do more than previous pens. D-Flex can be configured for several fixed-dose values and is thus a variable fixed-dose pen.