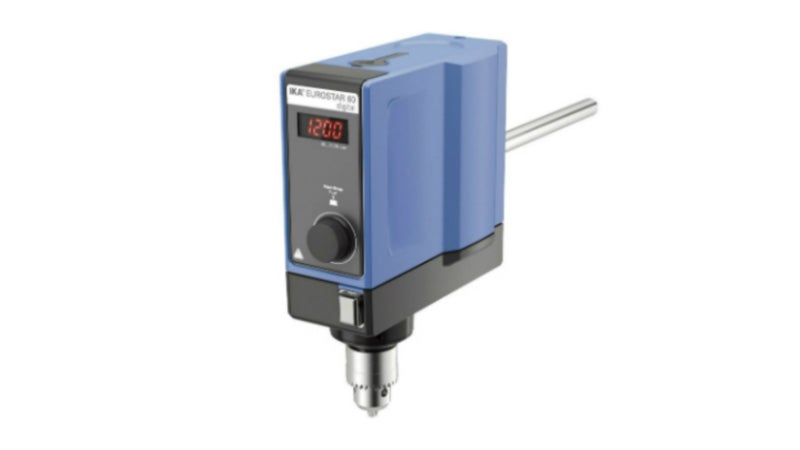 The IKA Group specialises in laboratory equipment, analytical and process technology for the pharmaceutical industry.
Magnetic stirrers and shakers for the pharmaceutical industry
IKA offers a range of products, including magnetic and overhead stirrers, dispersers, shakers, mills, rotary evaporators, calorimeters, laboratory reactors, centrifuges and thermostats.
The company's process technology provides solutions for production-scale stirring, mixing and kneading applications.
IKA's laboratory uses innovative equipment for various applications in research and development, and proven technology for mixing, heating, distilling and crushing applications.
Magnetic stirrers, mixers, homogenisers and specially developed software are available for laboratory and analysis applications, as well as temperature control products such as circulators, baths and chillers.
Laboratory and analysis devices
IKA uses substances in all aggregation states in lab conditions and production facilities to create mixed, crushed, tempered or distilled products.
In addition, the company uses materials such as anti-aging crème and cement as a tissue sample, in the µ area or on an industrial scale.
Modern laboratory and analysis devices are developed at the company's headquarters in Staufen.
The IKA application technology lab has specialists with long-term sample experience. Through collaborative partnerships within a range of industries, IKA have handled an array of samples under various applications and has an online library.
Users can enter an application or keyword and find detailed test reports regarding the use of IKA's devices.
Medical equipment maintenance
IKA offers training services onsite or at one of its global locations. Experts can discuss specifications and applications with clients to find a solution for their process.
The company has training specialists to assist with equipment to ensure clients use the right tools for the application.
In addition, help is provided so clients can use and maintain their equipment. Regular training sessions on equipment operation, history, service and repair skills are available.
The company has experts that can develop the right solution for specific requirements, while implanted solutions can be found in the customising centre database.
About IKA Group
IKA Group is headquartered in Staufen, Germany and has subsidiaries in the US, China, India, Malaysia, Korea, Brazil and Japan. Founded in 1910, the company currently has 800 employees and reported sales of more than €100m ($139m) in 2014.
Whether used for homogenising, emulsifying, or suspending, IKA's homogenisers enable high-quality results with a smooth start.
With hardened glass for maximum visibility and chemical resistance, the IKA C-MAG HS 7 is able to show torque trends, temperature, and speed on an LCD display.
IKA provides a number of renowned products for preparatory DNA / RNA purification and extraction.
IKA is committed to providing innovations that make your work safer, future-oriented, and smarter. Discover the fascinating world of laboratory equipment and analytical technologies.
Fast-growing Swiss company Beyond Surface Technologies develops sustainable processes for textile surfaces. It provides advanced, high-quality surface effects for textile products.
Public Health England (PHE) is developing a public health science campus and headquarters in Harlow, Essex, UK.
IKA extends its range of recirculating chillers with the addition of the powerful and environmentally-friendly RC 2 GREEN basic and control models.