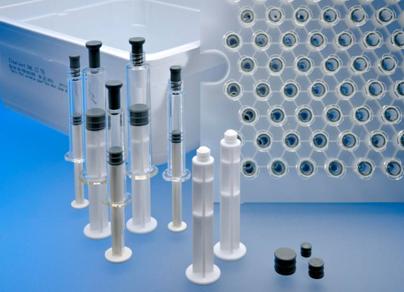 Gerresheimer is one of only a few companies in the world to offer its customers both glass and COP syringes.
In addition to its famous glass RTF syringes, the Gerresheimer portfolio also includes the ClearJect brand COP syringes which are manufactured in Japan by Taisei Kako. Gerresheimer markets the syringes and provides technical advice to customers, also meeting specific customer requirements in close collaboration with Taisei Kako.
Several years ago a plastic called cyclic olefin polymer or COP was introduced in the prefillable syringe segment in addition to glass. Cyclical olefins are an interesting alternative to glass due to their special properties.
COP has high barrier properties against water vapor and oxygen, which means that the content of the syringe is effectively protected. It is also transparent, which means they COP syringes are remarkably similar in appearance to glass syringes. This transparency also makes it easy to visually check the content for clouding, particulate and other defects.
COP syringes are also far more break-resistant than their glass counterparts. A glass syringe that breaks during the filling process is annoying for the customer. Not only is the valuable pharmaceutical wasted, the filling machine has to be stopped and thoroughly cleaned to remove all the glass shards and splinters. Glass breakage can also cause complications at the doctor's surgery or in the patient's home.
COP syringes are used as a primary packaging for biotechnologically derived drugs. These are some of the most expensive drugs on the market and they are highly susceptible to external influences. They are manufactured with advanced technology and require complex development and production methods. It is therefore logical that such expensive and sensitive drugs are filled into especially high quality primary packaging. Another important product that is filled into COP syringes is hyaluronic acid. Hyaluronic acid is a key constituent of human tissue and it performs many different functions. It is used in opthalmics, orthopedics and in cosmetic treatments.
Taisei Kako has approximately 900 employees and is one of the biggest COP syringe manufacturers in Japan. The syringes are injection molded in a clean room environment. Basically, COP granules are poured into the front end of the machine and the packaged syringes come out at the other end. It is a fully automated manufacturing process without any humans being involved. Unlike the glass syringe manufacturing process, the COP syringe process is absolutely clean and doesn't involve any interim cleaning stages such as the elimination of glass dust with pressurized air or washing the syringes with pharmaceutical water.
The very precise injection molding process permits far exacter tolerances than the freeforming process used for glass syringes. Exact geometries are very important if the syringe is destined for use in an autoinjector. These exact geometries also reduce the syringe's dead volume so that less drug residue is left inside the syringe after use. This is a persuasive argument for manufacturers of expensive drugs.
Gerresheimer advises customers on the selection of the most suitable primary packaging and makes an important contribution to ensuring that medications can be delivered safely packaged to hospitals, medical centers and patients. ClearJect TasPack syringes are manufactured by Taisei Kako Co Ltd, Japan. Gerresheimer Bünde, Germany, is responsible for syringe sales and technical service in the EU and America.
Gerresheimer is a leading global partner to the pharma and healthcare industry. With specialty glass and plastic products, the Company contributes to health and well-being....
Gerresheimer is one of the leading specialists for the production of high-quality glass and plastic products for the international pharmaceutical and healthcare industry.
During the Covid-19 pandemic, Gerresheimer is focusing on aspects including business continuity, customer demand, and supply chain. In 2019, we paved the way for profitable...