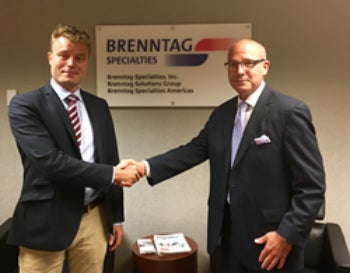 Brenntag Specialties (BSI) has signed a distribution agreement for Novo Nordisk Pharmatech's Pharmaceutical Grade Quaternary Ammonium Compounds, to be marketed in the US and Peurto Rican personal care, over-the-counter (OTC), and pharmaceutical markets.
President of Brenntag Specialties Jeff Kenton says: "The partnership with Novo Nordisk Pharmatech demonstrates our commitment to providing innovative solutions and differentiated value to our customers by strategically expanding our principal relationships and product lines.
"The product line offering from Novo Nordisk Pharmatech furthers our reach into the pharmaceutical, OTC, and personal care markets."
Novo Nordisk Pharmatech manufactures its Pharmaceutical Grade Quaternary Ammonium Compounds in accordance with the highest current good manucfacturing processes (cGMP) standards in the market, the ICH Q7A Guide for Active Pharmaceutical Ingredients.
The new product offering includes:
FeF ™ Benzalkonium Chloride and Cetrimide solutions
FeF ™ Benzalkonium Chloride 95%
Crystalline FeF ™ Cetrimide and FeF ™ (CTAB) Cetyl Trimethyl Ammonium Bromide
An innovative synthesis process makes Novo Nordisk Pharmatech a leading supplier of crystalline quaternary ammonium compounds, which have excellent antimicrobial and surface-active properties rendering them suitable for a variety of applications. High levels of purity make them particularly suited for specialized pharmaceutical applications, such as polysaccharide vaccine production and precipitation of DNA (gene therapy) vaccines.
Quaternary ammonium compounds act either as preservatives or active ingredients in many ophthalmic, nasal, oral, and topical drugs and in a variety of surgical scrubs, medicated solutions, ointments, and creams.
Novo Nordisk Pharmatech manufactures quaternary ammonium compounds using only high-purity tertiary amines with various alkyl chain lengths, normally ranging from C12 to C18. The properties of our quaternary ammonium compounds can vary according to the alkyl chain length, but they all offer common attributes including:
Proven record of efficacy against a broad spectrum of microorganisms
Effective through a wide pH range
Odourless and colourless in product formulation
Surface active / adhesive cationic agent
Very stable, proven under ICH Q1 Stability Protocols
Five-year shelf life
Drug Master Files available for reference