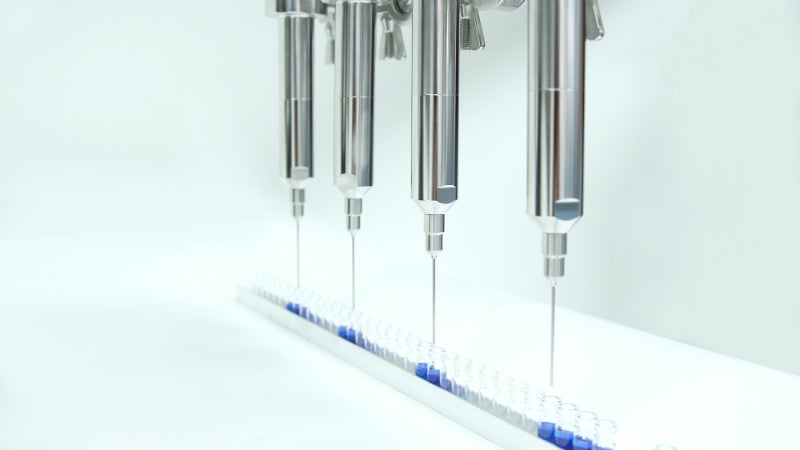 Pharmaceutical production lines are to a large extent automated. The prerequisite for a cost-efficient and effective filling line is a high-application rate or a short cycle time.
This is made possible by filling pumps, which on the one hand enable the high speeds in the filling process and on the other hand ensure a consistent quality in terms of process reliability and accuracy.
While this may work well with water-like products in rotary piston pumps or pressure systems, it is a completely different challenge for viscous products such as hyaluronic acid, hydrogels, emulsions or suspensions.
Progressive cavity pumps are becoming increasingly popular in the pharmaceutical industry. They represent a process-safe, low-shear and high-precision dosing of viscous products. They are already successfully used in production facilities in both the conveying and filling process.
High-performance materials used for the pump and high-performance servomotors provide short cycle times of 0.5 seconds for viscous products. Thanks to the special rotor-stator geometry, the dosage is virtually pulsation-free and low-shear. Maximum protection of the high-quality pharmaceutical products is guaranteed. By means of an adjustable retraction at the dosing end, a defined thread breakage is achieved and dripping is prevented.
Thanks to the modularity of the dosing system, the filling dispenser is flexible enough to be quickly modified to respond to a wide range of customer requirements. These include changing formulations (from liquid suspensions to highly viscous ointments or pastes) or different volumes.
Even abrasive and solid-laden media can be filled with low-shear and in a process-safe manner. The ViscoTec dosing modules can be reprogrammed in the shortest possible time and can be put back into operation immediately.
The VPHD pharmaceutical dispenser is manufactured with stainless steel wetted components in 1.4404 (AISI 316L), an electro-polished surface Ra ≤0.8μm, and with inspection certificate 3.1 according to EN 10204. All non-metallic wetted parts are Food and Drug Administration (FDA) compliant. In order to meet the high-requirements for cleaning, the design allows for clean in place (CIP) / sterilise in place (SIP) cleaning. The dispenser can be disassembled without tools for manual cleaning.
On this basis, ViscoTec not only offers dosing units, but solutions.
According to a survey by statista.com, lipstick is the second most popular make-up tool with...