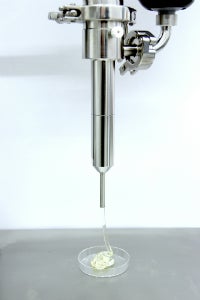 ViscoTec pharma dispensers enable highly accurate dosing of various media with a high degree of process reliability, ranging from low to high viscosity with minimal product loss.
In order to raise the levels of safety and effectiveness of pharmaceuticals in clinical studies, the pharmaceuticals must be delivered under good manufacturing practice (GMP) conditions.
This prevents cross contamination and the ingress of other impurities, ensuring reliable results. In a 'Pharmavize' project implemented by ViscoTec, the pharma dispensers had minimised product loss due to high precision dosing results and excellent repeatability.
'Pharmavize' is a specialist in pharmaceutical development services and provides support to its customers, including preclinical phases and follow up, after products are approved.
The task for ViscoTec was to ensure the delivery of high viscosity gel with a high degree of process reliability from 10kg batch sizes into 30g tubes.
This delivery process is achieved through a semiautomatic dosing system with pharma dispensers from ViscoTec. The gel is supplied to the dispenser via prefilled cartridges.
The tube is fitted to the luer lock adapter of the dispenser and automatic dosing is started via a start button. After filling, a sealing device is used to seal the tube.
Filling accuracies of >99% were achieved when the dispenser was used onsite. Adjustable suckback of the ViscoTec pharma dispenser ensures the filler neck of the tube remains clean.
The modular nature of the dosing system will allow 'Pharmavize' to adapt quickly and flexibly to various requirements in future projects and for a range of container types such as syringes, vials and carpules.
This is regardless of the viscosity, including liquid suspensions, highly viscous ointments and pastes of the pharmaceutical or biotechnological product.
Even abrasive media and media containing solids can be dosed with a high degree of process security and a low level of shearing. The ViscoTec dosing modules can be quickly assembled, delivered and installed according to customer requirements.
According to a survey by statista.com, lipstick is the second most popular make-up tool with...