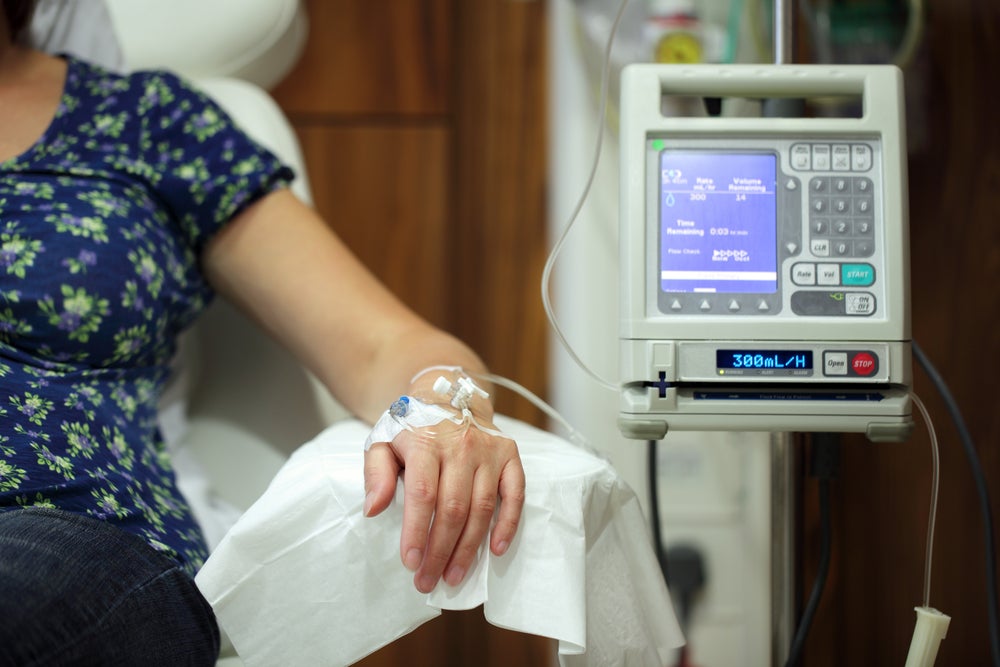 GlaxoSmithKline (GSK) and Vir Biotechnology have announced that their investigational monoclonal antibody (mAb) sotrovimab retains in vitro activity against the full known spike protein of the new SARS-CoV-2 variant Omicron.
The findings are an update to preclinical data previously published on preprint server bioRxiv, obtained through pseudo-virus testing of Omicron's combined known mutations, which included all 37 changes identified to date in the spike protein.
UK-based GSK said the new data adds to existing preclinical evidence that sotrovimab, known commercially as Xevudy, is effective against all tested variants of concern.
Vir CEO George Scangos commented: "Sotrovimab is the first monoclonal antibody to report preclinical data demonstrating activity against all tested SARS-CoV-2 variants of concern and interest to date, including Omicron, as well as the still prevalent and highly contagious Delta variant."
In a Phase III trial of at-risk adults with mild-to-moderate Covid-19, who are not hospitalised and requiring oxygen, sotrovimab was found to reduce the risk of hospitalisation and death by 79%.
The drug has received a number of authorisations worldwide, including temporary ones in a dozen countries. The UK's drugs regulator granted sotrovimab conditional marketing authorisation earlier this month, following the country's order of 100,000 doses back in October.
The US, which greenlit sotrovimab for emergency use in May, has secured almost $1bn worth of doses from GSK. The company has also entered deals to provide Canada and the EU with 10,000 and 220,000 doses of the drug, respectively.
GSK's investigational therapy is one of five mAb-based Covid-19 treatments on the market. The surge in Omicron-associated cases worldwide, as well as the variant's high transmissibility, has raised concerns that approved Covid-19 therapies may prove less effective against Omicron than other variants of the virus.
South Korean biopharma Celltrion antibody therapy regdanvimab, brand name Regkirona, is an authorised Covid-19 treatment in several countries, including South Korea, the EU, Indonesia and Brazil. Celltrion recently said it has accelerated the development of a neutralising antibody cocktail, containing regdanvimab and another mAb called CT-P63, to target SARS-CoV-2 mutations in new variants including Omicron.
Roche and Regeneron's casirivimab and imdevimab cocktail, known as REGEN-COV in the US and Ronapreve in the EU and elsewhere, is a World Health Organization-recommended treatment for Covid-19. Regeneron said in November that REGEN-COV is being evaluated against Omicron, but that prior in vitro analyses and structural modelling has suggested the treatment could have reduced efficacy against the variant.
The concern for monoclonal antibodies having reduced efficacy against new variants initially surfaced in the case of Eli Lilly's investigational mAb bamlanivimab. The company was one of the first to get an emergency use authorization (EUA) for its mAb in November last year, but it was revoked in April after an analysis found that bamlanivimab administered alone is not sufficiently effective against SARS-CoV-2 variants.
Lilly's antibody cocktail of bamlanivimab and etesevimab remains available as a Covid-19 treatment for at-risk adults and adolescents in the US, under an EUA granted in February. Last week, the combination treatment became the first Covid-19 neutralising antibody therapy to be authorised for emergency use in high-risk paediatric and infant patients.
An independent study by researchers at the Fred Hutchinson Cancer Research Center, however, recently found that the bamlanivimab and etesevimab combination demonstrates reduced efficacy against the Omicron variant.