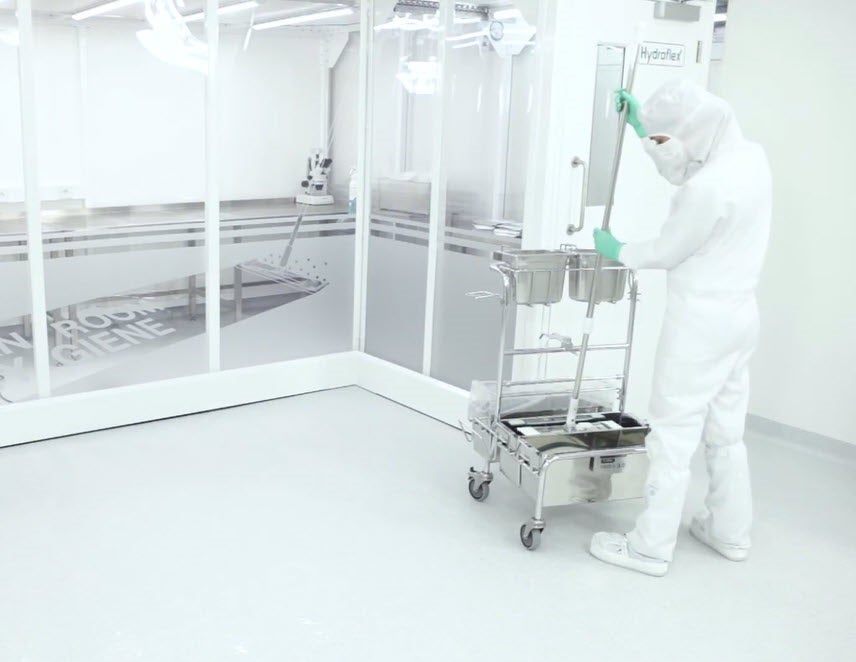 Fight contamination with greater efficiency and less cleaning staff fatigue. The Hydroflex PurMop touchless mop frames use disposable mop heads that are attached and disposed of without contact to reduce risks of cross-contamination of your clean cleaning equipment and cleanroom surfaces with used mops and gloves.
Cleanroom Cleaning Efficiency & Consistency
The revolutionary PurMop® ERGO 2.0 mop trolley system is completely touchless using the ingenious mop frame and a stainless steel cleaning trolley to:
pickup the mop head
dose with solution
discard the mop
The innovative wetting system delivers a defined amount of detergents, disinfectants, or other sterilizing or cleaning solutions onto the mop in one single step. Cleaning staff errors that lead to excessive or insufficient mop saturation or to accidental reuse of a contaminated mop are eliminated. The trolley enforces the easily repeatable process for a safe, GMP-compliant procedure. All with clever ergonomics that reduce strain and injury for the operator. No more lifting heavy buckets or mop boxes or excessive bending over.
ERGO Cleanroom Cleaning Models
The ERGO-S 2xx series offers economical options with plastic buckets. The 3xx models come with stainless steel buckets.
The trolleys offer flexibility in selection to ensure your touchless mopping system is perfectly configured for the application in your environment.
Innovative features include:
The stainless steel wetting unit's construction with special sleeve bearings is fully autoclavable. 
Dosing plates offer 100-300ml options for repeatable application of the optimal quantity of liquid solution.
Hand-free mop head loading and discarding in separate buckets for touchless operations to prevent cross-contamination. 
Cleanroom Connection can help your facility select the Hydroflex PurMop ERGO 2.0 system to keep your cleanroom contamination-free while reducing cleaning time and increasing the consistency of your cleanroom cleaning procedures.